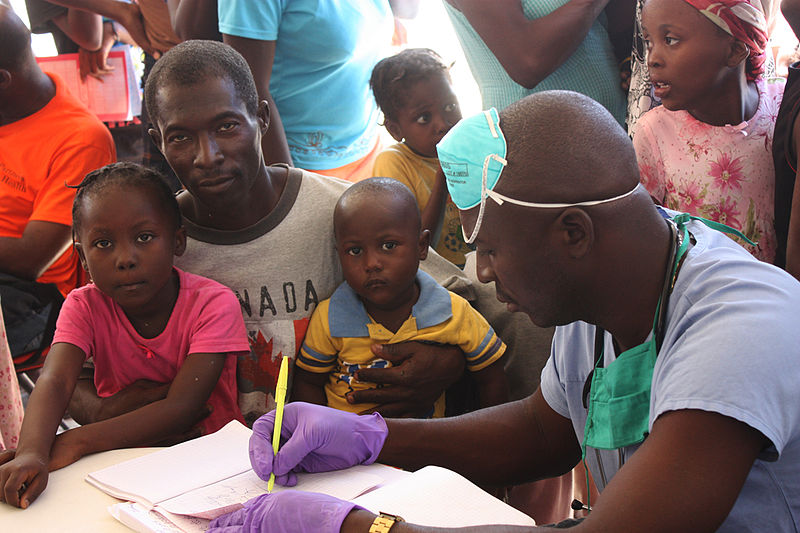 Light from Light is an organization built on three decades worth of friendship between Americans and Haitians. By empowering Haitians and community leaders to lead poverty-reducing efforts, the community has rallied around the central mission of the organization. Light from Light works through the Lespwa Timoun Clinic, which trains physicians and provides access to education-related services and healthcare in Haiti to surrounding communities.
Hannah Jones has worked in Haiti since December 2019, working in the clinic with Light from Light. Since her own arrival and the onset of COVID-19, Hannah has been part of the first wave of pandemic responses in Haiti. Jones' reflection on Light from Light and the current goals is indicative of her resilience and passion for her work. The pandemic has undoubtedly shaped her job as it has exacerbated the current healthcare problems that have come from the food insecure environment. With malnutrition on the rise, Hannah Jones told The Borgen Project about Light from Light's work with Haitian children and the topic of healthcare.
Children and Malnutrition
With the realities of food insecurity and poverty in Haiti, the major crisis affecting children is malnutrition. Based on the 2019 impact report, Light from Light has provided life-sustaining care to 1,293 infants and children. Unfortunately, the headway is seeing a setback with food prices being "nearly doubled" because of economic disruption. The clinic has experienced a sharp rise in cases of acute malnutrition. Hannah accounted that the number of malnutrition hospitalizations the clinic has outsourced, from pre-pandemic to present, went from an average of four cases per month to 18 cases in September 2020. Although complications have arisen from COVID-19, the organization is continuing its nutrition programs to offset the number of malnutrition cases.
In the areas near the Lespwa Timoun clinic, which one can translate to "Hope for Children," one in five children experiences malnutrition. Light from Light follows programs and procedures to lessen the impact of malnutrition, including the use of ready-to-use therapeutic food (RUTF). By following weight and height data from week to week, physicians at the clinic can recommend full treatment plans that follow a child's growth. The treatment comprises of weekly provisions of Plumpy'Nut, a type of RUTF that has high nutrient density. Children who overcome malnutrition have a better chance of becoming productive members of society.
Healthcare in Haiti
The Lespwa Timoun Clinic is an outpatient clinic with services ranging from general health screenings to prenatal programs to a diabetes club. In addition to the permanent clinic, rural communities receive access to mobile clinics. With 59% of Haitians living on less than $2 per day, taking a day off of work to seek medical care is a burden for those living on the margins. Clinical care is part of a larger goal of Light from Light to strengthen infrastructure in Haiti.
The COVID-19 response that the Lespwa Timoun Clinic facilitated has been an additional complication to healthcare in Haiti. One method of solving hygiene necessities is the Tippy Tap, an innovative no-touch hand washing machine that one can control with a foot lever. The Tippy Tap is a hallmark of Light from Light's ability to overcome barriers and find solutions. The clinic also distributes personal protective equipment and has implemented support systems in the crisis. Despite numerous issues to tackle, the Lespwa Timoun Clinic has taken this in stride and prioritized the health of the community.
Hannah Jones provides insight into the evolving climate in Haiti and has a positive outlook on Light from Light's future. The organization is continuing to pursue a more stable pathway for Haitians by implementing strong systems for education and healthcare in Haiti. Light from Light has formed remarkable strongholds through relationships. In time, the foundation has tremendous potential to implement tangible solutions to poverty in Haiti.
– Eva Pound
Photo: Wikipedia Commons
https://borgenproject.org/wp-content/uploads/logo.jpg
0
0
Lynsey Alexander
https://borgenproject.org/wp-content/uploads/logo.jpg
Lynsey Alexander
2020-11-21 01:30:38
2020-11-20 10:37:37
Light from Light Brightens Healthcare in Haiti