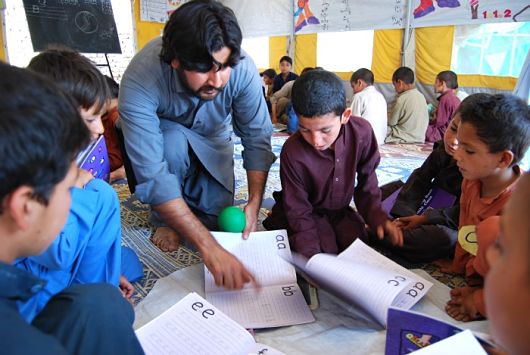 Pakistan continues to be faced with the direst challenges as it pertains to its education system. With an estimated 7.3 million children of primary school age being out of school, it is no surprise that the United Nations lists it as the Asian country with the lowest rate of school enrollment.
This issue of low enrollment is deeply rooted in the socioeconomic instability of the region. Many of the children are denied an education as either a direct or indirect consequence of poverty. Parents can neither afford an education for their children to begin with, or they cannot choose a lack of employment in favor of a formal education. UNESCO reports that 17.6 percent of Pakistani children work to support their families. Additionally, some children, especially girls, are denied an education due to social stigmas against female education stemming from poverty and lack of knowledge.
These unfortunate circumstances have led to unequal access to education for many Pakistani children. In areas where the government or nonprofit organizations are attempting to provide schooling for marginalized children, education has often been substandard, as evidenced by the abysmal state of most government-operated free schools.
Recently, a small startup by a college student in Pakistan has garnered some attention for its attempt at a solution to these problems. Named the "Tent School" system after the tents he envisioned as classrooms, the small nonprofit is already making progress in its objectives.
Since 2014, the program is geared towards educating children in impoverished slums of Islamabad, the national capital, and its neighboring areas. The teachers are volunteers, mostly college students, who provide most of the school supplies as well. The program is the brainchild of Zulqarnain Jameel, a software engineer, who combined his passion for universal education with his technological skills to create the Tent School.
The school system, as of yet, enrolls about 30 children from the poorest areas of Islamabad. Classes meet in a small room provided for by the parents, instead of in the namesake tents. The school's mission is to provide primary education to children who don't even have the most basic necessities of life, however, it does not skimp on the quality of education whatsoever.
Jameel and his IT developer partner rely on a hands-on teaching experience for the children. They use applications and electronic devices to provide their students with experience learning- a far cry from traditional government schools. Their "online collaborative learning" allows the students to learn from experiences and interactions; they can then apply their knowledge in an "innovation lab" to create their own inventions. The goal of the program is to groom the students' problem-solving skills while stimulating their curiosity.
The Tent School program is currently operational in Islamabad only, but with increased awareness and contributions, Jameel's planning to expand it to neighboring areas of the capital as well. But not with any compromise on the quality of education: developing the students' creativity and honing their ingenuity is to remain a vital part of the program.
The spirited enthusiasm of the program's founders is a welcome change in the scenery of Pakistani education, which has so far been dominated by behind-the-scenes nonprofits. With appropriate funding and efforts, the Tent School System has great potential in eradicating illiteracy in Pakistan- and ensuring that literacy is not just a numerical statistic, but the promise of a better future.
– Atifah Safi
https://borgenproject.org/wp-content/uploads/logo.jpg
0
0
Borgen Project
https://borgenproject.org/wp-content/uploads/logo.jpg
Borgen Project
2015-08-01 01:14:26
2020-07-06 12:20:37
The Tent School System of Pakistan