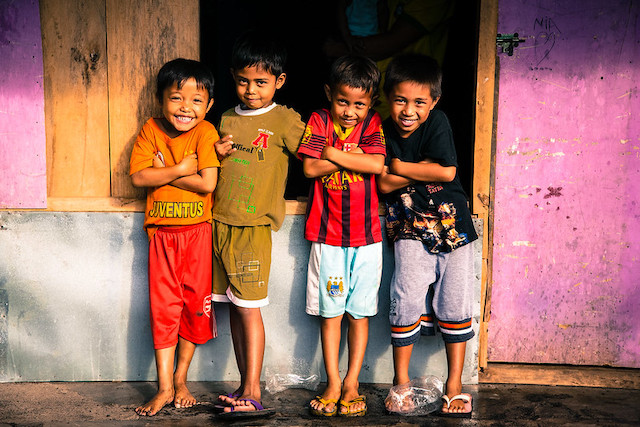 "Give a man a fish and you feed him for a day. Teach a man to fish and you feed him for a lifetime." – Ancient Proverb. The Indonesian government is taking the above saying to heart. It is doing its best to teach the poor population how to provide for themselves rather than merely providing aid. The government has grouped poverty reduction programs in Indonesia into three clusters: Social assistance, community empowerment and microenterprise empowerment. Simply put, cluster one is similar to giving Indonesia's impoverished population fish while cluster two is giving the population a fishing rod and teaching them to fish. Finally, cluster three is facilitating fishing by providing a boat.
The Three Clusters
Social Assistance – This cluster of poverty-reduction programs in Indonesia is focused on providing direct assistance to poor households. In the past, the government had taken measures to implement "a single 'combo' card-based cashless payment system" in order to promote financial inclusion. It also reallocated fuel subsidies to directly assist poor and vulnerable families. Furthermore, the non-cash food assistance program has transformed the delivery of nutrition-sensitive food assistance. This is the first step to reducing Indonesia's impoverished population.
Community Empowerment – With a more macro focus when compared to social assistance, this cluster gives poor communities the social funds they need to improve basic social and economic services. The programs included in community empowerment fall under PNPM. PNPM is an umbrella policy that attempts to self-help community capacity by creating jobs and achieving a better standard of community welfare. Examples of PNPM programs include social activities, such as the activity of posyandu (a community-based vehicle to improve child development) and BKM, which provides free medical service. It also includes economic activities such as women entrepreneurs weaving traditional clothes and micro-credits for women entrepreneur groups. The PNPM programs have seen great success in recent years with the community participation level reaching 39 percent and per capita consumption increasing 9.1 percent.
Microenterprise Empowerment – This third cluster looks at providing access to credits for microenterprises without having them be "hindered by the requirement to provide collaterals." Most of these enterprises are independent and "highly labor-intensive," employing "low levels of skills and technology." According to the SMERU Research Institute, microenterprises provide income and employment for significant portions of workers in rural and urban areas. Microenterprises comprise more than 50 percent of the nation's GDP. Each unit microenterprise can absorb 1-5 workers. In addition to the independent enterprises, "the government provides a subsidized guarantee scheme at 70 percent in which the government pays the premium" to find unbankable businesses that lack collateral.
The above programs have already achieved a great measure of success. They have reduced poverty by half from 24.3 percent in 1999 to 10.4 percent in 2013. However, there is room for further improvements. In 2014, "only one-fifth of the poorest 10 percent in Indonesia" had received all the benefits to which they were entitled.
Future Reformation
Possibilities for reformation in cluster one include a two-way updating system to the connection between the target database and the program-based beneficiary lists. This would help major social assistance programs reach the right people. Since needs change during certain times, having additional monitoring and evaluation to fill in the gaps in program design will improve the planning of the programs. Moreover, redesigning the Credit for People Initiatives by providing an incentive for smallholders for productive assets accumulation would leverage the poor with adequate access to the program and increase the impact of clusters two and three as well.
To add to the effectiveness of programs that are reducing Indonesia's impoverished communities, the government has also established a national team, chaired by the Vice President. It is the Vice President's hope that with the specific changes being looked at in each of the clusters, Indonesia will eventually bring the vast majority of those in poverty to a more sustainable economic situation.
– Shvetali Thatte
Photo: Flickr
https://borgenproject.org/wp-content/uploads/logo.jpg
0
0
Kim Thelwell
https://borgenproject.org/wp-content/uploads/logo.jpg
Kim Thelwell
2020-01-15 01:30:07
2020-01-11 19:51:03
Teaching Indonesia's Impoverished Population to Fish