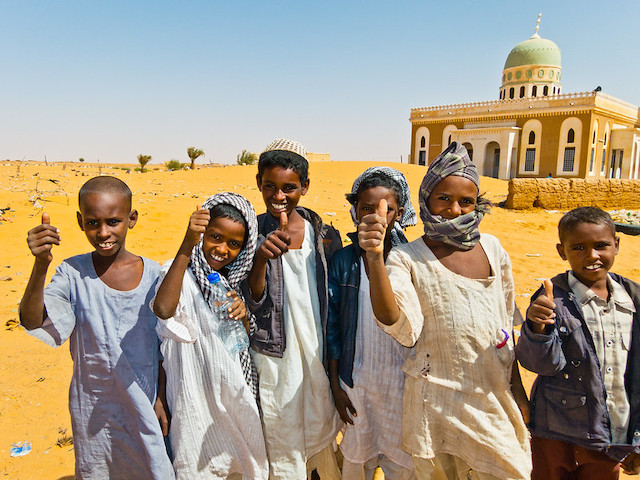 Peace in Sudan has proven to be a challenging goal. Sudan has been fraught with violence from the beginning. British and Egyptian forces relinquished Sudan in 1956. With imperialistically-sanctioned divisions between the north and south and little institutional direction, the new nation was immediately thrown into confusion and instability. The first military coup occurred two years after independence. Since then, peace in Sudan has been an abstract concept that the nation desperately needs but has only seen intermittently.
Conflict after Conflict
Economically, Sudan has been heavily reliant on oil since the discovery of oil fields in what is now South Sudan. The country began exporting oil in 1999. Ultimately, Sudan secured the industry's overwhelming importance in the accumulation of the country's revenue. In 2011, oil exports accounted for 98 percent of the revenue for the southern government. The discovery of oil has had a longstanding effect on tensions between the north and south, specifically, regarding who controls the trade and reaps the subsequent benefits. Although oil reserves are abundant in the south, the north established the refineries and trade hubs.
Frustrations over the regions' codependency have manifested in intense fighting between the north and south.  Conflicts over the small, oil-rich region of Abyei in 2002 is a good example. The oil industry has remained at the core of the lack of peace in Sudan because of its role in perpetuating regional struggles.
South Sudan
The conflict between northern and southern Sudan was not brought upon merely by oil. For more than 50 years, South Sudan was overwhelmed with civil wars, experiencing only brief periods of peace. The first civil war began in this region in 1962. Unfortunately, conflict is still prevalent in the country today. This decades-old conflict now consists of unending violence and countless accounts of human rights violations. The U.N. reported events taking place in the country such as ethnic and sexual violence, which may amount to be war crimes. These circumstances serve as a consistent threat to solidarity or reconciliation in Sudan.
The Sudanese civil war was largely due to colonizer-enforced divisions between northern Muslims, southern Christians and Animists. In fact, former president Omar al-Bashir was responsible for the unrelenting assault on the lives of southern Sudanese. For 30 years, Sudan was under the control of Omar al-Bashir, who ruled ruthlessly as a pro-Arab dictator in continuous oppression and violations of human rights. Beginning in February of 2003, he brutally ordered the systematic killings at Darfur, a region in western Sudan.
Anti-government groups accused the al-Bashir administration of neglect. Subsequently, an onslaught of ethnic cleansing ensued, displacing more than 3 million people and taking the lives of over 400,000. The conflict ended only when South Sudan was at last granted independence through a referendum obtaining the backing of 99 percent of voters in 2011. However, the longstanding friction between the north and south still plagues the two countries today.
Glimpses of Peace and Hope
There have been many attempts to end conflict and strife in order to protect the lives of Sudanese directly affected by the ongoing violence perpetrated by dictatorship, neglect and oppression. The U.N. Security Council intervened in 2003, in order to provide humanitarian relief in an attempt to stabilize the region. For example, in Darfur, it created the United Nations Hybrid Operation in Darfur (UNAMID) in 2007, which allows for current, ongoing facilitation of peace talks between rebel groups and the government of Sudan. UNAMID has allowed for peacekeeping operations to provide mediation to conflicting groups and aid to civilians affected by continuing violence.
A breath of fresh air came in 2005 when the Government of Sudan and the Sudan People's Liberation Movement signed the Comprehensive Peace Agreement in a historic resolution to lead the country on a road to development and stability. This was the start of a hopeful understanding between conflicting groups in Sudan to invest in the distribution of resources in order to begin bettering the lives of its people. Most recently, in 2019, the Transitional Government of Sudan and Darfur armed forces signed a peace agreement in an effort to express both sides' willingness to establish peace in Sudan.
Sudan is seemingly seesawing between one conflict and another. Where peace is established or agreements are reached in one area, violence ensues elsewhere. Protests are not uncommon, but the people of Sudan are fighting for democracy and to bring attention to the necessity of elections and a civilian-led government. Peace in Sudan is not an impossible task. With the combined determination of international organizations and internal efforts to establish inclusive institutions, Sudan has hope of bringing itself out of its violent past.
– Jessica Ball
Photo: Flickr
https://borgenproject.org/wp-content/uploads/logo.jpg
0
0
Lynsey Alexander
https://borgenproject.org/wp-content/uploads/logo.jpg
Lynsey Alexander
2020-02-18 17:48:44
2020-04-18 17:49:13
The Road to Peace in Sudan