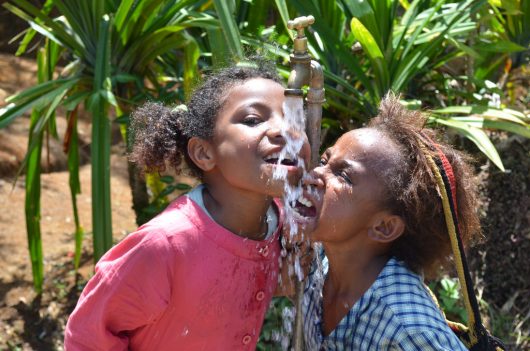 According to a 2016 report from WaterAid, an international organization that works to improve water quality, sanitation and hygiene to the most vulnerable populations, Papua New Guinea is the worst country in the world in terms of household water access. There are 4.5 million individuals, 60% of the population in Papua New Guinea who lack access to clean water. As a result of the water crisis in Papua New Guinea, 800 children die every year from diarrhea.
In the capital city, Port Moresby, about half of the population live in communities located on precipitous inclines prone to flooding. Many of these areas are outside the perimeter of utility services and far from water mains or sewage pipelines.
WaterAid suggests the vital water source connections will not be constructed for many years. The organization also notes that extreme weather along with rising sea levels contributes to an already precarious water crisis in Papua New Guinea.
Prohibitive costs, The Rakyat Post reports, are a major source of concern with respect to water quality. Poor residents in Port Moresby pay 54% of their daily wages to buy water (about 50 liters) from delivery services. By comparison, an individual living in the U.K. can expect to pay 0.1% of their daily earnings for the same amount of water from an official piped supply.
Henry Northover, head of policy for WaterAid told The Guardian that the global water difficulty was not always an issue of limited supply but in many instances a distributional problem. He added that with "clear and coherent" government policies and international intervention the crisis will be remedied.
Overcoming the crisis of water quality worldwide has been and continues to be challenging. Since 1990 advancements have been achieved, as 2.6 billion people now have access to clean water. With major improvements seen in Cambodia, followed by Mali, Laos and Ethiopia.
According to Northover ending the water crisis in Papua New Guinea and worldwide in general and thus availing all individuals worldwide access to clean water is an achievable goal, but he underscored the importance of a "clear, coherent strategy" by governments and an emphasis on water access to take global precedence.
– Heidi Grossman
Photo: Flickr
https://borgenproject.org/wp-content/uploads/logo.jpg
0
0
Borgen Project
https://borgenproject.org/wp-content/uploads/logo.jpg
Borgen Project
2016-10-11 01:30:29
2020-06-03 10:56:02
Overcoming the Water Crisis in Papua New Guinea