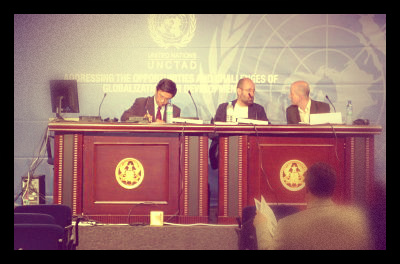 Norway recently completed an audit of its debts to developing nations that was conducted by Deloitte, an international financial services company. The audit was initiated with the intention to discover if Norway's aid to developing nations since 1970 complies with international and national guidelines. This is the first audit of its kind and is welcomed by anti-poverty advocates across the globe.
Developing countries burdened with debt is a significant contributor to global poverty and hinders the countries' ability to introduce progressive reforms. Many of these loans impose burdensome payment plans and high interest payments. As a result, anti-poverty measures must be forsaken or cannot be effective with such a burden on public finances.
In April 2012, the United Nations Conference on Trade and Development (UNCTAD) introduced the Principles on Promoting Responsible Sovereign Lending and Borrowing. The principles are intended to protect developing nations that are borrowing money by decreasing the costs of borrowing and the number of debt crises.
So far, twelve countries have endorsed the principles. The principles include provisions that agents who work with a country's debt are required to act in a transparent and accountable way that is consistent with their public office. In addition, the principles place responsibility on both the borrowers and lenders in debt agreements.
This is a significant change from most international debt principles, which place the burden almost solely on the borrowers.
Norway's audit included 34 debt contracts that are held with seven countries: Pakistan, Indonesia, Egypt, Zimbabwe, Myanmar, Sudan and Somalia, which total almost $1.6 billion. Norway's International Development Minister pointed out that while international aid may total $141 billion annually, developing countries must pay $464 billion annually to creditor nations.
While Norway has not released its intended actions in response to the audit's findings, some of the debts did not meet standards of responsible lending. Norway is considered a responsible lender, and implementing a similar debt audit in other lending countries may produce similar findings.
The U.S. has endorsed the principles, but only as voluntary guidance. Advocacy firms for responsible lending are lobbying the U.S. to introduce legislation that would incorporate the principles in U.S. policy, providing a more consistent application of the principles.
– Callie D. Coleman
Sources: Inter Press Service, European Network on Debt and Development, UNCTAD
Photo: Empresate
https://borgenproject.org/wp-content/uploads/logo.jpg
0
0
Borgen Project
https://borgenproject.org/wp-content/uploads/logo.jpg
Borgen Project
2013-08-27 20:49:56
2020-07-09 21:18:04
Norway's Debt Audit