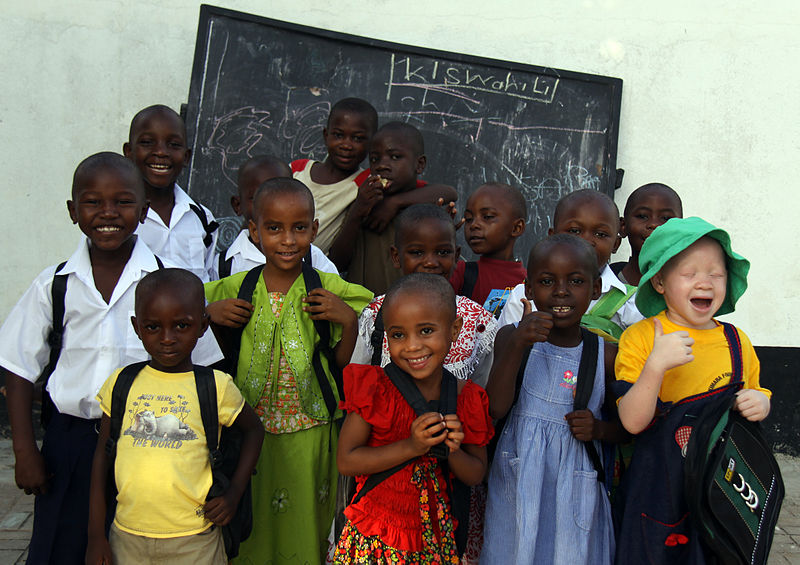 After gaining independence in 1961, Tanzania's government sought an advanced society for its population. The government's attempt to grow a stable economy overlooked the estimated 85 percent illiteracy among its people. As a country with one of the largest young populations, these eight facts about education in Tanzania demonstrate how improvements to education have become a primary interest in public policy.
8 Facts About Education in Tanzania
It is estimated that 5.1 million children between the ages of 7 and 17 are not in school. Primary school enrollment reached its peak of 86 percent in 2016, and in that same year, lower-secondary level school enrollment plummeted to a low of 33.4 percent. Many Tanzanian children do not experience a secondary education or vocational training. This leads to many children accepting jobs in hazardous conditions against the Tanzanian Law of the Child Act, which strictly defines and regulates prohibited tasks for children. Due to lack of enforcement of this act, 29.3 percent of children between the ages of five and 14 work in unsafe conditions in fields such as mining, quarrying and domestic work.
The average yearly cost of an education in Tanzania totals 100,000 Tanzanian Shillings (TZS). This cost is equal to $50. However, with a national average salary of $22,662, many families cannot afford the fees that accompany their children's education. These eight facts about education in Tanzania vividly depict poverty's crucial role in receiving access to education. As of 2016, the poverty rate decreased to 26.8 percent, but an estimated 29 percent of students still live in households below the poverty line. In addition to school fees, parents must pay for uniforms, books and possibly transportation. Public secondary schools offer cheaper tuition as opposed to private schools, but additional schools fees can total up to $300 a year.
Transportation to secondary school persists as an ongoing issue for millions of Tanzanian adolescents. Most of Tanzania's population remains condensed in rural areas far away from secondary schools. Six people riding on one motorcycle to school lingers as a common image in some of these communities. Some students are able to receive housing at a boarding facility or private hostel by a school, while poorer families simply cannot make such sacrifice. This forces some students to walk or bicycle 20-25 kilometers, which usually takes more than an hour. Organizations such as The Tanzanian Education Fund (TEF), work with a board of organizational officers to manage the financial income for schools, review each school's progress and fundraise for each school's ongoing success. The TEF ensures that more than 465 students attending the Nianjema secondary schools in Bagamoyo, Tanzania have school buses through countless fundraising events.
Adolescent girls in Tanzania are least likely to receive a secondary education. Research estimates that two out of every five girls in Tanzania marry before the age of 18. Within the population of married, secondary-school age girls, 97 percent are not in school due to marriage or pregnancy. Government policies also discriminate against pregnant and married girls by authorizing schools to expel them. Tanzania's education regulations permit the expulsion of students when a student has committed what it considers an offense against morality. Many girls in Tanzania yearn to go back to school but encounter discriminating barriers like repeatedly contacting the school headmaster with no response. In addition, they must pay an $18-23 re-entry fee after pregnancy which ultimately deters them from returning.
In 2010, Tanzania issued the Persons with Disabilities Act which guarantees the right to education and training services to children with disabilities. Today, disabled children still encounter barriers to attending primary school, and even fewer attend secondary school. Enrollment rates for disabled children dropped from 5,495 students to 5,328 students in 2013. Out of the 3,601 public secondary schools in Tanzania, only 75 schools accommodate children that require special needs education. Most of the students with disabilities do not have access to assistive devices like a wheelchair, cane or hearing aid. In other cases, few teachers receive training to teach children with learning disabilities. ADD International operates to fight global discrimination by influencing governments for change so every disabled person gets the best quality of life. Since partnering with Tanzanian activists in 2012, ADD International helped 1,404 children with disabilities enroll in primary school.
The Primary School Learning Examination (PSLE) prevents 1.6 million students from entering secondary school each year. The average completion rate for primary students is 58.4 percent whereas fewer than 52 percent complete secondary school. Many of the schools in Tanzania do not prepare their students adequately for the national exam due to a lack of resources and poor student to teacher ratios. The average student to teacher ratio remains 59:1. Students in Tanzania receive only one opportunity to pass the exam as well.
In 2015, the Tanzanian government eliminated the school fees required for all lower-secondary schools. The implementation of this practice emerged from Tanzania's 2014 Education and Training policy which aims to improve the overall quality of education in Tanzania. As a result of the policy, secondary school enrollment in Tanzania has increased to 31.6 percent. The Tanzanian government's goal to become a middle-income country by 2025 began with this significant change. The Tanzanian government made a commitment to provide free, compulsory basic education. This commitment coincided with a 12-year plan and a grant from The Global Partnership for Education (GPE)to strengthen its education system. By continuing to provide free education, skills in literacy and numeracy in Tanzania have improved exceptionally.
By collaborating with the Tanzanian government, Project Concern International (PCI) makes strides in improving the infrastructure of countless schools in Tanzania. The organization, PCI, aids in lifting communities around the world out of poverty by enhancing health and ending world hunger. Studies show that only 62 percent of schools in Tanzania provide an improved water source. Eighty-four percent of the 2,697 primary schools in Tanzania goes without handwashing facilities. These conditions create an unsanitary environment for children and make them more susceptible to diseases like dysentery, diarrhea or an acute respiratory infection. Since 2011, PCI installed 191 water systems in primary schools, giving an estimated 103,456 students improved latrines.
In the end, these eight facts about education in Tanzania are improving with support from global organizations. Bringing attention to the government policies that restrict marginalized groups of students from receiving an education can commence change. Tanzania will experience sustained development as long as the government invests in its education system.
– Nia Coleman
Photo: Wikipedia Commons
https://borgenproject.org/wp-content/uploads/logo.jpg
0
0
Kim Thelwell
https://borgenproject.org/wp-content/uploads/logo.jpg
Kim Thelwell
2019-07-19 08:19:36
2019-12-16 14:22:20
8 Facts About Education in Tanzania