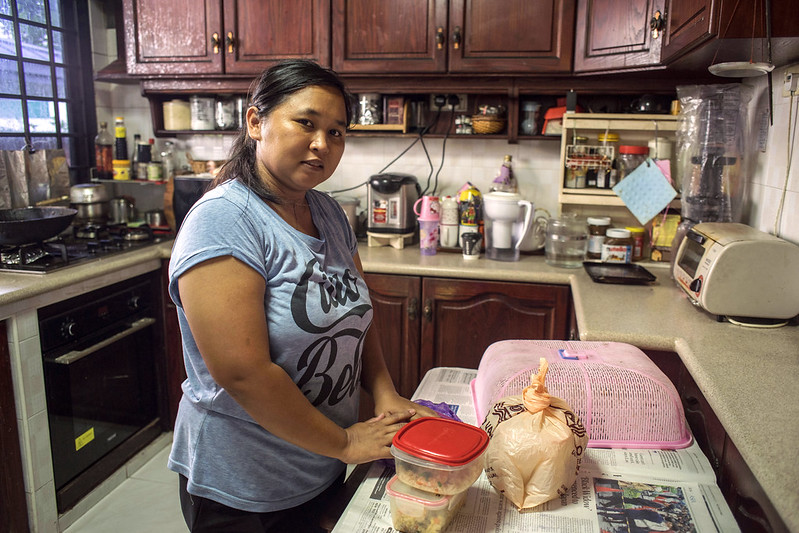 In high-income countries, many households rely on dual-income earnings, creating a market hungry for domestic labor to help with childcare and housekeeping. To fill these roles affordably, families rely on the low wage labor of women from developing countries. Many of these domestic workers come from the Philippines and emigrate to wealthier countries like Singapore, Hong Kong, Taiwan and Japan. A significant portion finds work in the United States as well, making up 15% of American domestic workers. This labor export has become extremely vital to the Philippine economy, accounting for about 9% of the country's total GNP. Although this model has remedied economic hardships for many Filipino families, the human sacrifices of this work are undeniable. Many of the Philippines' migrant domestic workers must part with their children, endure grueling professional demands and become vulnerable to exploitation in their host countries.
Demand for Migrant Labor
While Filipino men tend to migrate for jobs in construction and transportation, women often work as caretakers and domestics. On average, the remittances of male migrants are double those of female migrants, who frequently fill lower-paying positions. However, working abroad is an opportunity accessible mostly to Filipinos with some preexisting class privilege. Some of the Philippines' migrant domestic workers leave behind high-level jobs in their native country, their skills and education making them more attractive to foreign employers. Even so, the wages at more menial jobs abroad dwarf the women's earning potential at home.
Benefits to the Philippines
The Philippine Overseas Employment Administration reports that 1.2 million migrants work abroad each year and sent home $27 billion in remittances in 2014. This inflow of remittances is the third highest in the world, only ranking below India and China. When the capital from these remittances enters the national economy, families often invest in natural disaster relief, education and real estate. Exporting labor has also helped narrow the wealth gap, growing a more prosperous middle class. Nationalist rhetoric celebrates foreign labor and individuals who work abroad are praised as "new heroes." The Philippine government even presents awards like the Model OFW (Overseas Filipino Worker) Family of the Year Award to honor the sacrifices of specially dedicated migrant workers.
Personal Sacrifices and Children Left Behind
Despite the earning potential and social honor of working abroad, there is often a heavy emotional cost. Ironically, many Filipino women who leave home to provide childcare in the developed world must leave their own children behind. In the words of Manuela Peña, chief of the Overseas Workers Welfare Administration, "It is quite easy to become a successful overseas Filipino worker in terms of economic achievement, but we found out it is difficult to maintain family relations and turn (the life of a migrant worker) into success."
Migrants frequently leave children with family members and childcare workers who do not have the means to work abroad. For workers who are undocumented in their host countries, shuffling back to the Philippines for regular visits is impossible and family separation can last for years. After returning for retirement, many workers spend their retirement caring for children of relatives who work abroad, so that the next generation of mothers and fathers might provide for their families through remittances.
Exploitation and Fair Treatment
Many of the Philippines' migrant domestic workers are vulnerable to scams and exploitation. Recruiters can charge exorbitant fees, employers can provide poor working conditions and workers can receive unfair payment. The Philippine government has made some infrastructural and policy changes to grapple with these issues. Protections require that employers use standardized employment contracts, cap recruitment fees at reasonable rates and ban deployment to countries with records of poor migrant treatment. In 2012, the Philippines negotiated a groundbreaking $400 monthly minimum wage for Filipino domestic workers in Saudi Arabia.
NGOs like Unlad Kabayan Migrant Services Foundation, Inc. help migrants maximize their savings through entrepreneurship, providing microloans and financial literacy education. This model of social entrepreneurship stimulates local economies, promotes community development and provides a lucrative alternative to migration.
The loans that the Unlad Kabayan Migrant Services Foundation distributes range from ₱3000 to ₱1 million. Borrowers have used the loans to expand their small businesses by employing additional staff, investing in newer machinery and buying vehicles. As of the 2017 annual report, the organization held multiple training events in Davao City and Butuan City, educating participants on family rights, entrepreneurship and business management.
In Conclusion
The Philippines' labor export model has done much to lift families to comfortable middle-class lives. Many Filipinos now have greater access to capital and education because of the remittances that family members send. However, sacrifice and family separation remain as harsh byproducts. Fortunately, the government has put regulations in place to improve fairness and quality of life for the Philippines' migrant domestic workers.
– Stefanie Grodman
Photo: Flickr
https://borgenproject.org/wp-content/uploads/logo.jpg
0
0
Kim Thelwell
https://borgenproject.org/wp-content/uploads/logo.jpg
Kim Thelwell
2020-08-28 07:30:42
2020-08-26 14:59:05
Life for the Philippines' Migrant Domestic Workers