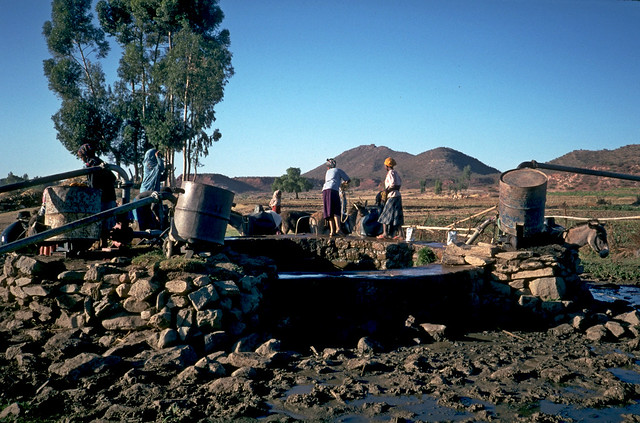 The land that encompasses the modern-day state of Eritrea is vast and old. The country itself, however, is one of the youngest countries on the African continent. After winning its independence from neighboring Ethiopia in a 30-year-long war of liberation, Eritrea emerged on the world stage as an underdeveloped and rural nation. While Eritrea has dealt with more than its fair share of struggles in its first 30 years of independence, sanitation and water usage continue to challenge communities. Many consider sanitation to be a gateway to development and modernization, and subsequently, Eritrea is taking steps to address this rising national issue. Here are nine facts about sanitation in Eritrea.
9 Facts About Sanitation in Eritrea
As of June 2019, Eritreans have received encouragement to ration water, reduce flushing and prepare for more drastic water limitations. This reactionary measure was in response to the nationwide water shortages that mismanagement and intense drought caused. Most Eritreans live in rural or semi-rural areas where seasonal rivers run dry for most of the summer. They rely on wells and government-supplied tankers for their daily water. As these water supplies dwindle, the rural inhabitants often do not have a reliable water source. Some people have even begun to migrate to different areas of the country in search of new water sources.
Community-led endeavors make up most of the efforts currently combating a lack of sanitation in Eritrea. In late 2007, the Eritrean government adopted a new initiative called Community-Led Total Sanitation (CLTS). Through this program, villages appointed hygiene promoters to assess the sanitation needs of approximately 20 homes and advocate for new community measures. One significant breakthrough came when the 2008 pilot village of Adi Habteslus achieved 100% of households having and using a toilet, after the implementation of CLTS in 2007. A conference on community-led sanitation in December 2018 established an initiative to end open defecation by 2022. Thus far, the results have been promising, with a total of 163 villages declared open-defecation-free. This translates to around 135,109 people across Eritrea gaining access to established latrines. This progress is due in part to the widespread initiative of the Ministry of Health to establish CLTS in communities across Eritrea, not just in villages in close proximity to the capital.
Community-implemented fines have had a positive impact on community health. For example, in late 2019 the U.N. volunteers reported that after implementing a penalty of 100 Nfk (equivalent to $7) for open defecation, a village in Anseba is now reporting "a significant decrease in the diarrheal diseases." Today, Eritrea is still on track to meet the goal of declaring an open-defecation-free state by 2022, thanks in part to the continued success of CLTS.
Community activists are also organizing the construction of latrines at their own cost to promote cleaner sanitation habits. In a program meant to reduce and even eliminate open defecation, many rural Eritreans are constructing communal latrines without any subsidies and using locally available materials. One woman, Amna Abdela Mussa, age 45 from the Emberemi Village, benefited greatly after constructing her own latrine, saying that it was empowering to give back to her community and improve her own sanitation.
Poor sanitation in Eritrea disproportionately impacts women and girls. It is a long-standing cultural expectation that women and girls in rural and urban Eritrea are responsible for overseeing the water collection and usage in each household. As the main users of water, women have also been playing a decisive role in the planning, implementation and operation of sanitation projects. Yirgalem Solomon is one of these women. She is currently spearheading a project to introduce an open dialogue in Eritrean middle schools about menstruation and sanitation to "break the taboo and help the girls address the many challenges they face."
Waste disposal still proves to be a difficult issue to manage, as many rural areas have no sanitary facilities. Open defecation is not the only cause of this. Additionally, latrines without proper sewage allow human waste to go back into the soil. This, combined with flash flooding that deforestation and mismanaged agricultural practices intensified, increases the chance of water pollution and eutrophication. Unfortunately, there are no large-scale projects yet to oversee the development of sanitation facilities.
Consistent infrastructure, like the Khashm el-Girba Dam, is in jeopardy in response to water shortages. Many rivers in Eritrea are seasonal, however, the Setit River flows all year and forms a small reservoir at the base of the Khashm el-Girba Dam. Through proper irrigation, the dam allowed for steady water supply until recently. Due to the prolonged drought, there are more than 500,000 people seeking shelter in refugee camps neighboring the dam. This influx of improper usage is making it difficult to keep the water clean.
Japan is collaborating with the Eritrean government to lessen the effects of the drought. The small town of Dbarwa proved to be a valuable example of this outreach. The drought heavily impacted this rural community and caused it to lose all assurance of well- and tanker- supplied water. However, the Japan International Cooperation Agency assisted in drilling five boreholes for the town, providing water to almost 30,000 inhabitants.
The most effective way to ensure a path towards equal sanitation is to promote sustainable habits that keep water clean and available. Current projections estimate a temperature increase of 46.4 degrees Fahrenheit (8 degrees Celsius) by 2050 and increasing variability in rainfall, making clean water more difficult to obtain. Eritrea is trying to combat this through the United Nations Development Program (UNDP). This program has already led to advancements in irrigation and soil erosion reduction through an emphasis on the adaptive capacity to climate change.
These nine facts about sanitation in Eritrea provide a glimpse into the current modernization techniques that the country is pursuing. While Eritrea still has plenty of work to do, thanks to the participation of rural and urban communities alike, sanitation across the country is increasing both in quality and reach.
– Elizabeth Price
Photo: Flickr
https://borgenproject.org/wp-content/uploads/logo.jpg
0
0
Jennifer Philipp
https://borgenproject.org/wp-content/uploads/logo.jpg
Jennifer Philipp
2020-05-19 12:09:00
2020-05-19 12:09:00
9 Facts About Sanitation in Eritrea