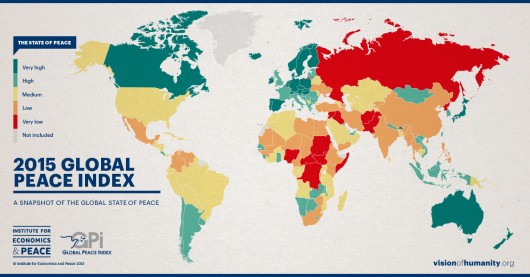 The Institute for Economics and Peace, or IEP—a think tank with offices in New York, Mexico City and Sydney—has released the ninth edition of their Global Peace Index. The Index makes use of 23 qualitative and quantitative indicators in an effort to illustrate the levels of peace around the world, highlight trends and inform policymakers.
Safety and security in society, the extent of domestic and international conflict, and the degree of militarization are the three facets that the IEP uses to gauge where global peace stands.
IEP views peace as a prerequisite to solving the major issues facing humanity. "It is a cross-cutting facilitator of progress, making it easier for individuals to produce, businesses to sell, entrepreneurs and scientists to innovate and governments to effectively regulate."
Therefore, they study what makes societies peaceful in order to contribute to the debate on meeting the challenges facing a 21st century world.
They have identified eight pillars that are hallmarks of peaceful societies. A sound business environment, good relations with neighbors, high levels of human capital, acceptance of the rights of others, low levels of corruption, good governance, free flow of information and an equitable distribution of resources all help to establish peaceful societies. These pillars have complex interactions and "are both interdependent and mutually reinforcing, such that improvements in one factor would tend to strengthen others and vice versa."
So, how is the world doing? The overall trend since the first edition, in 2008, has been a downward one. Although external conflict has significantly dropped, refugees and internally displaced persons, internal conflict, terrorism and violent demonstrations have more than taken up the slack, setting the stage for a less peaceful world.
Since last year, 81 countries have become more peaceful while 78 states have slipped. European countries continued their peaceful trajectory, while peace levels in the Middle East and North Africa have deteriorated significantly. The United States ranks 94 behind 21 African nations, and Iceland is the most peaceful country.
What is more shocking is that, by IEP calculations, violence cost the world $14.3 trillion in 2014, or 13.4 percent of global GDP. This cost has increased by 15.3 percent since 2008.
If the world was able to decrease violence by a meager 10 percent, enough money would be freed up to decuple (multiply by 10) the current level of official development assistance. This is important because IEP has also identified how closely aligned the Sustainable Development Goals are with the eight pillars of peace, implying that an increase in official development assistance would further reduce violence, putting into motion a virtuous cycle.
Although the idea that peace is beneficial for societies does not offer a radical new insight, IEP and their reports help quantify and illustrate just what type of violence is happening where, and why that may be.
For instance, IEP has found that high income inequality is associated with an increase in violence in urban environments, and that murder rates and urbanization are inversely correlated. These findings lay out a roadmap for policymakers to properly respond to and develop interventions that can help make the world a safer place.
– John Wachter
Sources: Vision of Humanity 1, Vision of Humanity 2
Photo: Visionofhumanity
https://borgenproject.org/wp-content/uploads/logo.jpg
0
0
Borgen Project
https://borgenproject.org/wp-content/uploads/logo.jpg
Borgen Project
2015-09-10 10:53:59
2020-06-30 09:17:43
Global Peace Index Offers Critical Poverty Insights