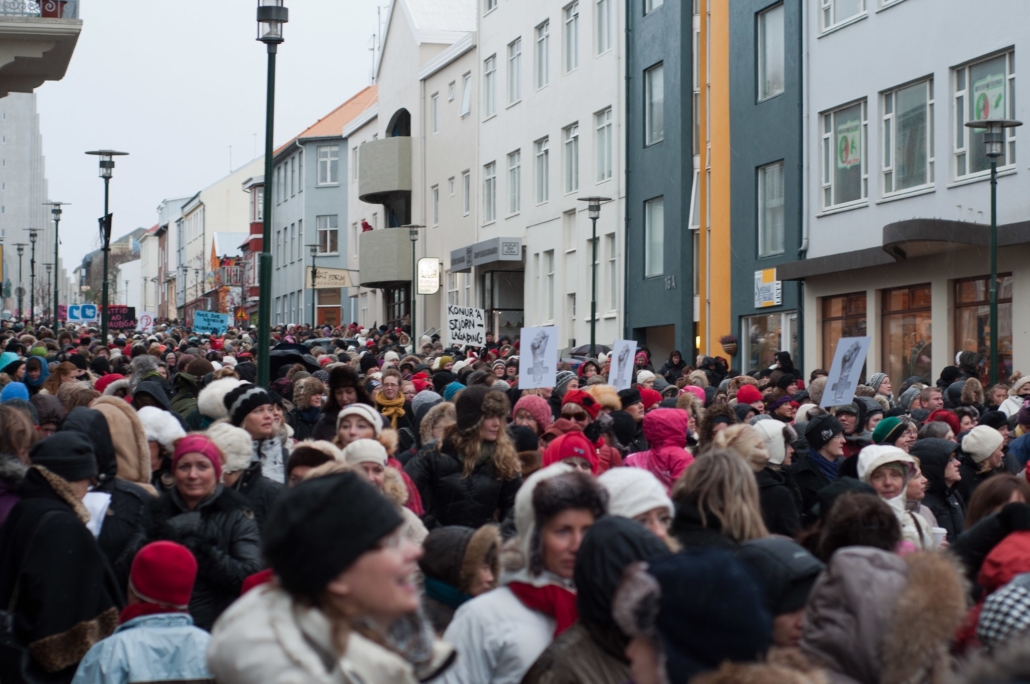 Women's rights in Iceland have evolved and the country has earned a reputation as the most advanced nation in terms of gender equality. The World Economic Forum's Global Gender Gap Report 2021 ranked Iceland as the "best country for gender equality" for the 12th consecutive year. The Nordic country in 2020 had a population of 366,425 with women accounting for 49.7%. Women's solidarity by means of political organizing and advocacy have been important catalysts for change and are instrumental in promoting gender equality in Iceland.
Gender Equality in Iceland
In the year 1850, "Iceland was the first country in the world to grant equal inheritance rights to both men and women." Prior to that proclamation, women had rights to just one-third of the inheritance. In 1917, Iceland gave women and men equal rights over their children. Iceland enacted the Act on Equal Status and Equal Rights Irrespective of Gender in 2000 "to prevent discrimination on the basis of gender and to maintain gender equality and equal opportunities for the genders in all spheres of society."
Iceland passed a law in 2010 requiring company boards to have a minimum of 40% of women or men. The law came into effect on September 1, 2013. In 2021, women occupied about 42% of managerial roles and 40% of parliamentary positions in Iceland.
Political Participation
In 1881, Iceland extended women's rights in Iceland by allowing them to vote in local elections for the very first time. Then, in 1907, the Icelandic Women's Rights Association began as the first formal women's organization to focus on political gender equality and "equal access to education" and the workplace. In 1908, Iceland elected four females to serve on the city council in Reykjavik.
Following this achievement, on June 15, 1915, women older than 40 gained the right to vote in national elections. Before this, men could vote from 25 years of age and women only at 40 years old. In 1920, Iceland removed "the age barrier to voting eligibility for women" completely. Then, in 1922, Iceland elected Ingibjorg Bjarnason as the first female member of the Icelandic Parliament.
In 1975, Icelandic women, tired of the lack of equal representation both in politics and labor force participation, birthed the "Woman's Day Off" strike to protest and ignite social change. About 25,000 women participated in the strike to protest gender discrimination. The women's movement pushed the boundaries of leadership in Icelandic politics and paved the way for the world's first elected female leader. Vigdís Finnbogadóttir became the first female President of Iceland in 1980, serving for 16 years. In 2009, these gender equality gains advanced further with the election of Jóhanna Sigurðardóttir as Iceland's first female prime minister. Now, "Iceland's electoral system is based on proportional representation."
Gender Wage Gap
In 2018, Iceland enacted the equal pay for equal work law. The Equal Status and Equal Rights irrespective of Gender Act mandates equal pay and equal terms of employment for the same jobs or jobs of equal value. "Equal pay means that pay shall be determined in the same manner for all persons regardless of gender." The law stipulates that determination of pay for work "shall not involve gender discrimination" and that there is no restriction on workers in disclosing their payment terms should they so choose. The equal pay law requires companies to prove the payment of employees at equal rates for equal work or pay a $385 fine per day.
Parental Leave
Iceland has a flexible and generous parental leave system. The Icelandic Act on Maternity/Paternity and Parental Leave aims to ensure a child's access to both parents and enable parents to integrate work and family life. Iceland granted Icelandic women rights to three months of parental leave in 1980. Iceland extended similar rights to men, eight years later.
In January 2021, Iceland extended the parental leave system to 12 months from 10 months. Parents can divide the leave period equally between themselves. Each parent has an entitlement to six months each and 80% of their income if they work full-time. The parental leave legislation makes provisions for a temporary leave of up to 16 weeks up until the child turns 8 years old but without pay.
Looking Ahead
Women's rights in Iceland have progressed through collective action and solidarity by human rights defenders challenging and protesting the monopoly of power in the hands of men and the power of men over women. Icelandic women continue to lead the change to gender equality, building an equitable and fair society. The equal pay law has strengthened efforts in narrowing the wage gap. It is important that Iceland maintains this approach in its effort to continue to lead as the most gender-neutral society. Going into the future, countries should implement comprehensive reforms to erase all forms of discrimination against men and women in the quest for gender equality.
– Sylvia Eimieho
Photo: Flickr

https://borgenproject.org/wp-content/uploads/logo.jpg
0
0
Saiesha
https://borgenproject.org/wp-content/uploads/logo.jpg
Saiesha
2022-04-04 07:30:29
2022-03-25 08:32:09
Facts About Women's Rights in Iceland