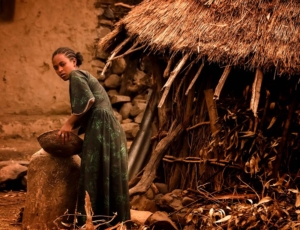 Ethiopia's stability has slowly been gaining financial, political and social stability in the wake of March 2022's cease-fire of the Tigray War. Pre-existing conflict and tension broke out into civil war in December 2020 between the Ethiopian federal government and the northern region of Tigray. The conflict resulted in a severe breakdown of the rule of law within the nation and heightened tensions with neighboring states. Foreign and domestic calls for peace came to fruition in March, though the situation remains fragile.
A Long-Brewing Struggle
Tension along ethnic lines is not new to Ethiopia; the country consists of 90 people groups, reported Minority Rights Group International. However, according to an article by Ahram Online, fighting peaked after Ahmed's re-election in summer 2021.
The Tigray People's Liberation Front has held significant political power since the early '90s, despite representing only 6.4% of Ethiopians. After Ethiopia first elected Ahmed, an Oromo (the majority ethnic group), in 2018, he began efforts to consolidate political power across regions under the Prosperity Party. The TPLF rejected his proposal, reported Ahram Online, and ignored COVID-19-related directives to postpone elections. Ahmed responded by freezing federal funding to the region.
The conflict escalated in the following months; the federal government denounced the TPLF and its control over Ethiopian politics, going so far as to unofficially declare it a terrorist group in lower parts of parliament. The TPLF raided a government military base in November 2020, which effectively cleared Ahmed to invade the territory.
How the Humanitarian Crisis Amplified Struggles
According to the United Nations Human Rights Council, conflict in Tigray had so devolved by 2021 that the region was experiencing a swath of human rights violations.
In a policy memorandum released on June 15, 2014, the United States Department of Homeland Security recognized the TPLF as a Tier III terrorist group under INA section 212(a)(3)(B)(vi)(III). However, a July 30 U.N. press release stated that "all parties" are guilty of war crimes.
Alice Wairimu Nderitu, U.N. Special Adviser on the Prevention of Genocide, said that she had received reports of crimes including "alleged sexual violence, recruitment of child soldiers, arbitrary arrests and ethnic-based targeted killings" since the beginning of the conflict.
"I urge the Government of Ethiopia to fulfill its responsibility and enhance efforts to prevent further escalation of violence," said Nderitu.
If Ethiopia could not control the war by itself, Nderitu encouraged regional aid and involvement from the African Union. However, she made no indication of international engagement if the conflict continued.
In November, one year after the war began, USAID Administrator Samantha Power estimated that 7 million Ethiopians faced food insecurity in a press release.
"In Tigray alone," she said, "5.2 million out of 6 million people — or 90 percent of the population — are in need of aid, and up to 900,000 people are facing famine-like conditions."
Months prior, Ahmed put up blockades in Tigray to restrict communication and resource access, which devastated the region.
"Practically no fuel, cash, medicines, or medical supplies have entered Tigray in months," she said. "Recently, the TPLF has also restricted aid delivery into areas under their control."
However, the U.S. has contributed $633 million in humanitarian aid. USAID and its partners have provided on-the-ground water, sanitation and hygiene services, as well as medical support; though Power stressed that the only solution was peace. 
Beginnings of Peace
The TPLF made a strategic retreat in December, and the Ethiopian government declared an "indefinite humanitarian truce" in March, quoted Aljazeera. Though tentative, peace has reduced conflict in Tigray and improved Ethiopia's stability, despite the millions still facing famine.
Ahmed announced on June 14 that he formed a committee to determine a peace agreement between the federal government and the TPLF, Aljazeera reported. Led by Deputy Prime Minister Demeke Mekonnen, the committee will have 12 to 15 days to draft an agreement to present to Tigrayan leaders.
Solutions for Ethiopia
Several international advocacy organizations dedicate time and funding to help Ethiopia, and many are honing in on Tigray. Staying informed about the country's developing war and peace efforts is integral to providing proper aid.
USAID's portfolio on Ethiopia is "one of the largest and most complex in Africa." Its website provides factsheets and years' worth of information on the nation's socio-economic position. Under the "Partners" tab, a list is available to interested parties to funnel interest and aid properly.
Facilitators for Change works in the Amhara and Oromia regions, both of which are in crisis like Tigray because of the conflict. Its mission is to move Ethiopia into self-reliance by supporting children and modern technologies and systems.
Cordaid works "in and on fragility" to bring shelter, medical attention and stability to those experiencing poverty and conflict. It has been active in Ethiopia since 2006 and focuses specifically on "saving lives, quality basic services and building sustainable livelihoods" in the nation.
In February, Congress received the Ethiopia Stabilization, Peace and Democracy Act in the House, which aims to promote Ethiopia's stability. It proposes sanctions against groups and individuals who have undermined peace efforts and prohibits assistance until Ethiopia meets specified conditions and ceases all military action related to civil war.
Decades of political tension culminated in a civil war and erosion of Ethiopia's stability and rule of law in 2020. War decimated the fragile socio-economic condition, and drought exacerbated the resulting humanitarian crisis. However, local, regional and international aid groups and governments are determined to re-establish peace in the ancient nation.
– Paris Coughlin
Photo: Flickr
https://borgenproject.org/wp-content/uploads/The_Borgen_Project_Logo_small.jpg
0
0
Jennifer Philipp
https://borgenproject.org/wp-content/uploads/The_Borgen_Project_Logo_small.jpg
Jennifer Philipp
2022-07-16 01:30:29
2022-07-12 09:41:40
Efforts to Improve Ethiopia's Stability