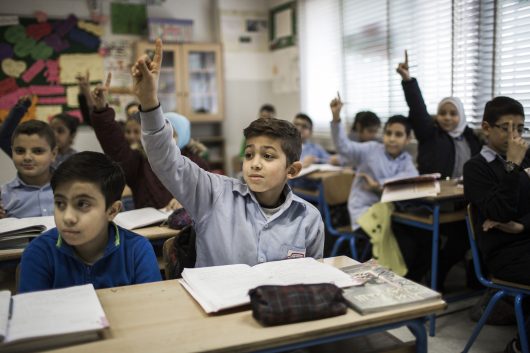 Turkey is home to 833,039 Syrian school-aged children displaced by civil conflict. Since 2016, the Turkish government has worked to expand education for Syrian refugees in Turkey by integrating refugee children into the public school system. The initiative has some demonstrable success: there was a 25 percent increase in Turkish public school enrollment by refugee children in the 2017 school year.
Of the school-aged Syrian refugees living in Turkey, 612,603 were enrolled in either Turkish public school or temporary education centers as of October 2017. The Turkish government plans to close temporary education centers by the end of 2018. Approximately 300,000 refugee children attending these centers will be transferred to public schools and will transition to a Turkish-language curriculum. Another 360,000 refugee students who are not currently enrolled will also be sent to public school.
The Current Situation
For the first time since the policy was announced, more refugee school-aged children are enrolled in the Turkish public school system, at 59 percent, than in temporary education centers, 41 percent. The Turkish government plans to close all temporary education centers by the end of the year.
Temporary education centers teach an accredited curriculum in Arabic. For the past seven years, these facilities have provided education for Syrian refugees in Turkey in their mother tongue. However, these centers have been criticized for fostering cultural and linguistic separation between refugees and natives.
What Must Still Be Done
To accommodate the influx of students, the Turkish government is building 150 new schools with donated funds. However, this new construction will not adequately incorporate matriculating refugees from temporary education centers and additional funding is still needed.
Currently, the Ministry of National Education is adjusting to the increased number of students attending public school by sending some Syrian children to imam-hatip schools. Imam-hatip schools teach religious texts alongside other curriculum.
Critics of the new policy worry that Syrian students will drop out of school rather than attend Turkish-language public schools. Cultural tensions between Turkish and Syrian students, aggravated by resource shortages in public schools, could create hostile learning environments for Syrian children.
Working Toward Education for Syrian Refugees in Turkey
To mitigate the risk, the Ministry of National Education has declared that kindergarten and primary school are compulsory for all Syrian children. The government plans to enroll refugee children in intensive Turkish language courses to help students adjust to a Turkish curriculum. Also, refugee children will be offered additional classes on Arabic language and culture to help Syrian students stay connected to their heritage.
Additionally, to encourage older refugee children to stay in school, an E.U. program offers subsidies to Syrian schoolchildren. Subsidies are awarded to students who attend 80 percent of their classes and payments differ based on age and gender. Female high school students are entitled to the largest subsidies.
The Ministry of National Education's public education initiative shows a real commitment to creating inclusive education for Syrian refugees in Turkey. Despite cultural and language barriers, more Syrian refugee children than ever before are enrolled in schools in Turkey.
– Katherine Parks
Photo: Flickr
https://borgenproject.org/wp-content/uploads/logo.jpg
0
0
Borgen Project
https://borgenproject.org/wp-content/uploads/logo.jpg
Borgen Project
2018-04-28 07:30:23
2019-12-17 14:15:24
Efforts to Expand Education for Syrian Refugees in Turkey