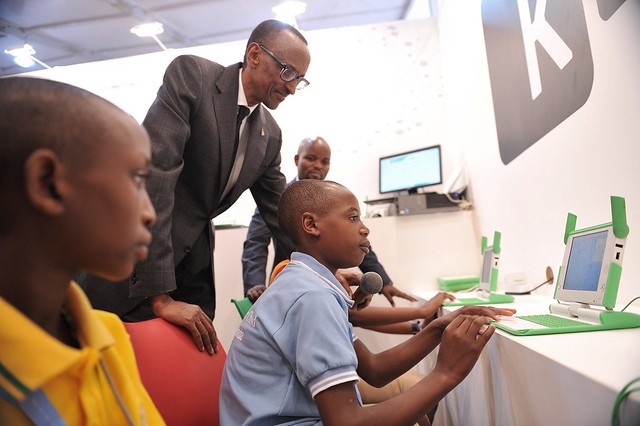 With a startling low physician density of 0.064 for every 1,000 people, Rwandans seeking care were used to waiting in long lines or traveling long distances for medical attention. However, thanks to near-universal broadband access, now Rwandans need only reach for their phones — such is the status of telemedicine in Rwanda.
In partnership with London based telehealth startup Babylon and the Bill and Melinda Gates Foundation, the Rwandan Ministry of Health launched an app called Babyl Rwanda, which connects users with an artificial intelligence chatbot to triage medical complaints, make recommendations and schedule remote physician appointments. The app is programmed with several languages including Kinyarwanda, English and French. Those without phones need only visit a Babyl Booth to access the necessary technology.
The Bigger Context
Since the devastating genocide in the 1900s, the Rwandan government dramatically increased its investment in healthcare from 4 percent in 2000 to its peak in 2007 at 9.6 percent. As of 2016, government spending on health care in Rwanda was around 7 percent; despite the increases in spending, the physician density remains very low at 0.064. Large changes, such as the implementation of a mandatory health insurance scheme in 2008, accompanied these government investments, and they have led to a 90-percent insured rate among its citizens. The national health insurance scheme and increased government spending on healthcare have both paved the way for the development of sophisticated telemedicine in Rwanda.
Rwanda's choice to amplify its current physician base through the Babyl Rwanda app has made great strides in overcoming its problems with physician density. A team of 25 physicians staffs the phone/video-based remote consultations through Babyl. Each consultation typically costs the patient 65 cents. Since its inception in 2016, the app has been downloaded two million times and purports to have facilitated over 500,000 remote consultations.
Babyl Rwanda and Telemedicine
Here's how Babyl Rwanda works: The phone user dials #811 and registers using their National ID number, which is linked to the SIM card in their phone. After the National ID is verified and payment via mobile money has been received, an SMS confirms when a nurse will call. The triage nurse schedules the next steps in treatment— laboratory, specialist visits, or simply a visit with a GP. Babyl seeks "to put an accessible and affordable health care service in the hands of every person on earth."
Such telemedicine success depends upon broadband connectivity and a public IP address that will allow users to connect with people in other countries. Rwanda has heavily invested in its information and communications technology infrastructure. According to the Rwandan Development Board, the country has a "National Backbone": an IP/MPLS network with 10 Gbps capacity for each district. A 2,500 km fiber optic network connects all 30 districts and each of the nine major border points. The capital Kigali also boasts its own network, the Kigali Metropolitan Network. As of 2018, 3G signal blanketed 90 percent of the Rwandan population, compared to 75 percent of Senegal in the same year.
Equipping Physicians
As Rwanda looks to improve its physician density, it must increase its production and retention of physicians. The university system is underprepared for this burden, and doctors working within the government system are poorly compensated; as such, many leave the profession for more financially sustainable pursuits, such as working for health NGOs.
At the Military Hospital in Kigali, telemedicine in Rwanda facilitates remote instruction for medical students, connecting them to leading health professionals around the world. In this context, telemedicine's goal is "to improve student training and consequently medical service delivery through regular consultation of experts on advanced medical cases." The idea is that with access to both quality instruction and leaders in the field, physician retention will improve.
Telemedicine in Rwanda seeks to revolutionize both the care of patients now and the training of physicians for the future. Kirsten Meisinger M.D., medical staff president at Cambridge Health Alliance, argues, "Rwanda shows us a perfect example of how to make crisis an opportunity by investing in a technology solution."
– Sarah Boyer
Photo: Flickr
https://borgenproject.org/wp-content/uploads/logo.jpg
0
0
Kim Thelwell
https://borgenproject.org/wp-content/uploads/logo.jpg
Kim Thelwell
2019-06-27 02:51:58
2019-10-28 15:24:37
Telemedicine in Rwanda: The Future of Health