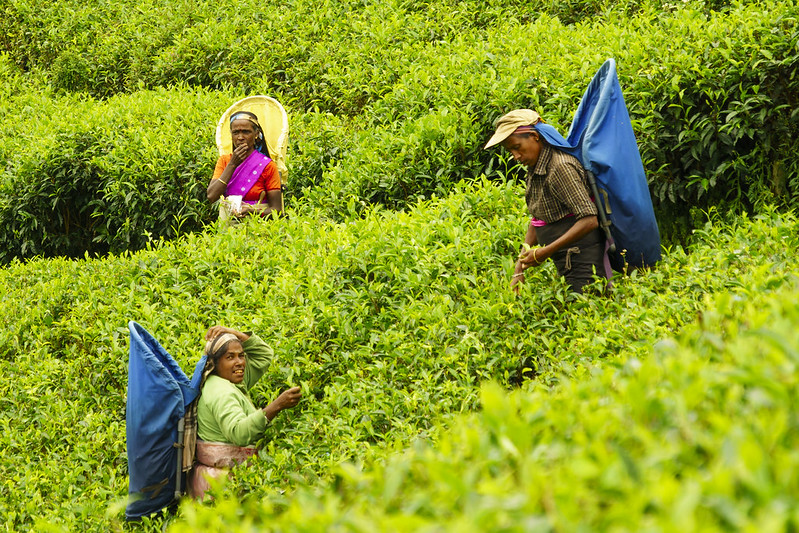 Sri Lanka is a small island off the southeastern coast of India. The country is home to around 22 million people and to a long and vibrant history. Sri Lanka has gone from an early Buddhist settlement to a colony under the control of major European powers to, finally, its own independent republic in 1972. Throughout its secular history, tea farming in Sri Lanka has remained a constant activity and has played a massive role in the development of culture on the island.
Sri Lankan tea gained global prevalence after British colonial rulers transformed tea agriculture into a plantation-style economic powerhouse. With the economic success brought on by the explosion of tea farming in the country, the British began pushing peasants and subsistence farmers into producing tea to capitalize on the global interest in the beverage.
Tea Farming in Modern Sri Lanka
Plantation-style agriculture still makes up a notable volume of Sri Lanka's economy, and tea is the "preeminent crop of the plantation sector" according to the Encyclopedia Britannica.
The global demand for tea has not diminished in modern times and seemingly neither has Sri Lanka's role in providing it. The country exports hundreds of millions of kilograms of tea every year. For example, from January 2020 to May 2020 Sri Lanka exported over 100 million kilograms of tea to its trading partners.
Therefore, much of the country's agricultural workforce is devoted to tea farming. More specifically, two million Sri Lankan farmers rely on tea farming and tea production to provide for their families and households. With tea ingrained in so much of Sri Lanka's culture and economy, modern solutions need to be embraced to soothe the working conditions of the many poor farmers who work to meet the global demand for tea.
How Microsoft is Improving Tea Farming in Sri Lanka
To do so, Sri Lanka has turned to technology and confided in companies to assist the government in finding these solutions. For Sri Lanka specifically, Microsoft has been a superb partner in this goal.
One broad way Microsoft has helped is via a survey conducted with local business leaders to determine if they have an interest in integrating artificial intelligence (or "AI") as a business solution. The survey discovered that 80% of those business leaders surveyed found AI to be essential to maintain their business's competitiveness. Acknowledging this, Microsoft is investing millions of dollars into enhancing tech skills for businesses in Sri Lanka, as well as starting programs and providing hardware to assist tech startups rising in the nation.
The implications of this initiative are massive. Considering the vital status of tea farming to Sri Lanka's culture and economy, Microsoft's assistance in pushing more technology into businesses can lead to more efficient farming. As a result, there will be more valuable data available to increase crop yields and more companies will engage in tea farming as their enterprise of choice. The introduction of these tools can also lead to an improvement in the lives of millions of tea farmers in Sri Lanka in both safety and economic terms.
The Colombo Tea Auction
Such efforts have already begun to take hold in Sri Lanka. One major example of Microsoft's valuable assistance to tea farming in Sri Lanka can be found in the Colombo Tea Auction. The Colombo Tea Auction is a weekly event that takes place in the nation's capital involving the sale and export of tea from farmers. The event is vital to the tea farming community's success as it is a major method for how the country's tea is prepped and sold for export around the world.
However, the auction tends to involve a lot of close-quarters contact between attendees; a reality that has proven impossible given the current global COVID-19 pandemic. Despite this, with the help of Microsoft's Azure team and their Azure cloud and AI products, a local tech company was able to develop an e-commerce platform that allowed sellers and buyers to trade tea from the safety of their own homes. This was developed with extreme speed, and it allowed the tea economy (and two million poor tea farmers) to avoid economic disaster and flourish amongst a dangerous pandemic.
Now that the benefits are starting to become more tangible, and economic success is within reach for Sri Lanka's farmers, technology may become more and more prevalent in the Sri Lankan tea industry. With the success of the Colombo Tea Auction's move to digital commerce, along with Microsoft's continued efforts to support Sri Lanka's growth in tech and economic fulfillment, the world may see a better-equipped, safer and more successful Sri Lanka in the near future, perhaps beginning with their high-quality tea.
– Domenic Scalora
Photo: Flickr
https://borgenproject.org/wp-content/uploads/logo.jpg
0
0
Kim Thelwell
https://borgenproject.org/wp-content/uploads/logo.jpg
Kim Thelwell
2020-08-24 11:32:00
2020-08-25 10:19:31
How Microsoft is Improving Tea Farming in Sri Lanka