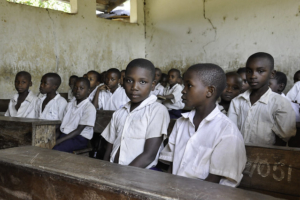 Considerable progress has been made to increase the rate of educational enrollment for children living in developing countries. Between 1950 and 2010, the average years of schooling completed by adults living in developing countries more than tripled; between 2000 and 2010, secondary school enrollment in Zambia increased by 75 percent. Morocco is experiencing a similar rate of growth in enrollment, indicating that the gap in enrollment between poor and wealthy countries is dwindling.
Educational System Improvement
Globally, trillions of dollars are being dedicated to improving educational systems. Government expenditure on education as a percentage of GDP is higher than ever before at a rate of almost 5 percent. In emerging markets, households are spending a greater percentage of their GDP per capita on education than households in developed nations. Governments and their people are fully convinced of the promise that education holds for reshaping the future, especially in developing countries.
Education has been shown to have enormous benefits in all facets of life. For individuals, education increases lifetime earnings, reduces the chance of living in poverty and leads to better health. For communities, education can increase long-term development, lead to more rapid economic growth, cause greater social cohesion and increase social mobility.
A New Challenge
With overall enrollment numbers climbing year after year, it may seem as though a crisis in educational attainment is a thing of the past. Unfortunately, school enrollment alone does not guarantee the presence of learning. Some alarming statistics underscore upbeat reports of increases in school enrollment.
In fact, 125 million children in the world are not attaining functional levels of literacy or numeracy after four years of education. In Malawi and Zambia, only 10 percent of the students were able to read a single word by the second grade; in Pakistan, 40 percent of 3rd-grade children could not perform simple subtraction.
An analysis of the current learning crisis by The World Bank attributes this lack of learning milestones in developing communities to four key factors. The four immediate determinants are learner preparation, teacher skills and motivation, the availability of relevant inputs and school management and governance. The current state of learning outcomes is not necessarily a setback, but an inevitable hurdle in the way of unlocking the full potential of education.
Teaching at the Right Level (TaRL)
MIT's Abdul Latif Jameel Poverty Action Lab (J-PAL) and Indian NGO Pratham sought to address the issue of sub-par learning outcomes in Sub-Saharan Africa, a region desperately in need of educational reform. In association with African governments, they developed the Teaching at the Right Level (TaRL) Africa initiative. TaRL Africa attempts to take an evidence-based, yet novel approach to structuring education for young children in order to increase in long term retention and overall learning outcomes.
When students first join the program, they take assessment tests to gauge their current level of knowledge on relevant academic concepts. The students are then placed into groups based on their needs rather than age alone and regularly evaluated throughout the year to ensure that they are reaching key milestones on an individual basis. Evaluations by J-Pal and Pratham of TaRL initiatives have shown that the cost-effective approach gives instructors the opportunity to make a greater impact on the learning outcomes of children.
Innovative and Scalable
In October 2018, J-Pal and Pratham launched a dedicated website for TaRL Africa as part of an initiative to improve the reach of their program throughout Sub-Saharan Africa and around the world. One of the key components of TaRL is its scalability. The program is built to be able to be easily replicated and adaptable for any classroom's needs. Although the website doesn't give you access to the entire program itself, they are hoping to introduce teachers, administrators and potential donors to the benefits of the program.
Co-Impact, a global philanthropic collaborative for systems change, was recently tasked with narrowing down a pool of over 250 education, health and economic opportunity initiatives to just five that would be awarded $80 million and technical support. On January 15, TaRL Africa became one of the five recipients of the Co-Impact grant, increasing the reach of the program to over three million students over the next five years.
Regarding the grant, the Executive director of J-PAL said "This grant represents the critical importance of using evidence from rigorous impact evaluations to drive decision making. [W]e can disrupt the status quo and transform lives." This potential to increase educational levels is inspiring and should encourage other organizations to become a part of a quickly growing, knowledge-giving solution.
– John Chapman
Photo: Flickr
https://borgenproject.org/wp-content/uploads/logo.jpg
0
0
Kim Thelwell
https://borgenproject.org/wp-content/uploads/logo.jpg
Kim Thelwell
2019-03-20 11:52:49
2019-04-30 14:38:30
TaRL Africa: Improving Education in Sub-Saharan Africa