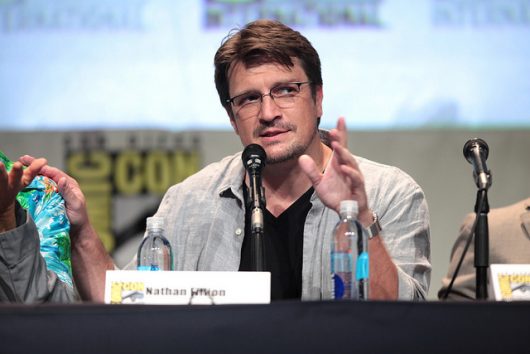 Actor Nathan Fillion spent much of July 17 on Twitter personally thanking donors to the Sawla Children's Home. In May, he announced the chance to "Win A Shiny Birthday Lunch" through a special Prizeo sweepstake. Everyone who donated $10 or more was entered to win a ticket to Los Angeles and Facetime with Fillion on his birthday.
With true fundraising prowess, Fillion offered a slew of services to his donors, including thank you videos, voicemail messages, merchandise and personal tweets. Close to 1200 donors left comments on Prizeo thanking Fillion for supporting Sawla Children's Home.
The International Assistance Program
The Sawla Children's Home is one of the six main projects of the International Assistance Program, also known as iAssist. iAssist is a faith-based nonprofit which seeks to meet the needs of impoverished communities. In addition to the Children's Home in Ghana, they sponsor a school for indigenous Guatemalans, a loan agency in Ethiopia, family services in Costa Rica and international sustainable water solutions.
Problems Facing Children's Homes in Ghana
According to a report by the Department of Social Welfare, child care across Ghana suffers from institutional failures. Many children's homes are unauthorized by the government, under-trained and use unreliable sources of income. They also have unreliable strategies for transitioning residents out of foster care. This is partly because Ghana lacks quality training programs and the government has an overall lack of political will to institute changes. As a result, the local communities are disinterested in supporting children's homes. The DSW also reports cases of neglect within existing facilities.
Sawla Children's Sustainable Practices
The Sawla Children's Home began in 2007. Ten years later, they report well-fed, healthy residents who are excelling in school and impacting their local community. As a successful facility, the Sawla Children's Home models unique strategies that help to overcome the institutional failures common in Ghana.
This success is largely due to its sustainability initiatives. Three main projects support the Children's Home: farming, a tractor business and a van business.
Van business: The Sawla Children's Home owns a 15-passenger van. The van becomes a sort of taxi for local points of interest. In particular, the van regularly takes tourists to the region's national parks.
Tractor business: In addition to selling surplus crops at the local market, Sawla Children's Home contributes to food security in the region by leasing their tractor. When it is not in use, the tractor travels to local farms as a method of generating revenue. The secondary consequence is that all farms in the region are able to produce more crops.
Farming: The Sawla Children's Home uses a 20-acre farm to grow maize, yams, cashews and mangoes. They use these crops to feed residents and sell the surplus. This also teaches residences basic agricultural principles that can be used when they exit the program.
How Sustainability Overcomes Institutional Failures
These sustainable initiatives are an important tactic for overcoming institutional failures common throughout Ghana. First, they provide reliable sources of income. Second, they teach residents practical life skills like farming and business. Third, they foster respect for the local community.
In turn, this means that the Sawla Children's Home can afford trained staff members. Access to quality nutrition gives students an advantage in school. That advantage, along with the skills they learn from these initiatives, aides in transitioning into the community. Finally, as residents leave the Children's Home successfully, they will place a higher value on their experiences. This means that when they become community members, they are more likely to promote the interests of the foster care sector and overcome stigmas preventing the community from caring for its orphans.
– Brandon J. White
Photo: Flickr
https://borgenproject.org/wp-content/uploads/logo.jpg
0
0
Borgen Project
https://borgenproject.org/wp-content/uploads/logo.jpg
Borgen Project
2017-10-22 07:30:31
2020-06-22 14:16:05
Nathan Fillion Supports the Sawla Children's Home