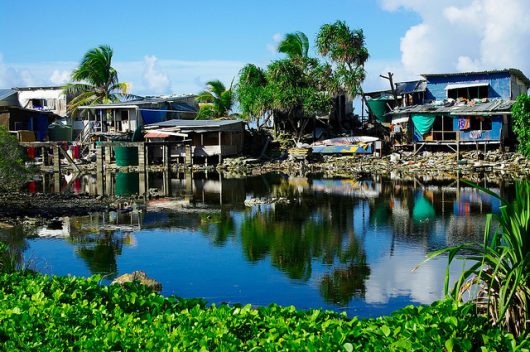 Sustainable agriculture in Tuvalu, a small island developing state (SIDS), requires a cooperative network of individuals that understand and manage an unsure climate and disaster risk. Tuvalu consists of nine islands with its highest point being only a few meters above sea level. This makes for an unfriendly climate and physical environment as well as poor land resources and soil.
Agricultural Challenges
Due to the harsh variation in the climate, Tuvalu faces major setbacks in agricultural development.  This forces the government to rely heavily on imported food, rather than locally produced food, to feed the country. According to the USAID Demographic Health Survey, the lack of sustainable agriculture in Tuvalu in 2007 caused a reported 61.2 percent of children under five years old to become anemic because of insufficient nutrients found in vegetables. This resulted in further issues as inflation hiked to 12 percent in 2008 instilling a reliance on imported food that has threatened the health of the country's children.
Most of the crops grown in the villages are kept for individual sustenance (the taro, breadfruit, pandanus, pumpkin, etc.) with production being limited and often damaged by animals. Coconut trees remain the country's largest crop and export, despite the high prices and restricted amount of exports by the government.
Sustainable Solutions
To create a reliable food source, the government turned its focus to home gardening, teaching Tuvalu's women and children how to produce nutritious foods in their backyards to promote health. According to the 2005-2015 Tuvalu National Strategy for Sustainable Development, there is hope for revamping the country's agricultural practices that have declined or been forgotten due to increasing urbanization, specifically on the local level within the villages.
Sustainable agriculture in Tuvalu centers on creating a reliable food source that can survive the country's harsh climate and soil conditions. The Food and Agriculture Organization of the United Nations (FAO) partnered with Tuvalu in 2003 to develop an environmentally secure source of food production. The Secretariat of the Pacific Community's Centre for Pacific Crops and Trees supplied a banana plant that can resist the climate, the black sigatoka disease along with 20 other diseases that are common among plant crops.
Local farmers have been supplied with these disease-resistant plantlets for crops that could support local and household consumption. Workshops and field demonstrations provided by the FAO to farmers and extension officers have helped boost the success of these crops significantly. They demonstrated two cultivation systems appropriate for the successful production of these crops in Tuvalu's environment.
The FAO provided further workshops to teach farmers how to protect plants against invasive pests and harmful plant species. Educating farmers on these matters is key to creating sustainable agriculture in Tuvalu. Through continued education and working directly with local farmers, Tuvalu's economy and agriculture will improve.
– Kayla Rafkin
Photo: Flickr
https://borgenproject.org/wp-content/uploads/logo.jpg
0
0
Borgen Project
https://borgenproject.org/wp-content/uploads/logo.jpg
Borgen Project
2018-02-17 11:16:03
2019-12-18 14:02:45
Sustainable Agriculture in Tuvalu