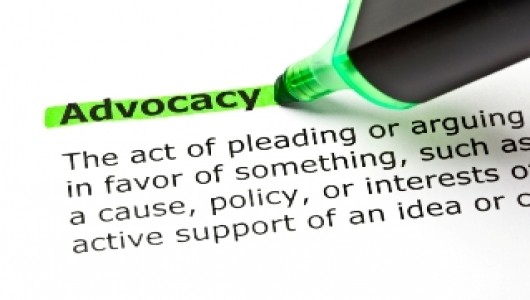 Advocacy is a concept with a short definition but an extensive explanation. In a very broad sense, advocacy is simply supporting a cause. The cause could be anything from human rights to animal rights and anything in between and beyond. An advocate works on behalf of another person or a group of people (or animals) who are voiceless or too vulnerable to promote their own causes and obtain help.
Advocates can work on the behalf of individuals, such as a parent for a child. Other examples include a teacher for a student, a doctor for a patient and a lawyer for a client. Relatives can also hire individual advocates who are trained and specialize in specific causes. Advocating for the disabled is one example.
Advocates can also work for groups that support individuals or larger numbers of people. Nonprofit organizations, such as charities or public arts organizations, are one type. An example is The Borgen Project. Another type are nongovernmental organizations that include Doctors Without Borders and Amnesty International.
Depending on the context of the situation, whether it be social, legal, medical or political, advocates use different skills and types of activities to benefit the people they support. Most advocacy involves at least researching, educating and organizing. The following list of activities, while not comprehensive, includes the most common advocacy activities.
Research to gather the necessary information that reflects the reality as well as expose the myths of a cause or a person's situation. Research also includes discovering relevant, beneficial resources.
Educate legislators, school administrators, the public or other parties who change the laws, make the decisions or can in any other way provide what is necessary. The education may include composing fact sheets, writing letters or speaking at meetings or with individuals.
Organize meetings, conferences and rallies in order to build a foundation of support and power within a community.
Collaborate with other advocates or groups of the same philosophy to fortify resources and staff. You'll be better prepared to campaign for shared goals.
Attend conferences in order to network and share information with others of similar needs. This is one way to both research and collaborate.
Act as a watchdog to ensure that government agencies comply with existing laws and regulations.
Litigate to win in court for a person or cause.
Lobby for or against specific legislation in order to benefit a person or cause.
These activities help form the backbone of advocacy. They enable advocates to support, defend and safeguard the children, families, communities and causes they represent. In these small and large ways, advocacy efforts effectively empower the vulnerable and give voice to the voiceless.
– Janet Quinn
Sources: Alliance for Justice, Citizens' Committee for Children
Photo: NAGC
https://borgenproject.org/wp-content/uploads/logo.jpg
0
0
Borgen Project
https://borgenproject.org/wp-content/uploads/logo.jpg
Borgen Project
2015-09-08 10:43:40
2020-06-30 09:35:32
What is Advocacy?