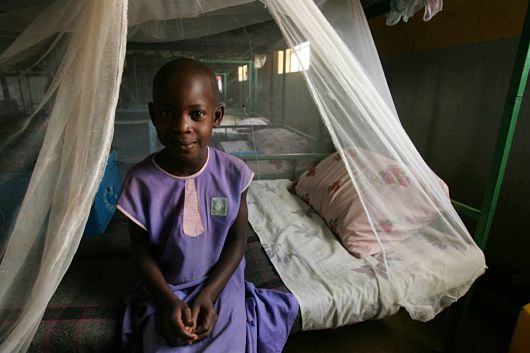 According to the World Health Organization (WHO), approximately 3 billion people across the globe are at risk for contracting malaria. One-third of this group is considered to be at high risk and 90 percent of malaria deaths occur in Africa.
NetsforLife Steps In
NetsforLife is working to reduce the number of malaria deaths in Africa. Since its inception in 2005, this partnership of corporations, foundations, NGOs and faith-based organizations has distributed nearly 22 million mosquito nets in 17 malaria-endemic countries of sub-Saharan Africa.
However, the organization's efforts to eradicate malaria extend beyond net distribution. According to its website, NetsforLife also ensures that communities receive adequate training on the value of these nets as well as "the right way to use and maintain them."
Too often, mosquito nets have been used for fishing or as bridal veils instead of the vital purpose for which they were created.
In addition to educating communities on the proper use of nets, the organization also specifically targets remote areas that typically do not receive care from national healthcare systems.
NetsforLife calls on the help of local leaders and community volunteers or "malaria agents" to provide the necessary education and support to civilians.
Malaria Prevention is Key
According to the WHO, prevention is an important aspect of combatting malaria. The malaria parasite, Plasmodium, multiplies quickly, allowing it to build up resistance to malaria medicines. Mosquito nets and more specifically, insecticide-treated nets (ITNs), play a crucial role in prevention efforts.
While significant headway has already been made with the number of malaria cases declining to 214 million in 2015 from 262 million in 2000, there is still much work left to be done to eradicate the disease. To that end, the WHO launched "The Global Technical Strategy for Malaria, 2016 – 2030" which aims to reduce malaria incidence and mortality by 90 percent.
With over 100,000 volunteers, NetsforLife continues to do its part to help achieve these goals. So far, the organization has reached 41.7 million individuals and counting.
– Jocelyn Lim
Sources: NY Times, NetsforLife, World Health Organization (WHO) 1, World Health Organization (WHO) 2, World Health Organization (WHO) 3
Photo: Google Images
https://borgenproject.org/wp-content/uploads/logo.jpg
0
0
Borgen Project
https://borgenproject.org/wp-content/uploads/logo.jpg
Borgen Project
2016-01-12 01:30:14
2020-06-23 13:26:00
NetsforLife: Making Strides Toward Malaria Eradication