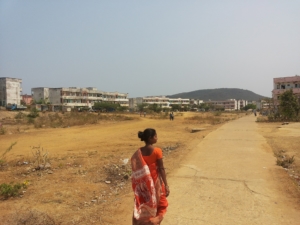 India's dry season has been notably harsh in 2019, and the country is suffering its lowest rainfall before a monsoon season in six decades. Just under half the population is facing a drought and dozens have died from the combination of a heat wave and a lack of water. The India water crisis is also causing evacuations as the drought is forcing families to leave their homes in search of water.
Chennai, India's sixth largest city, is facing extreme water scarcity. The reservoir water supply shrank between 2018 and 2019 and is almost entirely drained of water.
Effect of the Drought
Experts blame the severe drought on mismanaged resources along with industrial and human waste, bad policy decisions and climate change. Thirty-two states have organized a State Action Plan on Climate Change in order to achieve national as well as regional priorities. But many farmers claim the government plan has not been carried out. "There is a lack of interest among politicians and the bureaucracy, which is keen to look for temporary solutions to drought and climate change impacts," stated agricultural and climate change researcher Atul Deulgaonkar.
According to the Ministry of Agriculture, the drought has not only affected the monsoon and winter crops but also destroyed supplementary crops. Because agriculture is the most important sector of its economy, India is heavily reliant on monsoon rains. The drought is particularly dangerous for marginalized farmers in rural areas. Approximately 80 percent of districts in Karnataka and 72 percent in Maharashtra are faced with crop failure, which has put the livelihood of eight million farmers in jeopardy.
Solutions to the Crisis
However, there are solutions to the crisis such as reducing the need for the enormous amounts of water used for crops. Because agriculture accounts for nearly 90 percent of India's water consumption, reducing the dependence on water-intensive crops and agricultural methods would substantially increase water for drinking and make farmers less vulnerable to water shortages. Environmental scientist Kyle Davis stated, "Diversifying the crops that a country grows can be an effective way to adapt its food-production systems to the growing influence of climate change." In addition, the use of alternative grains can improve nutrition and reduce greenhouse emissions from agriculture.
Other steps are currently underway for alleviating the water crisis. In 2017, Prime Minister Narendra Modi proposed an $87 billion plan to reduce flooding and improve irrigation by linking 60 rivers across India. So far only 16 rivers have been linked and the effect of this plan is yet to be determined. Some Indian states such as Maharashtra have followed the example of Israel and implemented a drip irrigation method, which involves dripping water onto individual plants through tubes or pipes rather than flooding whole fields.
Whatever the means, the India water crisis must come to an end. One-hundred million children in India lack water and one out of every two are underfed. Water security must be guaranteed in India amidst rising temperatures and falling water tables so families can raise their children with dignity and health in the upcoming century. A slew of solutions indicate hope for the future, though.
– Kiran Matthias
Photo: Pixabay
https://borgenproject.org/wp-content/uploads/logo.jpg
0
0
Kim Thelwell
https://borgenproject.org/wp-content/uploads/logo.jpg
Kim Thelwell
2019-07-12 17:55:21
2019-07-12 17:55:21
India Water Crisis Threatens Lives and Agriculture