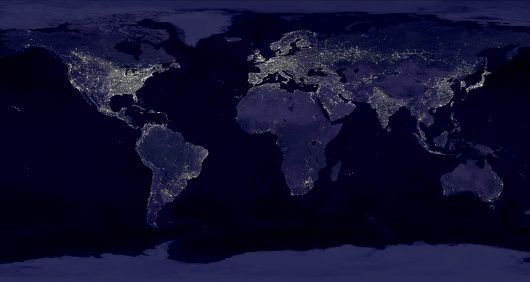 Satellite images are now being used to aid in poverty eradication efforts. Data collected from satellites will help track issues such as crop conditions, illegal deforestation and overall poverty in off-the-grid places.
A team of researchers from Stanford University developed a self-updating map that can recognize signs of poverty in satellite images using an algorithm called machine learning. Marshall Burke, assistant professor in Stanford's Department of Earth System Science, described the system as computer-read artificial intelligence. The system sends images to a computer, which then deciphers the images' content.
"We hope our data will be directly useful by governments around the world […] to more effectively target their programs," Burke told the Thomson Reuters Foundation.
The group has already sorted through millions of satellite images to identify economic conditions in five African countries: Uganda, Tanzania, Nigeria, Malawi and Rwanda. According to researchers, photos like these can provide scientists with data that might not otherwise be obtained. In places such as North Korea, some data is unobtainable, but by studying illumination in the photos, economic activity can be accessed and evaluated.
According to Harvard economic professor Sendhil Mullainathan, "Satellite photos provide a level of geographic specificity that national accounts do not."
Discovering and obtaining accurate information could help influence decisions regarding ground infrastructure. Such information will enable researchers and global analysts to make informed decisions about where to send aid, build roads or establish hospitals. On the global scale, satellite research will help track where global poverty aid efforts are working and which regions need more assistance.
The significance of this new form of data research lies in the history of little research being conducted about poverty-stricken areas. According to the World Bank, only 25 out of 48 nations in sub-Saharan Africa held household surveys between 1990 and 2012. Between 2000 and 2010, 39 out of 59 African countries completed less than two poverty population surveys each. The country of Angola has been independent for 40 years, but its first census was conducted just two years ago.
The Stanford team hopes that its research will help governments around the globe obtain better data and more effectively develop targeted programs. The team plans to eventually create a publicly available worldwide poverty map.
– Katie Grovatt
Photo: Flickr
https://borgenproject.org/wp-content/uploads/logo.jpg
0
0
Borgen Project
https://borgenproject.org/wp-content/uploads/logo.jpg
Borgen Project
2016-10-18 01:30:39
2020-06-10 20:38:11
Satellite Images Fight Poverty in Hard-to-Reach Areas