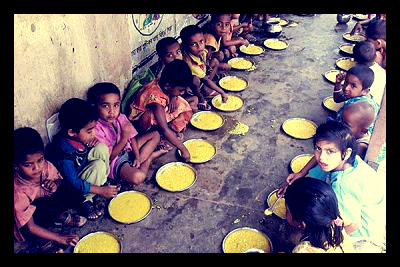 Uttar Pradesh is one of India's poorest states, with the most recent poverty rate estimate by the Planning Commission of the Indian Government at 29.6%. As such, in order for India to continue to grow, the country must reduce the poverty rate in its poorest states. Proper health and nutrition are crucial to eliminating poverty and are why food security is such a focal point of poverty reduction advocates. The role food plays in poverty reduction is also why advocates worldwide have called for the right to food to be recognized universally.
On September 23, 2013, India's Parliament enacted the Food Security Act. The act is aimed at ensuring that millions of low-income population groups are provided with nutritious food. The legal authority for the act was derived from Article 21 of the Indian Constitution, which establishes the fundamental rights to nutritious food and life. Despite the clear benefits, implementing the bill has been surprisingly difficult in some areas.
The Indian National Congress recently protested against Uttar Pradesh's failure to implement the Food Security Act. During the protest, 100 Congressmen, including senior leaders, were arrested as police charged a mob of party workers trying to forcibly enter the Uttar Pradesh Assembly premises, reports Business Standard. Union Minister Sriprakash Jaiswal demanded that the act be implemented, claiming that the people of Uttar Pradesh had been left out of receiving benefits.
Uttar Pradesh has delayed implementation of the Food Security Act until July 2014, citing the massive cost as the reason for the delay. According to Zee News, President Mayawati of the Bahujan Samaj Party (BSP) in India stated that the act cannot be implemented until the central government in India is ready to bear the entire cost.
The same day as Congress's protest, the Uttar Pradesh government released a statement, indicating that it had prepared a road map to implement the National Security Act. According to Business Standard, Principal Secretary of Food and Civil Supplies Deepak Trivedi explains that steps have been initiated in Uttar Pradesh on the provisions of the Food Security Act. Officials in Uttar Pradesh have been given instructions to make the implementation of the Act a priority.
– Cavarrio Carter
Sources: Business Standard, The Indian Express, Zee News, Government of India Planning Commission
Photo: Forbes India
https://borgenproject.org/wp-content/uploads/logo.jpg
0
0
Borgen Project
https://borgenproject.org/wp-content/uploads/logo.jpg
Borgen Project
2013-12-17 04:00:23
2020-08-20 10:58:20
Indian Food Security Act Meets Opposition