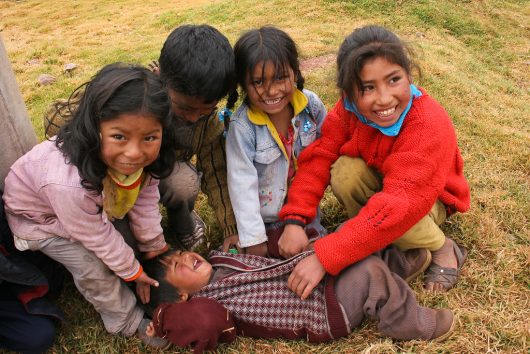 Pluspetrol, a private multinational gas distribution and power generation company, has granted access to its own company-sponsored educational programs for more than 200 young children in Bajo Urubamba, the lower region of the Urubamba province in Peru. The company's Peruvian branch works largely in and around the Urubamba province and has contributed an estimated $100,000 to education in Peru.
Pluspetrol's program, Programa Integral de Educación (PIE), offers scholarships to young Peruvians who live near the company's Camisea Gas Project, which extracts and transports natural gas around the Urubamba River. The company intends to focus on participation in high school and university-level programs to improve the accessibility of education in Peru.
PIE has been divided into three separate scholarship programs:
Becas NopokiThis is a scholarship awarding full payment of tuition fees to exceptional students at the Universidad Católica Sedes Sapientiae. It specifically targets students who display enthusiasm in the fields of management, agricultural engineering or any combination of basic bilingual literacy. Through this scholarship, all courses are taught in the native language of the participating students. This provision includes the Peruvian dialects of Machiguenga, Yine and Asháninka to ensure indigenous populations do not feel alienated from the education system in Peru.
Programa 100This program focuses on students in their final two years of elementary and high school, respectively. The curriculum of Programa 100 focuses on developing skills in reading and in mathematical reasoning. Each year, this program helps approximately 75 school-aged children improve their academic skills and various options for higher education in Peru.
Becas Pre-UniversitariasThis program supports secondary school students in their senior year of high school in their transition to university. This program gives students hands-on experience outside of the classroom and attempts to prepare them for the future. It takes students beyond the classroom and prepares them for Universidad Católica Sedes Sapientiae.
These scholarships are meant to provide children in Urubamba with the necessary skills for a university level education. So far, all three programs have been incredibly successful and have made it possible for 90 percent of PIE scholarship applicants to gain access to general tertiary education as well as agrarian engineering, administration and intercultural basic bilingual education courses.
– Jaime Viens
Photo: Flickr
https://borgenproject.org/wp-content/uploads/logo.jpg
0
0
Borgen Project
https://borgenproject.org/wp-content/uploads/logo.jpg
Borgen Project
2017-04-26 01:30:08
2020-05-07 17:09:34
Education in Peru: Pluspetrol Sponsors Scholarships