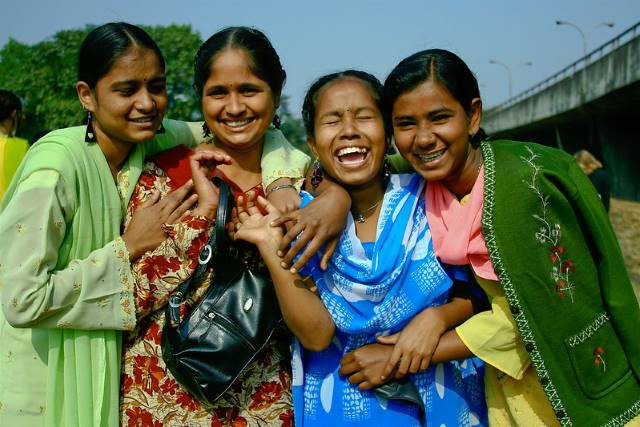 Operating in the red-light districts of Kolkata in India is the organization South Kolkata Hamari Muskan (SKHM). SKHM works to secure safe shelter, basic needs and education for women involved in prostitution and the children of these women. Since 2009, it has supported women and children living in red-light districts. The organization provides women and children with the resources and skills needed to become self-sufficient without having to resort to red-light district activities.
The Dangers of Impoverished Red-Light Districts
The impoverished red-light districts of Sonagachi and Bowbazar are notorious for dangerous and often illegal tertiary trades. These include prostitution, gambling halls, marijuana bars, brothels and liquor stores. Unique to red-light districts is the fact that where civilians conduct their services is most often also where they live. Women working as prostitutes will almost always work out of their homes. This exposes children and other family members to the dangers of these jobs, which include violence and abuse.
Prostitution is the main occupation for women in red-light districts and is traditionally a trade passed down through generations.  Many women involved in prostitution come from impoverished backgrounds. The trade has become a hallmark of life in these areas, making it harder for women and young girls to escape the vicious cycle. Children growing up in this environment often witness or endure violence, abuse and neglect. The resulting trauma impacts a child's mental, emotional and social abilities, which in turn, impacts their development and progress in life. These children are often not in school, leaving them illiterate, uneducated and forced to participate in red-light district activities.
According to India's Central Bureau of Investigation (CBI), India has more than three million prostitutes. Roughly 1.2 million prostitutes are estimated to be children. Red-light districts are at the epicenter of these trades and impoverished communities are often targeted for prostitution rings because of their vulnerabilities.
SKHM's Work
SKHM strives to break the cycle of prostitution and poverty by protecting women and children through educational programs, safe centers, vocational training and psychosocial therapy. SKHM works directly in red-light districts with the belief that change can only come from within when it is demanded by the community itself. During the last 12 years, SKHM has helped hundreds of women and children in Kolkata acquire a better life.
The organization has placed nearly 200 children in formal schooling. Giving children access to education introduces them to what SKHM calls "the mainstream world." Education shows children that there is a life outside of the red-light district and teaches them to aspire toward a better life. Proper education gives children the knowledge and skills to rise out of poverty. It also helps break the cycle that holds them to a life of poverty and violence.
SKHM is the first NGO in Kolkata to use play and art-based therapy with children. The innovative therapy allows specialists to determine the trauma and psychosocial needs of women and children living in red-light districts in a relaxed and non-confrontational way. This is important when dealing with children who have been severely abused. Since 2009, SKHM has opened four safe centers. With two centers in Sonagachi and two in Bowbazar, the safe centers act as shelters and education centers for women and children. The centers help rehabilitate women who wish to escape prostitution and children seeking education and safety.
SKHM has implemented successful programs such as Project Dignity. Project Dignity is a rehabilitation program exclusively for women in prostitution. The goal of the program is to encourage women to leave the dangerous job of prostitution and work to become successful heads of households. Through Project Dignity, women can seek mental health counseling, learn about finances, enjoy new hobbies, take literacy classes and learn various occupational skills. They can do so through driving classes, computer classes, jewelry making classes and cooking classes. The program gives women the skills and confidence to qualify for work outside of traditional red-light district occupations. The mother's group also strictly enforces keeping children in school, which decreases the rate of second-generation prostitution.
Making a Difference
SKHM's work in Kolkata's red-light districts has exponentially improved the lives of hundreds of women and children. Society deemed areas like Sonagachi and Bowbazar impoverished, unsafe and beyond help. This left the communities within them helpless and victimized in a vicious environment of prostitution and violence. South Kolkata Hamari Muskan started a mission with the belief that vulnerable people in these red-light districts could be supported by the strength of the community itself. Today, women and children in Kolkata's red-light districts are dreaming of a better life and they have the skills and education to help them get there.
– Kendall Couture
Photo: Flickr
https://borgenproject.org/wp-content/uploads/logo.jpg
0
0
Saiesha
https://borgenproject.org/wp-content/uploads/logo.jpg
Saiesha
2021-06-08 01:31:16
2021-06-04 02:05:26
SKHM: Efforts in the Red-Light Districts of Kolkata