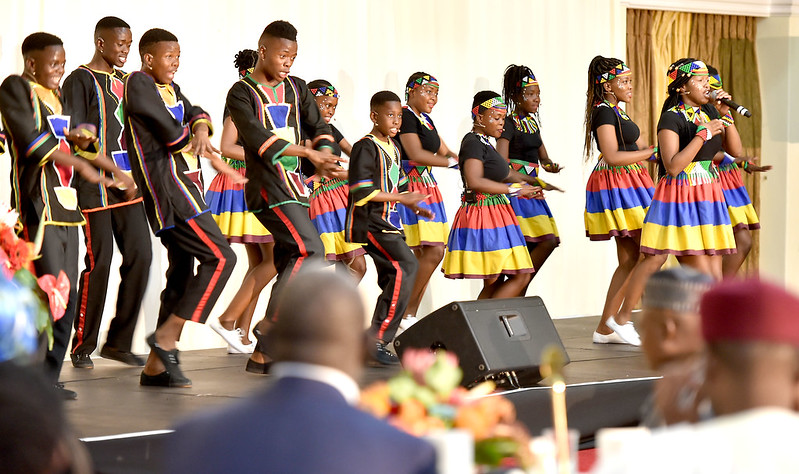 The Ndlovu Youth Choir is a group of underprivileged youth from the Ndlovu Care Group in rural Limpopo, South Africa. They received the opportunity to build a unique musical community and have gained international exposure for their talent and mission. In the face of COVID-19, they have been working to educate those in their communities about the disease through song.
The Mission of the Group
Dutch physician Dr. Hugo Tempelman established the Ndlovu Care Group in 1994, aiming to deliver proper childcare, healthcare, education, and community development for all in the local community. Dr. Tempelman later co-founded the Youth Choir in 2009, with Ralf Schmitt as co-founder and musical director. It started primarily as an after-school extracurricular opportunity and transformed into a professional, internationally-recognized choir group. The choir has continued to greatly influence the lives of its members, emphasizing that everyone has the capacity to accomplish whatever they put their mind to regardless of level of education, birthplace, or background. The choir's positive impact has stretched around the globe. South Africa has one of the worst education systems in the world, but the choir is working to change that in a unique way. The Ndlovu Youth Choir has been working to stretch its impact to children in the most need, providing them with a safe space to both develop their musical talents while also developing strong friendships with their fellow choir members. The goal of the Ndlovu Youth Choir is to "…strive to nurture values such as self-discipline, self-confidence, tolerance, respect and leadership in our choristers."
International Exposure
The official website of the choir "…promises to deliver an experience of infectious joy, a toe-tapping and energetic South African music…" including "…Afro-Pop classics [and] traditional South African music and original compositions irresistibly combined with mesmerizing choreography." They have been successful in sharing such "infectious joy." In 2018, they released a cover of Ed Sheeran's pop hit "Shape of You" and instantly went viral. Its fame escalated upon auditioning for Season 14 of the reality TV show America's Got Talent (AGT) and, ultimately, becoming finalists. From performing originals like "My African Dream" for their audition and doing covers of songs like Whitney Houston's "Higher Love," the group has consistently delivered performances that caught the attention of a wide range of audiences, from the New York Times to Billboard. Its performance in the show landed it a 2019 record deal offer with AGT judge Simon Cowell and his company Sony Music.
Spreading Awareness
The Youth Choir recently released a song titled "We've Got This," hoping to raise awareness about how to prevent the spread of the COVID-19 pandemic. The choir sings the original in both their native language of isiZulu and English and offers useful advice about how to stay safe in the midst of this pandemic. They gleefully sing, "Don't touch your face. Wash your hands."
In addition to producing the song, the choir also choreographed its own dance for viewers to follow along with. Its music video was filled with bright South African cultural attire and even brighter smiles. Its song ends on a positive note, with the choir singing, "Don't panic. Don't spread rumors. We will beat corona."
It may be surprising to discover that it took the choir and its managing team less than a day to complete production. Even though the choreography is original and complex and the effort to coordinate production seemingly more time-consuming, the choir has been quick and dedicated to combating COVID-19 through their music. According to Ndlovu Youth Choir's co-founder and director Ralf Schmitt, misinformation regarding COVID-19 was prevalent in their local community. In producing "We've Got This," the choir was able to spread positivity while relaying accurate advice about how to stay safest and healthiest during these challenging times.
– Aprile Bertomo
Photo: Flickr
https://borgenproject.org/wp-content/uploads/logo.jpg
0
0
Jennifer Philipp
https://borgenproject.org/wp-content/uploads/logo.jpg
Jennifer Philipp
2020-07-17 15:00:55
2020-07-18 04:55:41
Ndlovu Youth Choir Works to Educate and Lift Spirits Through Song