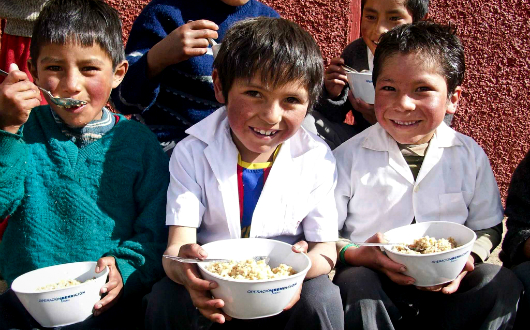 There are various organizations and associations in Peru that fight for the eradication of poverty and the betterment of the country by providing the citizens with opportunities and help.
According to an article published by the United Nations Development Programme (UNDP), or Programa de las Naciones Unidas para el Desarrollo (PNUD in Spanish), in 2009 the national average incidence of extreme poverty in Peru was 11.5%.
Different organizations such as Solaris Perú, Traperos de Emaus San Agustin, APRODE PERÚ, Cáritas del Perú and the American organization CARE, with their Peruvian location, fight to address poverty in their communities with different approaches, depending on the organization.
5 Peruvian Organizations Fighting Poverty
1) Solaris Perú
This is a nonprofit organization based in Peru that has the mission to end poverty. Solaris Perú focuses on the creation of programs that create better the community, such as the implementation of educational models that create positive change for children.
This organization collaborates on political, social and technical dimensions in order to have an efficient use of the resources that will provide positive results to Peruvian communities.
2) Traperos de Emaus San Agustin
This is a Peruvian organization that gives a function to objects that are no longer in use or thrown away. The purpose of this organization is to give these functional objects to people that are in need in order for them to have improvements in their life.
The recovery of these disused but still functional objects creates sustenance in the community and improves the development of their social activities. The organization accepts donations that help to provide assistance and support to people that are living in extreme poverty conditions.
3) APRODE PERÚ
This organization works toward improving and developing the country. They fight to eradicate poverty and provide assistance to the ones in most need.
They create programs and projects that contribute with the social, cultural, and economical development of the communities that are living poor areas. They create encounters with the Peruvian government in order to promote their causes and raise awareness of the conditions that poor people live in.
4) Cáritas del Perú
This is a Peruvian Catholic organization that promotes and encourages the creation of programs that favor poor communities in Peru in order to provide them with opportunities and better development.
Their mission is to support these poor communities by providing charity and solidarity service that, with compromise, leads to the transformation of the society by implementing christian principles.
5) CARE Peru
The Peruvian location of this American organization creates programs that serve to empower poor communities in Peru to exercise their rights. These programs work to empower women, indigenous groups and rural populations.
This organization helps to increase household income, reduce malnutrition, bring educational improvements, and improve access to water and sanitation, among others.
According to the UNDP, eight out of 10 people living in extreme poverty conditions in Peru live in rural areas. These Peruvian organizations use different approaches in order to eradicate poverty in both urban and rural areas.
– Diana Fernanda Leon
Sources: PNUD, Caritas del Peru, Aprode Peru, Traperos De Emaus San Agustin, Solaris Peru, Care
Photo: Flickr
https://borgenproject.org/wp-content/uploads/logo.jpg
0
0
Borgen Project
https://borgenproject.org/wp-content/uploads/logo.jpg
Borgen Project
2015-07-14 11:49:24
2020-07-03 10:29:57
5 Peruvian Organizations Fighting Poverty