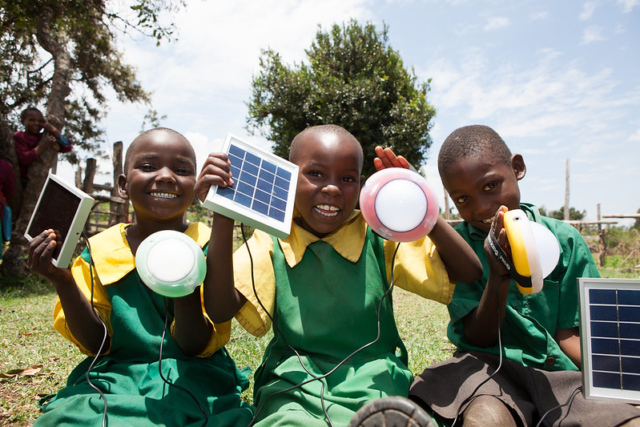 The African country of Ghana is making significant gains in the realms of sustainability, female empowerment and poverty reduction. The Solar Taxi initiative is a project that focuses on producing solar-powered electric vehicles for use across the country. Started in September 2018, Ghana's Solar Taxi project was launched by Kumasi Hive in partnership with the Mastercard Foundation. The initiative aims to alleviate poverty, create employment and protect the environment.
Solar Taxi's 3 Main Benefits
Environmental Benefits. Ghana's Solar Taxi project is all about using clean, renewable energy to solve problems. Utilizing solar power is a perfect fit for Ghana because the country receives 1,800-3,000 hours of sun annually. In addition, electric vehicles produce fewer carbon emissions than standard vehicles. Solar Taxi assembles a variety of vehicle options, including motorcycles, tricycles, sedans, hatchbacks and SUVs. All of these vehicles would typically require an electrical charge in order to function. However, the existing national electricity grid in Ghana is extremely unreliable. Solar Taxi instead designs solar hubs to provide an alternative source of power independently. These charging hubs can be found in four key Ghanaian cities. The progress of Solar Taxi brings Ghana closer to its goal of reducing greenhouse gas emissions by 15% by 2030.
Social Benefits. Solar Taxi strives to uplift Ghanaian women through extensive training programs and employment opportunities. The project set up the Solar Taxi Female Engineering Academy that teaches young women to assemble solar vehicles. The Academy has instructed 60 women so far. Academy facilitator, Erica, says that it is "a place of mentorship" giving women "the exposure to be confident." Ghana's Solar Taxi project actively empowers women in a society that places limitations on what women can achieve. The training gives students valuable problem-solving skills and engineering experience. The Female Driver Training Academy teaches local women how to safely operate and maintain electric vehicles. The academy also provides women with the support and education to obtain a driving license and become drivers for Solar Taxi.
Financial Benefits. The Ghanaian startup also proves to be financially viable. Fuel prices in Ghana are already high and recent price increases only put more strain on companies and vehicle owners. The solar-driven technology completely cuts out fuel expenses. The cars that Solar Taxi assembles are used in the driving services it provides and others are made for sale to the public. In doing this, Ghana's Solar Taxi project is expanding the reach of electric cars and bikes to members of the community. Those without a vehicle can conveniently request a ride with the Solar Taxi app at an affordable price. By making transportation readily available, this service has the potential to reduce poverty rates in Ghana. Whether someone needs to get to a job interview or buy clothes for a new job, Solar Taxi is playing a key role in energizing Ghana's economy.
Looking Ahead
Though the startup is only a few years old, it is creating significant benefits for citizens. Solar Taxi gives Ghanaian women the opportunity to break gender norms and enter the solar-powered vehicle industry. In addition, the cost-effective energy source is relieving financial burdens in an environmentally conscious manner. Solar Taxi is certainly contributing to a brighter future for Ghana.
– Lucy Gentry
Photo: Flickr
https://borgenproject.org/wp-content/uploads/logo.jpg
0
0
Kim Thelwell
https://borgenproject.org/wp-content/uploads/logo.jpg
Kim Thelwell
2021-06-18 07:30:41
2021-06-15 08:33:27
3 Main Benefits of Ghana's Solar Taxi Project