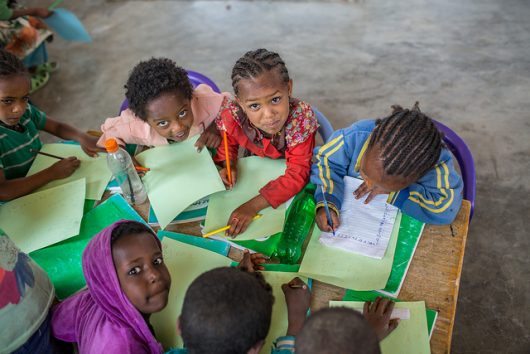 Education affects society in many important ways. The Borgen Project is trying to improve education in improvised areas because of the many benefits that educations offers to the people in live in impoverished nations. Here is a list of the top ten effects education has on society.
The Top 10 Effects Education Has on Society
Education is important in the creation of any democratic society. 

As Franklin D. Roosevelt says, "Democracy cannot succeed unless those who express their choice are prepared to choose wisely. The real safeguard of democracy, therefore, is education." People need a good education if they want a good democracy.

Education is needed to make a society geopolitically stable.

Without a proper educational system available to everyone, terrorists could use free education as a way to radicalize people. In other words, geopolitical stability is one of education's most powerful effects on society.

Education leads to economic prosperity in the global marketplace. 

One of the most important effects education has on society is giving the people who live in a society the skills they need to compete in the global marketplace, and the skills they need to produce technological goods that can be sold on the open market. Socrates best expressed this idea when he stated: "Prefer knowledge to wealth, for the one is transitory, the other perpetual."

Education gives people the knowledge they need to elect capable leaders.

Plato stated, "In politics we presume that everyone who knows how to get votes knows how to administer a city or a state. When we are ill… we do not ask for the handsomest physician, or the most eloquent one." Education helps the members of society see through the manipulations used by politicians to get votes so that the members of the society can vote for the leader who is best able to run the society.

Education helps promote tolerance in a society and helps reduce common conflicts between diverse populations in an urban setting. 

Helen Keller said that "The highest result of education is tolerance." Educating members of society about other people who either live in the society or its neighboring states have the power to reduce many conflicts.

Education has the power to help societies, and the world in general, change for the better. 

According to Nelson Mandela, "Education is the most powerful weapon which you can use to change the world. Malcolm X says that: "Education is the passport to the future, for tomorrow belongs to those who prepare for it today." Education is a powerful tool that can be used to make the world a better place to live in.

Education is important because it helps members in a society learn from the mistakes of the past.

Plato has stated that geopolitical stability cannot be created by forming a democratic government; if the government is established by force or because of overthrowing an old regime, the new government could transform from a government that encourages peace and democracy into a new government that uses force to maintain power. 

Having an education is important because good education allows members of a society to learn from past mistakes and prevent the same mistakes from happening in the future.

Education is the first step a society needs before giving rights to women and other minority groups. 

Education is a powerful tool that enables women and other minority groups to gain fundamental civil rights. It is important to treat women and other minorities with respect in the classroom. Abraham Lincoln stressed the importance that education has in helping people who live in a society to more fundamental civil rights when he said, "The philosophy of the schoolroom in one generation is the philosophy of government in the next."

Education reduces violence and crime in societies. 

Teaching people to read has been shown to prevent people from engaging in crime. In fact, the Melissa Institute for Violence Prevention and Treatment is a charity group uses education to combat violence and crime.

Education creates hope for the future. 

Giving people hope that they can improve their lot in life is one of the more powerful effects education has on a society. John F. Kennedy best expressed the power of a good education when he said:

"Let us think of education as the means of developing our greatest abilities, because in each of us there is a private hope and dream which, fulfilled, can be translated into benefit for everyone and greater strength for our nation."

 

 JFK's words about America apply to every society on Earth.
The READ Act
The Borgen Project works to help bring the positive effects education has on society to all through the READ Act. Education is valuable, and everybody needs to ensure education is widely available. A proper educational system can ensure people in any impoverished nation have access to both upward mobility and geopolitical stability.
– Michael Israel
Photo: Flickr
https://borgenproject.org/wp-content/uploads/logo.jpg
0
0
Borgen Project
https://borgenproject.org/wp-content/uploads/logo.jpg
Borgen Project
2018-05-07 01:30:49
2019-11-03 18:28:35
The Top 10 Effects Education Has on Society