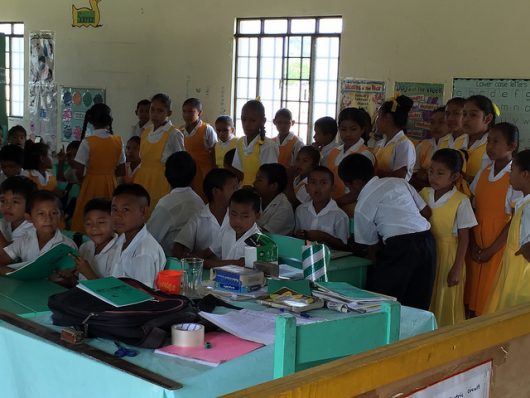 The Guyanese government allocated an estimated $31.8 billion to education in Guyana in 2015, nearly 16.6 percent of the total budget. In 2016, $40.3 billion was dedicated to education, which equates to about 17.5 percent of the total budget. This increase in the budget seems to be a trend for Guyana, one which is making a positive impact on the educational system of the country.
Guyana ranks among the top proportional spenders on education in the world. This educational expenditure is viewed by governmental officials as an investment in the country's long-term socio-economic development.
Guyanese President David Granger said in his address at the National Education Rally in September 2017, "We will improve the delivery of education, the Department of Education System Innovation and Reform is a reality within the Ministry of Education. Innovation will lead to improvement, nothing stands still. There must be more computers in schools, every school must have Wi-Fi and we are working towards that."
At this rally, President Granger said that "every child in school" is not a slogan, but a declaration of intent and a commitment on the part of his government to eliminate anything in the way of youths accessing education and to help them reach their fullest potential. This declaration is among the explanations Granger has for why Guyana invests so much in education.
The allocated funds have gone towards things like access to schools, construction, extension, rehabilitation and maintenance of Guyana's educational facilities. It has also gone to things like the "President's Five Bs", which are buses, boats, bicycles, breakfast and books. The country's rural areas are most affected by transportation costs, so by addressing that issue, school attendance is increasing, as families no longer have to shoulder many of the financial burdens of educating children. Many children had to walk or row for hours simply to get to school in the morning, but with new buses, that will not be an issue anymore.
Science, technology, engineering and mathematics education has already shown incredible promise. At the First Global Challenge in Washington D.C. this past year, the Guyana team placed tenth out of 165 countries overall.
Granger has said that "What we want is a generation of young people, who are educated, who can use computers, who can use machines and help themselves to make a good living… Once you get an education, you would be able to use it…your skills and your technology to use the very products that are coming out of your region in what is called agro-processing. Anything you produce can be processed and exported."
Agro-processing is among the specific reasons that Guyana invests in education and shows that it is a socioeconomic benefit for Guyana in the long-run. Granger stated that Guyana has all of the necessary resources of fertile land and produce, as well as a tourism industry, but does not yet have enough educated people to develop those resources into full-fledged industries.
It seems that investing in education in Guyana will make President Granger's vision of a better socioeconomic country a reality with the coming generations.
– Gabriella Paez
Photo: Flickr
https://borgenproject.org/wp-content/uploads/logo.jpg
0
0
Kim Thelwell
https://borgenproject.org/wp-content/uploads/logo.jpg
Kim Thelwell
2017-10-13 01:30:33
2020-04-09 04:40:34
Boosting Education in Guyana for Development