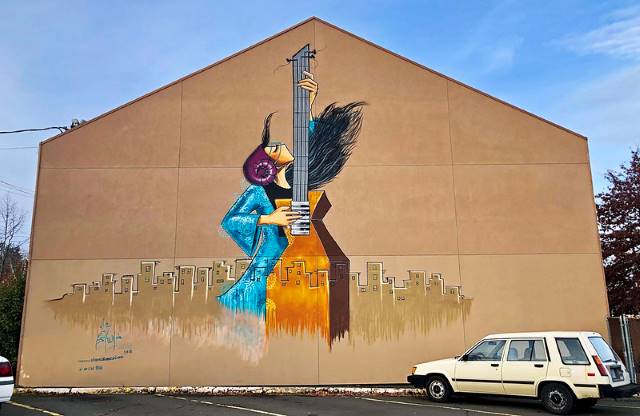 War-torn and poverty-stricken, people of the developed world seldom think of Afghanistan as a place where beauty and art bloom. But, in the streets of Kabul, Afghanistan, a movement is growing. Contemporary street artists in Kabul use the ruins of blasted city walls and bombed-out buildings as their canvas, slowly transforming the city from the shell of a warzone to an open-air art gallery. However, the goal of this gallery is not simply beautifying the city's rubble-strewn streets but actually inciting social change for Afghanistan.
Conflict in Afghanistan
Afghanistan has remained in a state of almost constant conflict since 1978. The internal conflict became global news as other countries, most notably Russia and the United States, involved themselves by supporting various parties and factions. Social scientists predict that thousands of Afghani civilians died as a result of civil unrest thus far.
Since the Taliban, a violent extremist group, was forced out of their occupation of Kabul, many families who fled to seek asylum in other countries are returning. Unfortunately, just re-established as a republic, the capital city did not have the infrastructure to support the influx of impoverished and uneducated ex-refugees. The refugees who fled from Afghanistan under Taliban rule experienced widespread discrimination and restricted access to education and fair wages. Now one of the fastest-growing cities in the world, Kabul is home to almost six million civilians and crime and poverty are rampant.
Social Change Through Art
Decades of war destroyed much of the literature and art in Afghanistan, once a culture-rich place. But, in this tragedy lies an opportunity to bring the historically male and upper-class art world into a more inclusive space.
Street artist groups are popping up in Kabul, using colorful murals to send political messages about social change for Afghanistan. One such group calls itself the ArtLords. The organization consists of volunteers and artists seeking a future for their battered homeland. The ArtLords believe that while there are many things it cannot control, it can begin to alter the country's narrative and express the people's desire for peace. By visually bringing social issues such as women's empowerment, terrorism and corruption to a public space where people cannot ignore them, artists hope to change the future of Afghanistan.
Young people who grew up watching the horrors of war right outside their doorsteps make almost all of Kabul's street art. After seeing the effects of extreme poverty, constant war and restricted rights, it is not surprising that many seek an outlet for their voices.
These artists risk arrest and even murder to spread their messages of hope and activism to the people of the city. Through art, both men and women are able to speak out against the violence and tyranny Afghans endure. Street art in particular allows messages to reach a massive and diverse audience, ensuring that people from all corners of society are able to see and enjoy, be inspired or be incensed.
Female Artist Shamsia Hassani
Probably the most famous name in Afghanistan's art world right now is Shamsia Hassani. The first female street artist known in the country, she is making history with her art. Growing up in Iran to Afghan immigrants, Hassani was labeled a "foreign national" in school and experienced many roadblocks to her education due to a preponderance of discriminatory laws against Afghan refugees. In 2015, her family decided the situation in Afghanistan was stable enough to return home. Never having been there, Hassani was hesitant about the change, but once they had settled in Kabul, Hassani felt she finally understood the meaning of home. No longer a foreign national, she was free to pursue a fine arts degree at Kabul University, where she now lectures. Although the city was still in ruins, Hassani declares "even if it was ruins, it was my ruins."
Her street art style developed over a few years. She describes its accessibility to everyone draws her to the medium, although it puts her in danger every time she creates a piece. Hassani's art does not fight against the wearing of hijabs or other forms of cover. Instead, she focuses on the need for women to have access to education and careers. She states that if women did not require hijabs but were still unable to go to school or get a paying job, it would not be true freedom or real progress.
Looking Forward
There is deep symbolism to Hassani's signature art character, the woman with closed eyes. The character conveys sadness and pain, the desire to look away from the destruction of war and the struggle for women, in particular. But, the image also inspires joy through Hassani's use of bright colors, the inclusion of musical instruments and the simple pleasure of seeing a crumbling wall transformed by a beautiful work of art.
Hassani is confident that art can bring about social change in Afghanistan. Like the ArtLords and many others who use art as a form of activism, Hassani is part of a generation who has never known peace. They spent their entire lives in wartime and can only dream of peace in Afghanistan. Until then, they will continue to illustrate a vision of a future in which there is peace, equality, justice and unity.
– Kari Millstein
Photo: Flickr
https://borgenproject.org/wp-content/uploads/logo.jpg
0
0
Kim Thelwell
https://borgenproject.org/wp-content/uploads/logo.jpg
Kim Thelwell
2021-05-10 01:30:52
2021-05-06 08:40:53
Street Art Movement in Kabul Inspires Social Change for Afghanistan