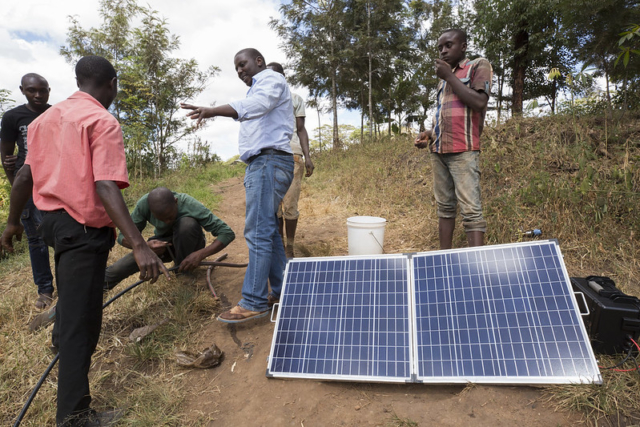 Throughout history, new technology has always been one of the key factors in driving both the economy as a whole, as well as a specific economic sector. New inventions drive new innovations, and as a result, significant advancements are made. Now, technology is driving agriculture in West Africa as well, with both new and familiar ideas paving the way forward. Here are some of the most notable technologies and advancements pushing agricultural expansion in West African countries like Ghana, Senegal, and Nigeria.
Clean Energy in Ghana
One of the keys to most modern technology involves energy: sustainable energy, of course, being among the most ideal (and often cheapest) options. Solar power is making electricity available for more and more West Africans every day. There is also a massive project in the works to create a solar power facility in Ghana. Composed of 630,000 photovoltaic modules, the Nzema Solar Power Station will bring electricity to the homes of more than 100,000 Ghanaians. With this clean energy, new technologies that push agriculture and other economic sectors forward can be powered.
Access to Smartphones
Tied closely with the push for energy is the advancement of the smartphone across West Africa. Smartphone ownership has increased to around 30-35 percent in Ghana, Senegal and Nigeria. Smartphones are an absolutely integral driving force for agriculture and technology in West Africa. With access to a smartphone and the internet, farmers can gain easier and more convenient access to information about local markets and upcoming weather forecasts, improving their ability to adapt to shifts in both the environment and the economy. Not only that, but smartphones also allow farmers to purchase insurance and get other financial services, such as banking.
Technologies Boosting Agriculture
In Nigeria, one company named Hello Tractor is making use of the increased spread of smartphones by creating an app designed for renting and sharing tractors with farmers. Farmers can use the app to communicate with nearby owners of tractors, and schedule bookings for the usage of those tractors on specific days. This reduces the barrier of entry to farming as a profession, and as a result is a massive boon to the agricultural sector. With West African companies such as Hello Tractor innovating upon smartphone technology and the Internet of Things, technology in West Africa is once again driving agriculture.
There are also other technologies which may be potentially transformative to agriculture in West Africa. The more recent advancements in 3D printing may offer another pathway to increase efficiency. In West African companies with less intricate transportation infrastructure, 3D printing offers a cheaper way to obtain farming tools by producing them yourself rather than paying expensive shipping fees. In Nigeria, there is a permanent set-up dedicated to manufacturing replacement parts for local industries in order to provide them more efficiently and at a lower cost. The market for this is expanding as well, as there are U.S firms investing in this technology in the region. The installment also offers training programs for local workers so that they can learn the skills necessary to operate such technology.
Another potential, yet controversial advancement is in the sector of Genetically Modified Organisms (GMOs). In Ghana particularly, cowpea is a crop prized for its energizing properties, eaten traditionally by farmers before working in the field. However, the crop is dying faster each year due to insects. GMOs could offer one potential path to solving this issue and stabilizing cowpea for West African farmers. Though scientists are still in widespread debate about the safety and usability of genetically modified cowpeas in particular, the technology could regardless offer another potential path to advancement for the West African agricultural sector.
Future for Technology in West Africa
Ultimately, the most important and consistent technology for the future of agriculture in West Africa is found in information technology. Smartphone presence becoming more widespread allows access to market data, weather data, financial services, and even access to rental services like those of Hello Tractor. Western Sydney University is also working on a mobile application specifically streamlined for usage by farmers, providing access to many of these services all in one app.
Overall, it is clear to see that technology is driving agriculture in West Africa. With all of these new advancements, it is reasonable to expect West Africa to continue pushing its agricultural sector forward. With solar power expansion, 3D printing, smartphone access, and rental services like Hello Tractor, the informational landscape of West Africa will be transformed significantly over the next several years.
– Jade Follette
Photo: Flickr
https://borgenproject.org/wp-content/uploads/logo.jpg
0
0
Jennifer Philipp
https://borgenproject.org/wp-content/uploads/logo.jpg
Jennifer Philipp
2019-10-04 13:25:08
2019-11-03 06:05:06
How Technology Is Driving Agriculture in West Africa