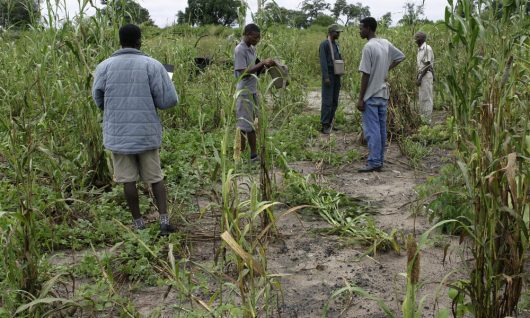 Agriculture is an important part of a country's economy. If a country does not have sustainable agriculture, it puts the economy in danger of failing and puts the nation's citizens at an economic disadvantage. This has been the case for the country of Namibia.
Throughout the past few years, Namibia has suffered through three significant droughts that have had a severe negative effect on its agriculture. The lack of rain has led to soil erosion across the country as well as crop failure and high livestock mortality rates. Considering the country of Namibia relies heavily on farming its own food instead of having products imported, this has caused a numerous amount of problems throughout the country. In the aftermath of the drought's impact, sustainable agriculture in Namibia has been placed in question.
The lack of food security caused by the impact of the drought has put the country in a very troubling place in regards to both its agriculture and economy. The lack of sustainability has also led to a significant decrease in income for farmers who live off their land and make money from their crops. This has left many citizens, as well as the country as a whole, at an economic disadvantage.
The disastrous effects of the drought have led to the Food and Agricultural Organization (FAO) stepping in to make a presentation about the country. The presentation highlights ways that sustainable agriculture in Namibia can be reached, and provides a platform for people to create ideas to help the country get back on its feet. The country has been in an unstable state because of the nature of its land as a result of the droughts, and the FAO is trying to come up with ideas to rectify the situation for Namibian citizens.

Despite the negative situation, the country has been able to sustain itself through the help of the First National Bank of Namibia. The Bank has contributed thousands of dollars to the farmers of Namibia to help support them through the effects of the drought and has continued to show support to the citizens of the country as they recover from the trying years. The need for sustainable agriculture in Namibia is still high, but farmers are doing their best to meet these needs and help create economic equilibrium in the country.
The cattle farmers in Namibia are experiencing a surprisingly good year compared to the past few they have had, and have been able to increase sales despite having to reduce their herds during the drought. This is a good sign for Namibia because it is now able to bring money into the country to help stabilize the economy, which can lead to a more sustainable agriculture.
Namibia is looking forward to a very rainy and prosperous year for its crops. This will hopefully allow the nation to create and maintain sustainable agriculture and an improved economy as a result.
– Simone Williams
Photo: AllAfrica
https://borgenproject.org/wp-content/uploads/logo.jpg
0
0
Borgen Project
https://borgenproject.org/wp-content/uploads/logo.jpg
Borgen Project
2018-02-04 01:30:04
2019-12-18 11:22:52
Sustainable Agriculture in Namibia Needs Improvement