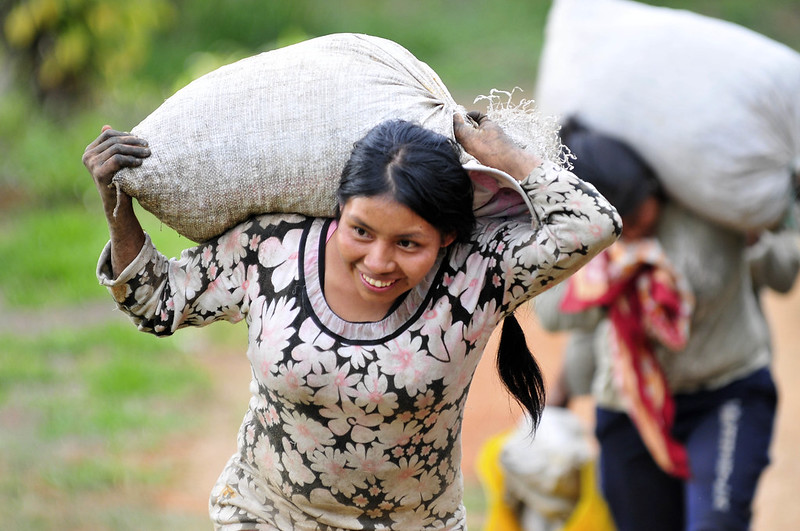 What is there not to love about the aroma of freshly brewed coffee in the morning? But, what most java enthusiasts do not realize is that 44% of the world's smallholder coffee farmers are currently living in poverty and 22% live in extreme poverty. The existing coffee trees are aging and changing climate conditions threaten farms' productivity while the risk of crop diseases increases. An outbreak of coffee leaf rust, a fungus that cripples the trees' productivity, struck many small family farms between 2012 and 2014. Coffee leaf rust caused more than $1 billion in crop losses in Central America, which led to 1.7 million jobs vanishing across Latin America.
Farmers Below the Poverty Line
Even in the best conditions, one-third of farmers earn less than $100 per year from growing coffee and 60% of the world's coffee is produced by farmers with less than 12.35 acres of land. Challenges arising from inefficient production methods and profiteering coffee roasting companies make it difficult to earn a living. Of the 12.5 million smallholder coffee farmers worldwide, an estimated 5.5 million exist below the international poverty line.
Coffee farmers face many obstacles, including the low international price of coffee. According to Oxfam, some farmers have little to no power to negotiate with traders and must accept the low prices offered. If farmers process their coffee by removing its outer layer, they can demonstrate their beans' quality and negotiate a higher price. But, if their coffee is sold in its original form, they must settle for a lower price. In Peru, even with semi-processed beans, farmers are still short-changed. And while traders make extra profits for themselves, coffee roaster companies in the United States and Europe make even larger margins.
Smallholder Coffee Farmers Need Support
In the Andean region and across Central America, approximately 750,000 smallholder farmers produce coffee and cacao. Often these farmers depend on limited water resources, which are barely enough to grow subsistence crops. Low incomes result in malnutrition, minimal educational opportunities and disease. Quechua-speaking communities as well as Amazonian Indigenous communities receive little support from the government, and therefore, lack agricultural technology. This dearth of opportunity perpetuates poverty.
Maximizing Opportunities in Coffee and Cacao in the Americas (MOCCA) is working to help smallholder coffee farmers efficiently produce more coffee and cacao. Funded by the United States Department of Agriculture's Food for Progress Program, MOCCA is carried out by a consortium led by TechnoServe, a nonprofit organization operating in 29 countries. MOCCA also partners with World Coffee Research and Lutheran World Relief.
MOCCA's Initiatives to Aid Smallholder Coffee Farmers
MOCCA works to improve the lives of more than 120,000 coffee farmers in Guatemala, El Salvador, Honduras, Nicaragua, Ecuador and Peru. It enables farmers to make much-needed improvements while addressing the underlying problems that prevent their farms from becoming profitable.
MOCCA's goals include:
Training smallholder farmers to adopt agricultural and business practices that can increase quality, yield, sustainability and profitability. This includes pruning, stumping or replanting unproductive trees, which can dramatically improve a farm's productivity without expanding its acreage into forest ecosystems.
Augmenting research, bolstering the sustainability of research initiatives in the region and improving how research findings reach farmers. A regional coffee breeding hub offers a centralized resource to enhance varietal development, along with climate-smart solutions.
Expanding farmers' access to pure, healthy genetic planting material for planting, verifying large seed-producing nurseries and giving technical assistance in best production practices.
Integrating farmers into higher value trading models by working with roasters, processors and private exporters to expand or capture greater market value. By addressing issues such as supply chain inefficiency, this plan allows farmers to obtain higher profits and reinvest in their farms, while boosting buyers' local, sustainable supply of higher quality products.
Mobilizing and collaborating with finance partners, value chain stakeholders and local governments to implement finance mechanisms for the farmers.
Improving institutional capacity to deliver services that support renovation and rehabilitation. This involves collaborating with coffee and cacao institutions to expand their existing services, or introduce new ones, to support the farmers they serve.
Strengthening platform support to the coffee and cacao sectors to promote knowledge and technology sharing among sector stakeholders.
In addition, MOCCA works to integrate young people and women into coffee and cacao market systems, so that these systems are more inclusive.
In February 2020, the National Coffee Association, the leading trade organization for the coffee industry in the United States, named TechnoServe the "Origin Charity of the Year." This award recognizes the company's work in supporting smallholder coffee farmers around the world.
– Sarah Betuel
Photo: Flickr
https://borgenproject.org/wp-content/uploads/logo.jpg
0
0
Kim Thelwell
https://borgenproject.org/wp-content/uploads/logo.jpg
Kim Thelwell
2021-01-13 01:30:27
2022-04-22 07:23:53
Supporting Smallholder Coffee Farmers in Developing Countries