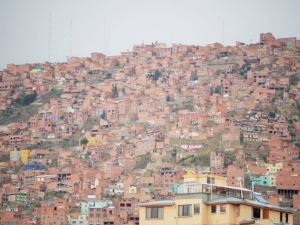 Currently, one in seven people worldwide lives in a slum. By some estimates, this number will rise to one in four people by the year 2030. A slum can be defined as housing with no land permits, inadequate access to basic services (water, toilets and electricity), unsafe components (broken windows, dirt floors and leaks) and an overcrowded population. These 10 facts about slums in Latin America explain how people are affected by these poor living conditions.
10 Facts About Slums in Latin America
Rapid Urbanization: South America has historically been dominated by rural living. However, in more recent years, the cities of South America have seen a rapid rate of urbanization. Urban living now supports 82 percent of the population. When people move from the countryside to the city in large numbers, there are often not enough resources to support everyone. As a result, people resort to constructing illegal housing to survive.
Millions Affected: In Latin America, approximately 117 million people survive in poverty. Most of these people survive in slums just outside major metropolitan areas. These cities include Mexico City, São Paulo, Bogota, Rio de Janeiro and Lima.
Neza-Chalco-Itiza: On the cusp of Mexico City rests Neza-Chalco-Itiza, one of the largest slums in South America and the fourth largest in the world. With a population of 1.1 million people, the slum is filled to the brim. People flooded to the city after World War II in hopes of work, but they found poverty instead. Today, the slum has developed a systematic way of living that mimics life inside the major city.
Favelas: Some of the most infamous slums can be found in Brazil. In Portuguese, slums are called favelas. Most favelas in Brazil can be found in the areas surrounding Rio de Janeiro. More than 11 million people live in this type of housing.
Entrepreneurship: While slums can be a source of hardship and poverty, they can also be the birthplace for many entrepreneurs. With so many people struggling to survive, some take it upon themselves to create businesses out of the little resources that they have. For example, Bistrô Estação R&R is a bar inside a garage in Rio de Janeiro. These small businesses bring people together in their communities and can help boost the economy.
Widespread disease: Slums are often a breeding ground for disease. With a lack of proper sanitation and people living in such close proximity, illness develops fast and spreads even quicker. Tuberculosis is just one example of a disease that has spread in slums. In Peru, 60 percent of tuberculosis cases in 2011 were reported from the slums surrounding Lima. Luckily, organizations such as the Pan American Health Organization (PAHO) have hosted several government interventions to advocate for development plans.
Drugs, gangs and violence: With a lack of central authority, slums are more susceptible to drugs, gangs and violence. Many of the world's most infamous drug lords originate from these areas and threaten the local community. While police intervention sometimes occurs, often these communities are ignored. In 2015, 47 of the 50 most murderous cities were found in Latin America.
Upgrading housing: With the aim of improving housing for communities living in slums, several nonprofits, such as TECHO, have advocated for the improvement of infrastructure. TECHO's policy is that slums of 10 or more families who lack one or more necessities, such as water or sewage, qualify for aid. In several of TECHOs projects, houses have been reconstructed using pinewood and tin. Families who received this assistance have stated that their quality of life has effectively improved after the refurbishments.
Pride: While slums can be riddled with poverty and crime, they are also filled with pride. In a 2013 study, 85 percent of favela residents said that they like where they are from. This could largely be attributed to the communities formed within these tight housing situations and the entrepreneurship that binds people together.
Slum tourism: Slum tourism is when travelers visit impoverished populations in order to see the areas. The practice began in the 1800s when wealthy Londoners would pay to see a lifestyle that was so drastically different from their own. Slum tourism can have negative effects on a community for multiple reasons. For one, it promotes the wealth gap by separating the wealthy from the poor. In addition, poverty tourism does not necessarily benefit local areas. If tourists pay larger organizations to conduct the visit rather than community members, the money will not reach the slums. On the other hand, poverty tourism that challenges negative stereotypes and is led by slum residents can aid in the growth of the local economy.
By looking at these 10 facts about slums in Latin America, it easy to see how these living conditions can damage a person's health and wellbeing as well as how the residents of these slums are struggling to survive. However, by upgrading communities and being conscious tourists, these areas can be uplifted and improved, helping the one-seventh of the world that lives in slums.
Photo: Flickr
https://borgenproject.org/wp-content/uploads/logo.jpg
0
0
Kim Thelwell
https://borgenproject.org/wp-content/uploads/logo.jpg
Kim Thelwell
2019-08-22 01:30:17
2020-04-28 14:25:38
10 Facts About Slums in Latin America