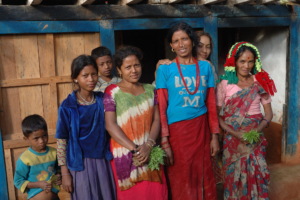 Just like the rest of the world, COVID-19 is significantly impacting Nepal. With an actual
existing poverty rate
of 25.2% and
low literacy rates
of 75.1% for males and a 57.4% rate for females, the pandemic has further challenged Nepal through forced school closings and shortages of necessary household items. In particular, period poverty in Nepal has become a
dilemma for many Nepalese women
and girls. The lack of access to menstrual sanitary products as well as the cultural stigma of chhaupadi, an outdated tradition of isolating menstruating women and prohibiting them from touching others and communal objects, combine to make period poverty in Nepal a pressing issue for women.
The Problem: Existing Stigmas and Disparities
The Nepali government technically outlawed chhaupadi in 2005; however, 18 women died because of chhaupadi since this policy's creation. Additionally, a 2019 study found that 77% of west-central Nepali girls had undergone menstrual exile. In the context of the pandemic, discriminatory ideals are on the rise. Many fear that contact with menstruating women increases the risk of contracting COVID-19. Traditionally, a majority of girls receive menstrual hygiene products from schools. Without access to school due to the pandemic lockdown, however, many Nepalese girls have been deprived of essential resources like tampons. These closings increased demand for sanitary products in retail stores, causing many businesses to deplete their inventories following the announcement of quarantine quickly.
This deficiency forced women to begin relying on unhygienic alternatives such as old pieces of clothes and even leaves to manage their periods. Even before the COVID-19 crisis, roughly 83% of women used alternate forms of hygiene rather than a sanitary pad, while only 15% used actual hygienic pads. Furthermore, 47% of girls admitted to missing school because of menstruation. The use of these unhygienic methods increases the risk of reproductive tract infections as well as cervical cancer. Around 77% of young girls claimed that, due to hygiene products' lack of accessibility and affordability, they resorted to making their pads. The financial difficulties that COVID-19 has created have only exacerbated the inability to purchase sanitary pads.
Organizations Helping to Overcome Period Poverty in Nepal
Volunteer Service Overseas (VSO) is pouring its efforts into combating period poverty in Nepal by educating young girls on how to make reusable, hygienic and sanitary pads. VSO initiated a program called Sisters for Sisters that paired young Nepali girls with mentors. Before the pandemic, this mentorship program had informed 2,000 girls on how to construct their sanitary pads. These pads can last up to five years, making this solution appealing to the majority of Nepali families. The Sisters for Sisters program has also focused on debunking discriminatory menstruation ideology.
Action Aid is another organization working to combat period poverty in Nepal. This organization distributes sanitary menstrual kits following emergencies or disasters, with a commitment to helping every woman and girl manage their periods safely. The organization's efforts to tackle period poverty include various tactics. Similar to the Sisters for Sisters campaign, Action Aid trains girls to make reusable sanitary pads. It also offers educational services better, informing girls about their periods and how to navigate menstrual cycles healthily. Finally, Action Aid aims to eliminate period shaming ideologies such as chhaupadi in Nepal.
Hope for a Better Future
Period poverty is a continual issue for many impoverished countries with preexisting discriminatory stigmas surrounding the topic, and the pandemic has only amplified these issues. With the help of organizations working to aid women and girls in their communities and eradicate period poverty in Nepal, however, there is hope for a safer and more sanitary future.
– Adelle Tippetts
Photo: Flickr
https://borgenproject.org/wp-content/uploads/logo.jpg
0
0
Kim Thelwell
https://borgenproject.org/wp-content/uploads/logo.jpg
Kim Thelwell
2020-09-19 06:50:01
2022-05-06 14:49:34
Combating Period Poverty in Nepal