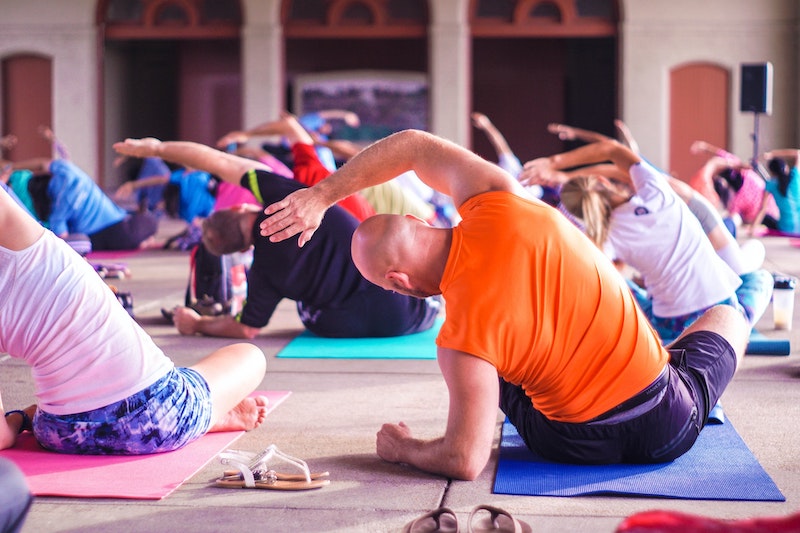 Yoga originated thousands of years ago in northern India. As a sacred, spiritual practice, the goal of this subtle science is to bring harmony between the body and the mind. According to Dr. Ishwar Basavaraddi, those who experience this oneness of existence are in yoga. However, unfortunately, in the motherland of yoga, people are living in extreme poverty, which is hindering them from reaping yoga's divine benefits and connecting to their higher self. As a result, Kayoko Mitsumatsu founded a nonprofit organization called Yoga Gives Back in 2007 to fight poverty in India.
Mitsumatsu said that "We want to give back to the source of yoga. With over 150 ambassadors in 20 countries worldwide, YGB uses yoga to bring opportunity to impoverished women and children in India."
Targeting Women and Children
India has one of the highest rates of violence against women in the world, and 60% to 90% of girls face sexual harassment or violence in public spaces. As a result, Yoga Gives Back is targeting women in the hopes of helping women and girls catalyze independence and a better life.
Plus, YGB has deemed women "the best poverty fighters" as they often use their success to uplift their family's status and fund their children's education. "To do this, they provide microloans to poor people who are unable to get traditional bank loans due to their lack of collateral," Mitsumatsu said. The work of Nobel Peace Prize winner Dr. Muhammed Yunus inspired this microloan program called "Sister Aid." Yoga Gives Back began with 50 microloans, and after 14 short years, it now provides 550 microloans.
Addressing Education Needs
Even though female illiteracy rates have dropped nearly 20% since 2000, Indian women are still less educated than men on average. The sooner that impoverished women and children in India receive help, the better. According to UNICEF, with the largest population in the world (including 253 million adolescents), India stands to gain socially, politically and economically if they succeed. Education is a way to promote this success.
The Scholarship for Higher Education (SHE) from Yoga Gives Back funds 400 students with a five-year scholarship. Without this assistance, impoverished women and children in India would have no other way to continue their education.
Yoga Gives Back Future Goals
 Eventually, YGB hopes to build a centrally-located digital center, bringing the internet, computers and opportunity to an otherwise rural village. Not only would this center increase learning overall, but it would also allow microloan recipients to participate in eCommerce. Plus, computer education has become standard, and this is a way to ensure that Indian children do not fall behind the rest of the world.
Poverty in India 
Poverty in India has long been on people's radar. With yoga growing in popularity in the West, it is only right to honor and recognize the place where this practice came from. Yoga has a plethora of core values and morals to live by. Notably, it highlights the interconnectivity of all beings and things, how people are not separate and how people are one. Yoga Gives Back embodies this value by recognizing the suffocating poverty that plagues India and doing something about it. It is using the practice of yoga to give back to the source of yoga, which, in turn, is helping fellow humans in need.
– Cameryn Cass
Photo: Unsplash
https://borgenproject.org/wp-content/uploads/logo.jpg
0
0
Lynsey Alexander
https://borgenproject.org/wp-content/uploads/logo.jpg
Lynsey Alexander
2021-10-22 07:30:58
2021-10-19 10:32:45
How Yoga Gives Back is fighting poverty in India