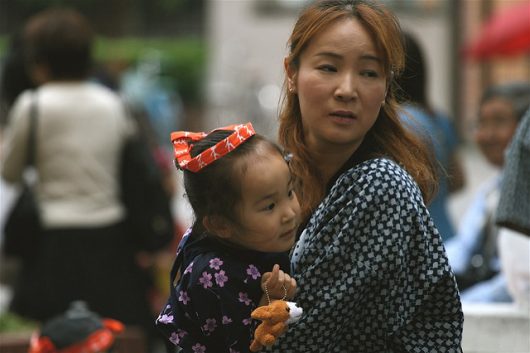 Despite the stigma against single parents, single mothers in Japan are moving forward with the help of the Tokyo-based organization Single Mother by Choice and the new government-provided Child-Rearing Allowance.
Single Mothers in Japan
Since World War II, Japan has grown to be one of the wealthiest countries in the world. It boasts modern buildings, clean streets and is home to some of the richest people on earth. Yet, Japan's poverty rate has consistently risen for the past 30 years, reaching 16.3 percent in 2017. However, the country still appears to be healthy and thriving. This dissonance between facts and appearances is due to the stigma surrounding poverty in Japan. Rather than admit to being poor, many people in Japan mask their financial needs hoping not to draw attention to themselves.
This problem is even worse for single mothers in Japan, who not only face greater cultural shame more consistently, but also have a harder time providing enough for their families. A whopping 56 percent of single-parent homes in which the parent is working live in poverty. As women have children, they often can no longer work the long, rigorous hours expected of Japanese employees. This time restriction then forces them to assume lower paid jobs with worse benefits — working women in Japan make 30 percent less on average than men doing the same job.
Cultural and Societal Norms
Japanese culture also dismisses female higher education, men often feeling "uncomfortable" to share the classroom with women; girls are pushed into two-year vocational schools instead. This setup is also seen as a benefit to women as they will then, allegedly, have more time to find a husband and start rearing children in the societally accepted timeframe. Such a collective attitude makes it more difficult for women to access education to higher paying jobs, and dismisses women who might pursue relationships and children outside of marriage.
The organization Single Mother by Choice was founded in Tokyo in 2014 to empower women and fight the taboo surrounding being a single mother in Japan. The group provides a community for women who desire to lead lives outside of Japan's norms, and supplies information on prenatal care.
Single Mother By Choice
The organization focuses specifically on women who have chosen before becoming pregnant to have a child and raise them on their own. This decision can be especially difficult as the only legal use in Japan for sperm banks are for married couples, so many women become pregnant with a partner they do not intend to marry. Members of the group desire to end the myth that children of single parents cannot be happy and that women must be lifelong wives to be mothers.
The Japanese government has also begun to implement changes to help the growing numbers of single parents. Incentive programs have been put in place to bring single-parent families into smaller towns in the country, which helps grow local communities and provides the parent with a job, car and covers moving cost.
Moreover, many cities have implemented child-rearing allowances for single parents. This welfare system supplies families in need with residual income so that they will be able to effectively care for their children. As social stigmas begins to change, single mothers in Japan will continue to fight to live in a country that respects all tracks to motherhood — married or not.
– Sarah Dean
Photo: Flickr
https://borgenproject.org/wp-content/uploads/logo.jpg
0
0
Borgen Project
https://borgenproject.org/wp-content/uploads/logo.jpg
Borgen Project
2018-07-19 01:30:54
2019-10-22 15:52:32
Turning Tides for Single Mothers in Japan