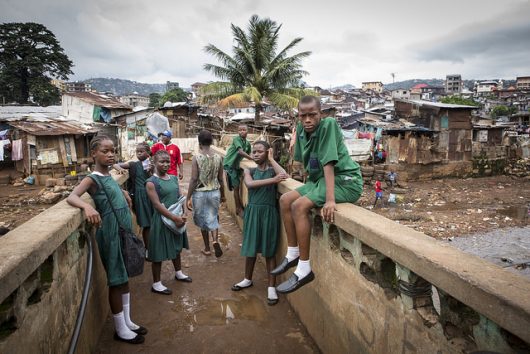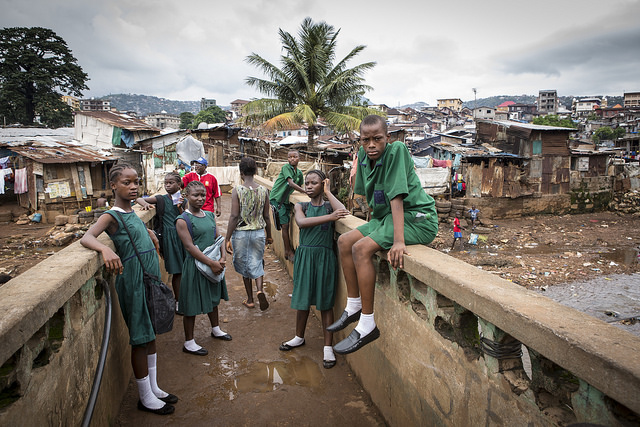 From the 1991 through 2002 civil war – which resulted in over 50,000 deaths and two million displaced people – to the Ebola outbreak in 2014 which took the lives of 3,955 people, Sierra Leone's poverty rate has continually reflected its tempestuous history.
The brutal civil war between the Revolutionary United Front (RUF) and Joseph Momoh's government ravaged the country, specifically the economy. National output plummeted, internal debt skyrocketed and a national budget that should have been utilized to develop infrastructure and increase labor productivity was instead used to fund the conflict. All of this resulted in an increase in Sierra Leone's poverty rate, increasing food insecurities and limiting access to education.
However, after the end of the war in 2002, Sierra Leone began making substantial social progress. As one report states, "The country has made tremendous strides since the cessation of conflict to establish good governance and consolidate peace and security, and is often cited as a success story in peacebuilding."
Much of this has to do with the formation and implementation of the Truth and Reconciliation Commission (TRC) as well as the Special Court for Sierra Leone (SCSL). These commissions have helped reconcile the violent realities of the civil war while rebuilding social trust through war crime accountability.
In addition, economic growth also followed the end of the civil war. In 2002, the country's GDP was $1.239 billion, and by 2014 it had risen to $5.05 billion. Sierra Leone's poverty rate fell alongside the growing economy from 66.4 percent of the population in 2003 to 52.9 percent in 2011.
Come 2014, the country took another grueling blow as Ebola swept across the nation, infecting 14,122 people and bringing the country to a virtual standstill. Travel bans were implemented, workers began staying home in fear of the virus and the economy began to suffer. The GDP fell from its previous high of $5.05 billion in 2014 to $3.669 billion in 2016.
Because of the devastating effect of Ebola, as another World Bank study reports, "many households lack capital to reopen their business and non-farm household enterprises—nearly 1/3 of the country's workforce—report lower revenues than before the Ebola crisis." Over 66 percent of families across the country reported being food insecure, and total working hours have still not returned to pre-Ebola rates.
Although the nation has continually battled high poverty rates, political corruption and foreign interventions, Sierra Leone's potential is astronomical. The civil war has ended, Ebola has been eradicated and the country sits on vast deposits of mineral resources including diamonds, gold and iron ore.
Despite the adversity that Sierra Leone has faced, there is hope that the country will continue to stand determined in the face of controversy and hardship, taking one step at a time as it tries to overcome the scars of its past.
– Joseph Dover
Photo: Flickr
https://borgenproject.org/wp-content/uploads/logo.jpg
0
0
Amy
https://borgenproject.org/wp-content/uploads/logo.jpg
Amy
2017-08-18 01:30:34
2020-06-12 09:54:17
The Turbulent History of Sierra Leone's Poverty Rate