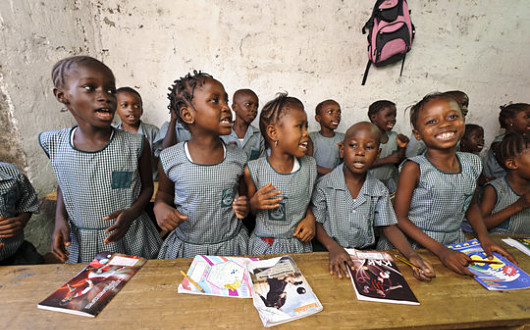 Before the Revolutionary United Front crossed from Liberia into Sierra Leone and started the 12-year war, Sierra Leone had one of the best education systems in Africa. Rebuilding education in Sierra Leone since has been a challenge and Ebola has made it even more difficult.
Only 48.09 percent of the population above the age of 15 in Sierra Leone are literate. Primary school enrollment is over 130 percent due to the amount of non primary school aged Sierra Leoneans who are attending classes because they missed out on educational services during the war. The UN estimates that 64 percent of primary aged children are enrolled in school.
During the 12 years of the war, there was no education unless the families fled to Guinea or Liberia. Out of the crisis of the civil war came an opportunity to ensure education would grow and enhance the livelihoods of Sierra Leoneans.
The Netherlands provided funding to the Cross Border Schools Project in Sierra Leone and has trained over 3,000 educators. After completing the training programs, teachers plan their own lessons and find their teaching methods are making a bigger impact.
Education in Sierra Leone is taken seriously by the government. Sierra Leone spends 14 percent of its national budget on education, which is much higher than most other countries in the region.
Other improvements have been made as well. 76 percent of Sierra Leonean children complete primary school and many go on to junior secondary education. However, 50 percent of primary school teachers still have no qualifications.
It cost $20 to send a Sierra Leonean to school and 70 percent of Sierra Leone families are living on less than a dollar a day. Poverty, child marriage, pregnancy and sexual abuse are the most significant barriers to education for girls in Sierra Leone.
UNICEF works on ensuring girls are attending school through building classrooms, providing sanitation facilities, training teachers and providing learning materials. The rights of girls in the classroom are protected through rights-based and gender-sensitive environments that helps girls succeed in the classroom.
Sierra Leone is still healing from the wounds left by the Revolutionary United Front during the civil war, but education is gradually improving and the youth are benefiting from the revival of education.
– Donald Gering
Sources: Al Jazeera, Global Partnership, Social Progress Imperative, UNICEF 1, UNICEF 2, UNICEF 3
Photo: Just Giving
https://borgenproject.org/wp-content/uploads/The_Borgen_Project_Logo_small.jpg
0
0
Borgen Project
https://borgenproject.org/wp-content/uploads/The_Borgen_Project_Logo_small.jpg
Borgen Project
2015-08-21 01:30:03
2019-08-14 14:11:58
Rebuilding Education in Sierra Leone