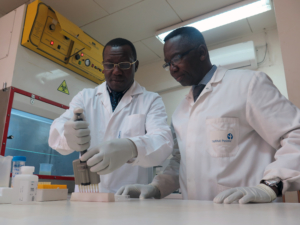 There are a total of 46 countries that compose sub-Saharan Africa. These countries account for 75% of the total cases of sickle cell anemia globally. Due to the high concentration of this disease in one area of the globe, high rates of early mortality have devastated sub-Saharan Africa. Researchers estimate that 50-90% of infants born with the disorder will die by the age of 5. In response, methodologies have been developed in hopes of eradicating sickle cell anemia in sub-Saharan Africa.
5 Ways to Decrease Sickle Cell Anemia in Sub-Saharan Africa
Early Screening. It is crucial to provide screening for newborns in order to diagnose children with sickle cell anemia as early as possible. Early detection of the disease is proven to increase survival rates. In under-resourced communities, many children have died without ever receiving a diagnosis. Early detection allows for the initiation of treatments, therapies, physician follow-ups and medical attention. Previously, diagnoses of patients happened through isoelectric focusing and liquid chromatography, but these have shown to be inaccurate and expensive. Now, there are "point-of-care" diagnostic methods available that are affordable and provide accurate results.
Vaccinations. A consequence of sickle cell disease (SCD) is an exponential increase in the transmission of bacterial infections. The main vaccination that has resulted in improvement for patients with sickle cell disease is penicillin prophylaxis. With the increased availability of penicillin and medical monitoring, mortality rates for patients with sickle cell anemia in sub-Saharan Africa will significantly decrease.
Treatment Therapies. Once diagnosed, there are numerous preventive and therapeutic measurements that can alleviate the symptoms of SCD. Data collected through years of research have proven that hydroxyurea is the most effective therapy for patients with SCD. In addition, proper hydration and nutritious supplements are key to curing non-critical patients. The most critical patients receive blood transfusions. Lastly, stem cell transplantations bring great improvements to SCD patients; however, its high cost often prevents the utilization of this method.
Health Education. A simple method to increase the life expectancy of SCD patients is to provide accurate and useful information about the disease. Parents well-informed on this condition can properly identify symptoms their children display and can seek immediate medical attention. This leads to early detection so the child can receive necessary medications, therapies, vaccinations and treatments.
Global Advocacy. In recent years, more institutions have recognized the prevalence of sickle cell anemia in Africa and have shifted their focus to aiding those countries. The U.S. National Institutes of Health and the Gates Foundation created joint efforts in order to cultivate gene-based cures for both sickle cell disease and HIV. The National Heart, Lung and Blood Institute (NHLBI) and American Society of Hematology announced that one of their priorities is to support the impoverished, disadvantaged countries across Africa in regard to sickle cell anemia. Also, the NIH Small Business Innovation Research grant allowed for the utilization of the affordable, precise "point-of-care" diagnostic methods for SCD patients. Further advocacy for underprivileged, impoverished families is necessary to continue the fight in reducing sickle cell anemia in sub-Saharan Africa.
Looking Ahead
Despite its challenges, Africa has made major strides in improving sickle cell anemia in the last 40 years. Continuing to utilize these methods would not only save vulnerable children but would also help economies to flourish. A higher life expectancy has a direct correlation with an increase in projected lifetime incomes. This would result in more people contributing to their country's economy and mobilizing their personal socioeconomic statuses. It is vital to take the above approaches to support patients with sickle cell anemia in sub-Saharan Africa.
– Bolorzul Dorjsuren
Photo: Flickr
https://borgenproject.org/wp-content/uploads/logo.jpg
0
0
Kim Thelwell
https://borgenproject.org/wp-content/uploads/logo.jpg
Kim Thelwell
2020-12-23 16:43:44
2022-03-29 01:04:16
5 Ways to Decrease Sickle Cell Anemia in Sub-Saharan Africa