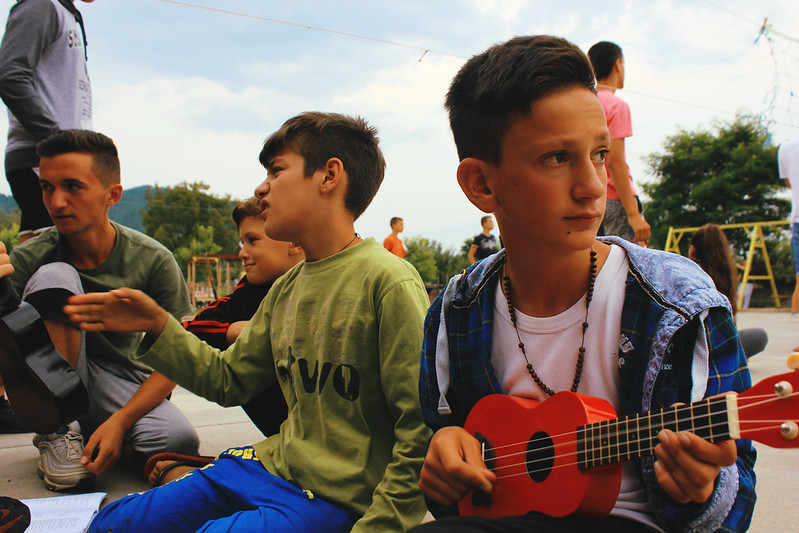 Albania experienced greater prosperity than it ever had during its years as a Soviet satellite state, with its national income and standard of living skyrocketing as the country industrialized and urbanized. When the communist government lost power following the dissolution of the Soviet Union in 1991, political instability, government-backed pyramid schemes and civil war caused an economic disaster. As a result, many of Albania's desperate poor, particularly women and children, became vulnerable to human traffickers, who significantly expanded their operations.
The Situation in Contemporary Albania
The Albanian government and the National Coalition of Anti-Trafficking Shelters identified 81 potential trafficking victims, with an additional five victims officially recognized in 2020. Of the 85 total victims, 58 were children and 62 were female. These figures are lower than in 2019, when there were 96 potential victims and seven confirmed victims, 80 of whom were female and 67 were minors. However, the number of victims is likely higher, and prosecutors did not convict any traffickers in 2020, whereas they did in 2019.
To compare, the state identified 134 total victims from 2005 through 2006, following the introduction of its first action plan for "trafficking in persons. Among the victims were 123 women, 77 children and 112 Albanians. In 2005, there were 49 convictions, and in 2006, there were 56. The country's ability to identify victims has certainly improved, yet the complexity of trafficking cases has increased over the years, making convictions more difficult.
A Tier 2 source country, traffickers smuggle more people out of Albania than they bring in. The primary destinations of trafficked individuals are countries neighboring Albania such as Greece and Italy, as well as Western European countries like the United Kingdom, which had about 600 Albanian potential victims in 2015. In all, the number of Albanian victims abroad could be in the thousands. The Albanian government must fully comply with the minimum standards of the Trafficking Victims Protection Act of 2000 to become a Tier 1 country, the highest and best tier. Albania has held a Tier 2 position for many years because it continues to make significant efforts to meet the Act's standards.
The Link Between Trafficking and Poverty
Human traffickers are most likely to prey on the poor and those living in rural areas because the poor are frequently desperate for work and people living in rural areas are more isolated than city dwellers. Women, children and migrants are also traffickers' most common prey since they tend to be easier to entice and hold captive while engaging in sexual acts with the former two is in higher demand than with adult men. Though they are not prime targets, traffickers hold men captive as well, typically forcing them to perform farm or factory work in nearby Balkan countries.
In 2016, 33.90% of the population lived on less than $5.50 per day, compared to more than 55% in 2002. Similarly, the proportion of the population living in rural areas has decreased since the expansion of trafficking in Albania, from around 60% in the 1990s and early 2000s to 37.89% in 2021. Thus, the target demographic of human traffickers is shrinking.
Examining the Targets of Traffickers
Traffickers force children to sell small items on the street and beg for money, especially during tourist season, when traffickers know tourists are more vulnerable to these practices. Their captors make these children hand over most or all of the money they earn. Traffickers also solicit minors for the purpose of sex. The traffickers tend to force children of ethnic minorities and migrant groups such as the Romani into seasonal work. Stigmas against the Romani make them vulnerable to traffickers, less identifiable as victims and less likely to receive support.
Traffickers entice poor women to work as prostitutes by posting false job ads and posing as wealthy boyfriends. These women keep little to none of the money they earn, leaving them only with the trauma of their experiences. Captive women work in nail salons, factories and as domestic servants when not performing sex work. The attitudes of men toward women are also a component in women being targets.
Transiting migrants heading to Western Europe from Central Asia, the Middle East and Africa, are additional targets of human traffickers in Albania. The language barrier, the fact they are in an unfamiliar country and their desire to reach a wealthy nation make migrants susceptible to traffickers looking to exploit them.
The Albanian Government's Response
The government is doing little to resolve law enforcement's limited ability to screen and identify potential victims from migrant groups, children and sex workers. The Border and Migration Police have few interpreters, yet people speaking dozens of languages other than Albanian cross the border regularly. This language barrier exacerbates the difficulty of identifying and helping trafficking victims.
The lack of specialized experience prosecuting trafficking cases results in prosecutors convicting few criminals for human trafficking-related crimes. Instead, they often either convict the accused of a lesser crime, or the accused goes free. Furthermore, government employees are allegedly complicit in various human trafficking crimes. If true, corruption is contributing to human trafficking in Albania. The government claimed it would conduct an investigation but is not yet prosecuting anyone.
Government Investments to Reduce Trafficking
The government invested 29.3 million leks, the equivalent of $291,980, to the government-run specialized shelter for human trafficking victims. This is a massive increase to the 20.9 million leks or $208,270, it spent in 2019. While the government decided to reduce the funds it allocates to the salaries of support staff at NGO shelters, it spent more on food support. Delays in funding periodically undermined the efforts of shelters, however.
Additionally, the government moved 4.6 million leks ($45,840) to a fund of seized criminal assets designed for victims of human trafficking in Albania. The offices of the National Employment Services offered job priority to 60 of these victims. The government has also provided vocational training to 20 officially recognized victims and offered temporary residence permits to foreign victims.
Ending Human Trafficking in Albania
After the fall of the communist government, traffickers exploited the turmoil to expand their illegal trade, enriching themselves at the expense of their victims. However, the plague of human trafficking has undergone mitigation due to increased combined efforts of the Albanian government and NGOs. To eradicate human trafficking in Albania, the government must establish more robust social programs for the poor, expand job opportunities and improve access to support services; especially for people in rural areas. The government also needs to improve its screening of targeted groups, better train police in identification and prosecutors in dealing with trafficking cases, put greater emphasis on reintegration and fund NGO-run shelters consistently.
– Nate Ritchie
Photo: Flickr
https://borgenproject.org/wp-content/uploads/logo.jpg
0
0
Jennifer Philipp
https://borgenproject.org/wp-content/uploads/logo.jpg
Jennifer Philipp
2021-11-03 07:30:40
2021-11-03 12:25:41
Human Trafficking in Albania: Escaping a Dark Past