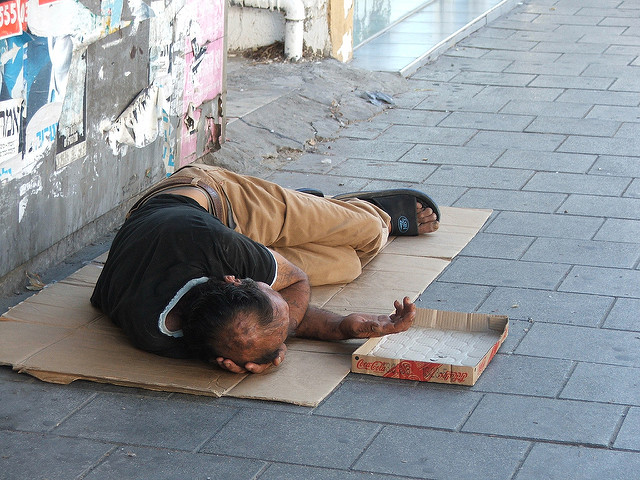 Developing nations like Mozambique, Sierra Leone and Chad tend to capture global attention as the world's most impoverished countries. While these countries take precedence in discussions regarding global poverty, with good reason, countries that one would not consider "impoverished" do exist outside the limelight. One of these countries is the state of Israel. However, innovations reducing poverty in Israel have changed the lives of many impoverished citizens.
Situated on the east coast of the Mediterranean Sea, Israel has a population of 8.6 million people and an annual GDP of $350 billion as of 2017. As a global innovator in technology and science, it is often referred to as the "start-up nation". One might assume that poverty would not plague a country with such a flourishing international economy. However, even people living in countries with strong economies experience poverty.
Poverty in Israel
The challenge of reducing poverty in Israel is at the forefront of low-priority socio-economic issues. The lack of attention can be attributed to the Israeli government's focus on security. As of 2018, more than 21% of Israel's population was living below the poverty line. One in three children across the state lives in poverty. For a country that has seen so much economic growth in the last decade alone, the idea that over a fifth of its citizens is unable to sustain themselves is hard to swallow. Nevertheless, several key factors explain just why the number of people living in poverty is so high.
Of those living beneath the poverty line in Israel, several social groups have been particularly affected. Single mothers constitute one group, though in recent years the percentage of Israeli single mothers in poverty has declined. Israel's disabled population makes up another substantial group of its poor. The groups most significant and crucial to understanding Israel's poor, however, include Orthodox Jews and Arab communities. Devoted to full-time religious study, many Orthodox Jews do not work and depend on state-issued pensions.
Discrimination in Israel's social order and workplaces have contributed to the significant increase in unemployment in Arab communities. While these groups continue to struggle, a number of Israeli NGOs have produced innovations that are key to reducing poverty in Israel.
Pitchon-Lev
The largest humanitarian organization in the state of Israel, Pitchon-Lev, aids more than 168,000 Israelis per year. Its campaigns range from ensuring Israel's children have enough food to lobbying for direct government aid for the poor. Pitchon-Lev's success in combating poverty in Israel is due to innovation in a surprising arena: personal connections. Pitchon-Lev's team of volunteers develop close and personal relationships with those whom they aid, giving the impoverished the friendships and tools they need to rebuild their lives. With its personal connections to the people it helps, Pitchon-Lev is truly striving towards reducing poverty in Israel.
Latet
In Hebrew, Latet means "to give," and the NGO Latet does just that. As the head of Israel's largest food bank, Latet is known for its continued fight against both poverty and hunger in Israel. Latet has aided a wide range of diverse groups, from Israel's youth to Holocaust survivors. Its innovation in reducing poverty in Israel appears simple, but it is effective: promoting responsibility. Volunteers of the organization teach ideals of care for others and shared responsibility for the state of the country's citizens. They aim to spread these values not only to those whom they assist, but also to the general Israeli public. By encouraging these ideals, Latet aims to push the issue of national poverty further into the public eye, and eventually into the government's priorities as well.
Shalva
As previously mentioned, Israel's disabled population makes up one of the largest groups of the country's poor. As Israel's leading NGO in the care of disabled persons, Shalva provides more than 2,000 services for disabled people in areas ranging from education to vocational training. Shalva's innovation in combating poverty is perhaps the most important of all: promoting equal opportunity. All of Shalva's programs are non-denominational. This provides disabled persons from all religious and social backgrounds the help they need to bring themselves out of poverty. Shalva has national recognition from the Israeli Ministry of Social Affairs and Social Services and the Ministry of Health. It continues to be one of Israel's most innovative NGOs for citizens with special needs.
Despite its global success as an innovator in science and modern technology, Israel still has a long way to go in terms of prioritizing its own people over international beneficiaries. Thankfully, organizations such as Pitchon-Lev, Latet and Shalva have proven that this small nation is working toward a better future.
– Alex Poran
Photo: Flickr
https://borgenproject.org/wp-content/uploads/logo.jpg
0
0
Kim Thelwell
https://borgenproject.org/wp-content/uploads/logo.jpg
Kim Thelwell
2021-01-27 01:30:11
2021-01-27 11:10:28
Innovations Reducing Poverty in Israel