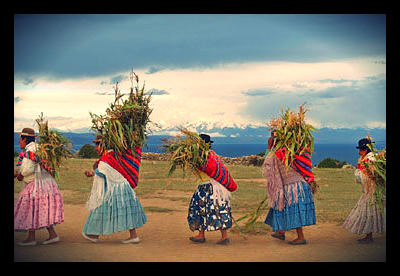 The South-American country of Bolivia has struggled as on the poorest countries in South America. Wealth inequality is a critical issue for the country of 10 million. 65 percent of the population resides in poverty, with "nearly 40 percent" of the population in extreme poverty.
Bolivia boasts a elevated population of indigenous South Americans, who are the most dangerously affected by poverty. Bolivians of Spanish descent dominate the political and economic life of the nation, depriving the indigenous population of many economic opportunities. Many of the impoverished residents of Bolivia subside on "subsistence" farming, and working as "miners, small traders or artisans."
Bolivia is home to a well-built informal economy, which has distressed the primary economy of Bolivia. The indigenous population which is perilously unemployed, survive through their own means, not effectively participating in the national economic structure.
The nation is habitat to countless natural resources, chiefly natural gas. Despite the abundance of natural resources, the nation is more often than not exploited by foreign corporations and by it's own political elites. The profits from such ventures rarely make it back to the poorer residents, allowing for a widening gap in income inequality.
The rural population which are primarily American Indians are critically malnourished, unable to access adequate health-care, less enrolled in education, and suffer from a lack of infrastructure. Urban areas suffer less from poverty, while rural areas such as Pando and Chuquisaca have the highest rates of poverty. Urban areas are not free of poverty though.
Urban populations suffer from "low quality employment" and the downward spiral of income levels. People are finding it complicated to find work, and those who work, are making less capital. Bolivia has struggled with employing its population.
The country remains primarily invested in "natural resource-based" exports as its economic crutch. This has led to many people unemployed as this economic base does not require many people to function properly.
Few educational opportunities for poorer residents have prevented many citizens from escaping extreme poverty. The country has not taken advantage of it's 'human capital." With many residents not gaining proper higher education, or even primary education, has resulted in a poorly trained populace who can not work in many sectors besides the labor sector.
With many jobs not available in that sector, employment opportunities remain few and far in-between.
The country remains stifled by not adjusting it's infrastructure to improve the amount of job opportunities. Bolivia has not made many attempts to modernize much of the nation, allowing unemployment to persist. Many observers argue Bolivia modernizing its economic approach is the only "necessary condition to reduce poverty and inequality" in the nation, and supporting new economic policies will help "improve labor productivity" and help curb unemployment.
– Joseph Abay
Sources: BBC, UNICEF, World Bank, BBC , World Bank
Photo: The Guardian
https://borgenproject.org/wp-content/uploads/logo.jpg
0
0
Borgen Project
https://borgenproject.org/wp-content/uploads/logo.jpg
Borgen Project
2014-02-14 04:00:51
2016-12-11 19:12:54
Bolivia: Inequality Of Wealth