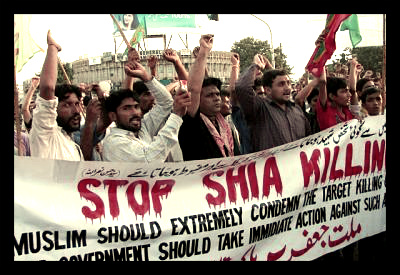 Sectarianism reared its ugly head again in Pakistan last month, as a Shia procession on one of the faith's holiest days devolved into bloody street clashes that left at least 11 people dead and underscored the violent nature of sectarian fissures in Pakistan, where more than 300 members of the country's long-disenfranchised Shia minority were killed during the first half of 2013 alone.
Last month's clashes between Sunnis and Shias in the garrison city of Rawalpindi were a mere appetizer from a much larger menu of religiously-tinged violent incidents that have rocked Pakistan since 2011. Unfortunately for the country's Shia community, members of this minority faith have borne the brunt of this sectarian violence, as militant Sunni outfits such as Sipah-e-Sahaba target followers of an Islamic sect for which they hold not just contempt, but venal hatred.
Sectarian violence aimed at Pakistan's religious minorities is not a new phenomenon to this predominately Sunni country, but its escalation since 2011 has been palpable. That year, according to a report by Human Rights Watch, was one in which, "Religious minorities faced unprecedented insecurity and persecution." Extremist attacks took the lives of scores of people across the country, including two prominent government officials, Punjab Governor Salmaan Taseer and Federal Minorities' Minister Shahbaz Bhatti, both of whom were murdered by religious fanatics for publicly supporting a revision of Pakistan's hard-line blasphemy laws.
The carnage continued unabated in 2012, as Sunni militants from such extremist groups as Sipah-e-Sahaba and Lashkar-e-Jhangvi (L-e-T), both of which adhere to the austere Deobandi school of Islam, unleashed a bloody wave of violence that included a September massacre in which gunman stopped a bus in Baluchistan Province, and after checking identity cards, removed the Shia passengers from the bus and then gunned them down, killing 26 Shia pilgrims.
Altogether, nearly 400- mostly Shia- Pakistani's were killed in sectarian violence in 2012, according to the Center for Research and Policy Studies. This year is on pace to be just as deadly, with more than 300 Shias killed in four large-scale attacks in the first half of 2013, including twin blasts that took the lives of at least 93 people in the city of Quetta on a particularly bloody day in January.
Many of the plethora of sectarian attacks that have torn Pakistan's delicately knitted social fabric in the past few years also have an ethnic dimension to them. Most of the Shias killed in these attacks are also Hazara's, a Persian-speaking ethnic group whose Mongolian features easily distinguish them from Pakistan's ethnic Punjabi's, Pashtun's, Baluchi's, Sindhi's and Mujahir's.
The plight of the Hazaras, more than a thousand of whom have died in targeted killings in the past decade, is compounded by the fact that most members of this minority ethnic group are Shia. Their distinct facial characteristics make Hazaras, who are found in greater numbers in Afghanistan and Iran, an inviting target for Sunni extremists seeking to kill members of an Islamic sect they derisively denounce as heretics.
While most governments would take swift action to shut down militant groups seeking to sow sectarian discord among their country's citizens, successive Pakistani governments have been cowed and intimidated by extremists, doing next to nothing to corral the groups that publicly assert responsibility for attacks targeting Shias or Ahmedis, another sect of Islam despised by the myriad hard-line Sunni Islamist groups that openly operate in Pakistan.
In its report on the state of affairs inside Pakistan in 2011, Human Rights Watch notes the Pakistani governments laissez-faire attitude towards dealing with extremists, asserting that, "Sunni militant groups, such as the supposedly banned Lashkar-e Jhangvi, operated with impunity even in areas where state authority is well established, such as the Punjab province and Karachi."
The propensity of Pakistani politicians to placate sectarian extremist groups was on full display this past March, when the provincial government of Punjab, Pakistan's most populous province, released some 150 militants it had rounded up following an especially vicious sectarian attack in Quetta the previous month that killed at least 79 people in a market packed with Shia Hazaras.
The political party that ruled Punjab- the Pakistan Muslim League-Nawaz–at the time of the militants release–now heads the federal government, an ominous portent for Pakistan's Shia community, who must be left wondering if Pakistan's leaders possess the political will to give reconstructive surgery to the county's ugly sectarian face.
– Eric Erdahl
Sources: Christian Science Monitor, BBC, BBC, Dawn, Human Rights Watch
Photo: Opinion Maker
https://borgenproject.org/wp-content/uploads/logo.jpg
0
0
Borgen Project
https://borgenproject.org/wp-content/uploads/logo.jpg
Borgen Project
2013-12-17 04:00:46
2020-08-20 10:57:26
The Ugly Face of Sectarianism in Pakistan