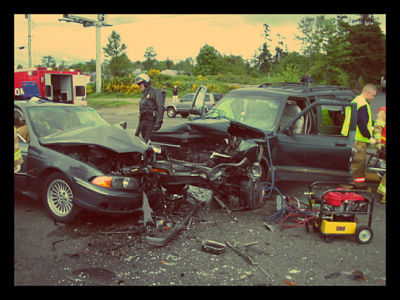 According to the World Health Organization, approximately 1.24 million people die every year on the world's roads. As well as 20 to 50 million incur nonfatal injuries as a result of road traffic crashes. The WHO report, 'Global Status Report on Road Safety 2013: Supporting a Decade of Action,' attributes road traffic casualties to be the eighth leading cause of death globally with an impact similar to that caused by many communicable diseases, such as malaria.
Current trends suggest that, by 2030, traffic accidents will become the fifth leading cause of death unless urgent action is taken. While the report offers recommendations that focus on legislative reforms, there are also corporate examples, like that of Chevron's, which help promote awareness of road safety.
Road traffic deaths are the leading cause of death for young people aged 15–29 years, and as a consequence, take a hefty toll on those entering their most productive years. Economically disadvantaged families are hardest hit by both direct medical costs and indirect costs such as lost wages that result from these injuries.
At the domestic level, road traffic injuries result in considerable financial expenses, especially to developing economies. "Road traffic injuries are estimated to cost low- and middle-income countries between 1–2 percent of their gross national product, estimated at over US$ 100 billion a year," which is a serious impediment to poverty eradication.
Only 28 countries, representing 449 million people (7 percent of the world's population), have adequate laws that tackle all five risk factors for road traffic (speed, drunk driving, helmets, seat-belts and child restraints).
The WHO report recommends that all governments enact legislation to make the roads safer and invest money and human resources to help enforce those traffic laws. Pedestrian safety should also be considered when planning for infrastructure.
The Global Road Safety Partnership (GRSP) is an organization supporting the WHO report. Its role is to create and support multi-sector road safety partnerships that are engaged with front-line, good practice, road safety interventions in countries and communities throughout the world. The partnerships include businesses. Current business partners with the GRSP include Bridgestone, Michelin, BP, Chevron, Honda, Shell, Nestle and Toyota.
Many businesses support road safety to benefit their corporate image, to develop new markets through demonstration projects, or to brand their products as safe. Also, corporate sponsorships have been used for social marketing campaigns to increase the public's awareness of road safety. In the end, businesses benefit from the lower costs associated with fewer road crashes and safer driving practices.
One American company, Chevron, has implemented what they call the Arrive Alive program. The program strives to protect people living in high-risk areas from traffic related injuries and fatalities.
Depending on the country's needs, Chevron will form a coalition between non-profit organizations, other companies and the local government. The Arrive Alive coalitions have made significant strides on two continents and in four countries since its inception in 2004.
A coalition in Nigeria founded in 2006 advocated for stricter regulations on okada (motorcycle) riders. That year, laws went into effect to regulate the operation of okadas.
To address the 12,000 lives lost annually on South Africa's roadways, Chevron formed another coalition to implement a publicity campaign aimed at the most vulnerable pedestrian population – youth and teens. Extensive use of poetry in print, radio and billboard communication directed messages towards youth about irresponsible road behavior and its consequences.
– Maria Caluag
Sources: WHO, GRSP, Chevron
Photo: My Legal World
https://borgenproject.org/wp-content/uploads/logo.jpg
0
0
Borgen Project
https://borgenproject.org/wp-content/uploads/logo.jpg
Borgen Project
2013-08-21 21:09:47
2013-08-22 09:29:44
Arrive Alive by Chevron Drives Home Road Safety