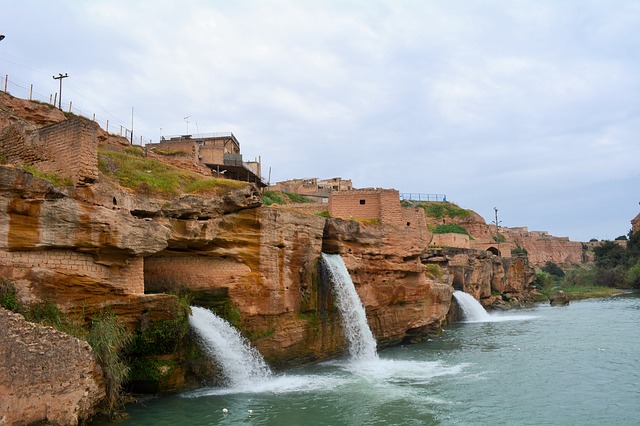 The Islamic Republic of Iran (Iran) has had conflicts with the U.S. since the Islamic revolution in 1979 and the people of Iran have suffered in many ways since then. Hardships as a result of both international sanctions and domestic government actions have affected Iranians. The Shah of Iran sparked the current water crisis by nationalizing the country's water resources, before the revolution. However, the new Islamic Republic ignored the warnings of Iranian environmental experts and accelerated dam and well building. This, in turn, effectively caused the disappearance of about 85% of groundwater sources. Today, Iranians are at the precipice of a water crisis that government mismanagement, a population boom and climate change all brought on. Without a drastic change in government policies, some posit that around 70% (i.e., about 56 million Iranians) may have to flee to more developed countries if the water crisis in Iran is not adequately addressed within the next 20–30 years.
The Nationalization of Water
Before its nationalization, water in Iran was a sustainable resource, with 34 million Iranians relying on millennia-old, natural underground canals for their drinking water. This preserved aquifers in the country, maintaining renewable water resources at 135 billion cubic meters. However, now with a widespread population of more than 80 million and government-supported infrastructure contributing to rapid water consumption — renewable resources are less than 80 billion cubic meters. This problem has contributed to conflicts in the region, with water shortages and poor-quality, drinking water as driving forces behind large-scale, violent protests. Here, many poor, frustrated Iranians are the first to see the effects of the water crisis.
The Iranian government has accelerated the depletion of water resources in the hopes of expanding agricultural and infrastructure projects in pursuit of self-sufficiency. The agriculture sector claims more than 90% of the country's water supply, leaving only a small percentage for Iranian citizens. The regime awarded huge, dam-building contracts to companies connected to those in power and encouraged farmers to grow crops (no matter their level of water consumption). Government-supported dams blocked large rivers throughout the nation and prevented aquifers from replenishing. This, in turn, forced farmers and other individuals to drill deeper wells into the depleting groundwater resources. As a result, the number of wells in existence since the revolution has multiplied by more than 13 times.  Around half of the wells are illegal and produce far beyond what is sustainable, according to the deputy agriculture minister. The situation has created a negative feedback loop of government-mandated, harmful infrastructure projects and unsustainable water consumption — producing the current water crisis in Iran.
Environmental Challenges
Environmental issues have exacerbated the water crisis in Iran. Drought has struck the region as a whole, but especially Iran, with 2017 being its driest year in nearly seven decades. Declining rainfall, higher temperatures, desertification and extreme weather all place added pressure on Iran's water supply. Further, the intense burning of fossil fuels has contributed to an overall decline in biodiversity and increased water pollution — putting what little remaining water at risk.
Taking Action
A proposed solution includes increasing the use of water desalination, especially in the Capsian sea. This proposal is extremely expensive and could also cause undue harm to already low sea levels and territorial disputes. Within Iran, there are examples of individuals who have bravely stood up against the regime and advocated for more sustainable policies. Saeed Pourali writes in the Tehran Times that the current band-aid solutions in Iran will not be nearly enough. Pourali claims that the regime must listen to experts and environmentalists. Further, Pourali claims that Iranian individuals must also take it upon themselves to lower their water usage. Victoria Jamali, an assistant professor at the University of Tehran, founded Iran's leading environmental organization — the Women's Society Against Environmental Pollution. Since the early 2000s, Jamali has worked to bring comprehensive legal reform to Iran, to protect water and other natural resources. Taking after U.S.-styled environmental law, Jamali now teaches young Iranian activists and environmentalists to stand up for this important cause, despite the Iranian regime's reluctance to create and enforce environmental legislation.
The Need for Reform
Corrupt management of resources and a close-minded approach to economic development has led to the severe depletion of Iran's water supply over the past four decades. Although, it is a popular belief that the Shah started Iran down this path himself, even before 1979. Today, the water crisis in Iran is especially poignant. A massive population boom and civil unrest against the corrupt regime brings this issue to both the national and international stages. The consumption rate has proven itself to be extremely unsustainable, which is why individuals like Saeed Pourali and Victoria Jamali have been so active in trying to bring about real change. The ultimate goal is to protect Iran's environment and natural resources. Reform will be expensive for Iran, especially under strict, international sanctions. However, reform is necessary to combat the water crisis in Iran and protect those impoverished Iranians who will suffer the most.
– Connor Bradbury
Photo: Pixabay
https://borgenproject.org/wp-content/uploads/logo.jpg
0
0
Kim Thelwell
https://borgenproject.org/wp-content/uploads/logo.jpg
Kim Thelwell
2020-09-10 07:12:32
2020-09-10 08:00:50
The Water Crisis in Iran