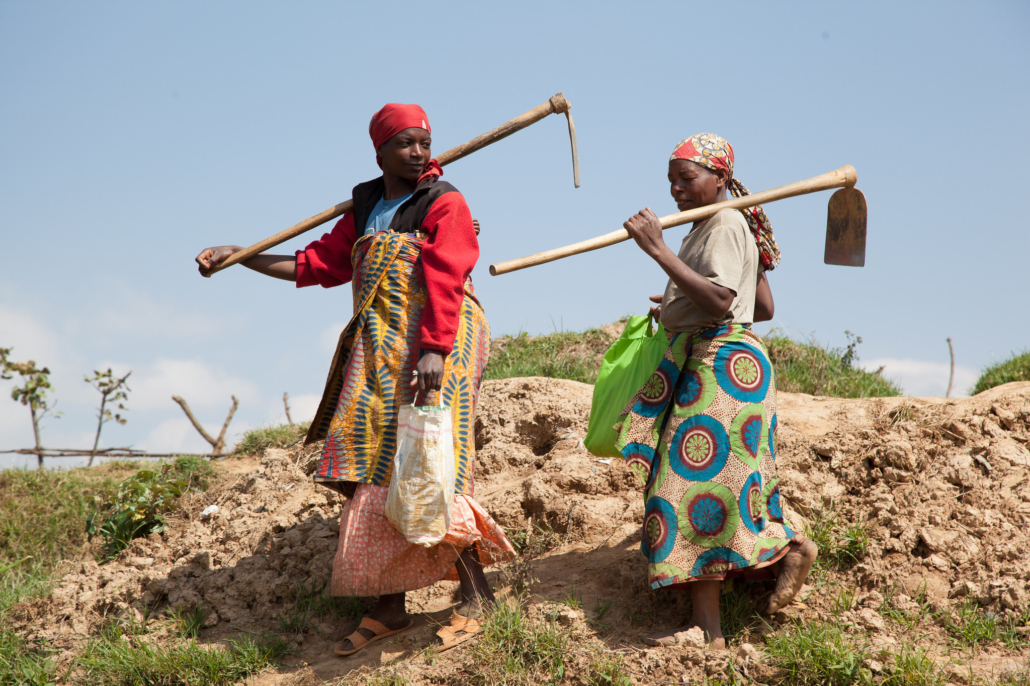 After the devastating impacts of the 1994 Genocide, which destroyed the social fabric of the country and left millions dead, Rwanda has become a nation with a stable and competent government. After this tragedy ended, 70% of Rwanda's population was female and they implemented various interventions to rebuild the nation, beginning with the relief and transitional period toward a stable, economically and socially altered country. Rwanda has progressed in terms of gender equality rights, becoming one of the world's female leading countries.
Women in Government
Over the past 20 years, women's political participation has been significant and a major focus for inclusive development. Rwanda stands out globally for its efforts to advance gender equality and women's empowerment, especially in political participation. In fact, it was the first country to have a majority of women in its legislative body. Women hold 52% of the cabinet positions and nearly two-thirds of the parliamentary seats.
Gender Equality in Rwanda
Rwanda formed legal mechanisms and institutions to promote women's rights and the abolition of discrimination against women and girls. Also, it mainstreamed gender commitments into several policies and strategic plans. The Global Gender Gap Report 2020 ranked Rwanda among the top 10 countries to have eliminated the gender gap.
One of Rwanda's accomplishments is the decline of maternal mortality rates due to women having better access to affordable and high-quality health care. Rwanda is leading the HeForShe campaign globally with more than 200,000 signatories. The campaign aims to bridge the gender digital divide, tripling girls' enrolment in Technical and Vocational Education and Training (TVET) and ending gender-based violence. As the COVID-19 pandemic accelerated the digitalization of all services, the country took a courageous move to lead the Generation Equality Action Coalition Technology and Innovation for Gender Equality and committed to eradicating the digital gender gap by 2026.
In 2016, Rwanda ranked fifth on the Global Gender Gap Index. This index focuses on equality in health, education and economics, while the World Economic Forum measures the gender gap index based on how far each nation has come in eradicating the gender gap.
Labor Rights
Women hold 86% of the labor force participation, resulting in a narrower wage gap. In Rwanda, women earn 88 cents for every dollar men earn. For comparison, women in the United States (U.S.) earn 83 cents for every dollar men earn. Finally, women in Rwanda can now benefit from three months of paid maternity leave under the law, making it easier for them to return to work while nurturing a family.
A supportive legal and policy framework has contributed to promoting women's rights in Rwanda, making it much easier for them to advance their interests across many sectors. Rwanda revised its 2003 Constitution in 2015, stating that it enshrines the values of gender equality and women's rights. It also provides for at least a 30% quota for women in all decision-making bodies.
Looking Ahead
Rwanda's remarkable progress in advancing gender equality and women's empowerment is evident through its strong representation of women in government, the decline in maternal mortality rates, the narrowing wage gap and supportive legal framework. Through comprehensive policies and initiatives, the country has successfully positioned itself as a frontrunner in promoting women's rights and inclusivity. Ultimately, Rwanda's supportive framework and dedication to women's rights have paved the way for a more equitable and prosperous society.
– Lilit Natalia Manoukian
Photo: Flickr
https://borgenproject.org/wp-content/uploads/logo.jpg
0
0
Naida Jahic
https://borgenproject.org/wp-content/uploads/logo.jpg
Naida Jahic
2023-05-22 07:07:30
2023-06-07 14:41:46
The Rise of Women's Rights in Rwanda