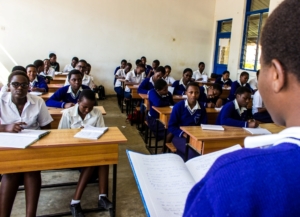 Rwanda has come far from its genocidal war that split the country apart decades ago. The country has taken a step away from this bloody past and is looking towards the future by improving its education system. Rwanda still has massive hurdles like the transition from traditional learning ideas to the implementation of modern and more progressive ideas involving technology and curriculum. This article will go over exactly what Rwanda has done through 6 facts about education in Rwanda.
6 Facts about Education in Rwanda
Three Main Languages: Schools teach three main languages in Rwanda. The national language is Kinyarwanda and educators teach it in primary school. English is another primary language for upper-level classes whilst French is mostly an elective that students can choose to take. Some schools in Rwanda, however, make it mandatory to learn both French and English. Certain schools are having difficulty prioritizing and shifting from teaching colonial French to teaching English within the country.

Rwanda's Education Budget: Rwanda has allocated more of its national budget towards its education system in recent years than before. Between 2012 and 2013, the country allocated only 17 percent of the national budget towards education, but it increased to 22 percent between 2017 and 2018. This country sees this increase as necessary since the current system currently overworks many teachers who have to pull double shifts to cover all of the required curricula.

The Previous Education System: It is evident that the education system has come a long way since the early 1900s when the schooling system was informal. At that time, Rwandan families were in charge of education and children went to Amaterero schools where they learned about military matters, smithing, basketry and other practical skills that the nation required. Rwanda did this to prioritize education during wartime and conflict rather than fermenting an education during peace.

Education Disparity and Civil War: Uneven education played a part in the civil war within Rwanda. Rwanda allowed the Tutsis to have some premium education between 1960 to 1990, leaving the Hutus to foot the bill. The Hutus also did not have nearly as much access to this education. This exploitation and inequality of education influenced the eruption of civil war between the two peoples.

Tertiary Education: The highest level of education in Rwanda is the Tertiary education level with over 50,000 students within the country competing there. One of the most prestigious of these schools is the National University of Rwanda, which emerged in 1963 and is located in Butare. It is actually a conglomerate of several facilities that make up one single university where educators encourage students to specialize in many different curriculums

Online Education: Rwanda is modernizing its education system by allowing students to take tests online, using TOEFL program. The Department of ICT also oversees E-testing to make sure that students have access to this online testing as a whole. This technology and information are run jointly with the Rwanda Information Technology Authority (RITA). This program makes it so that the ICT technology receives proper advertisement and the schools put it to proper use.
Despite having a bloody history, Rwanda is clearly taking steps to make sure that its education system can plant the seeds for the country's future. The country is making sure that its education system is putting money to proper use to improve the learning of its younger populace, through the use of technology and the efficiency of its various leveled programs. This has all become clear to us through these 6 facts about education in Rwanda.
– Collin Williams
Photo: Flickr
https://borgenproject.org/wp-content/uploads/logo.jpg
0
0
Kim Thelwell
https://borgenproject.org/wp-content/uploads/logo.jpg
Kim Thelwell
2019-09-29 07:47:16
2019-12-18 08:33:11
6 Facts About Education in Rwanda