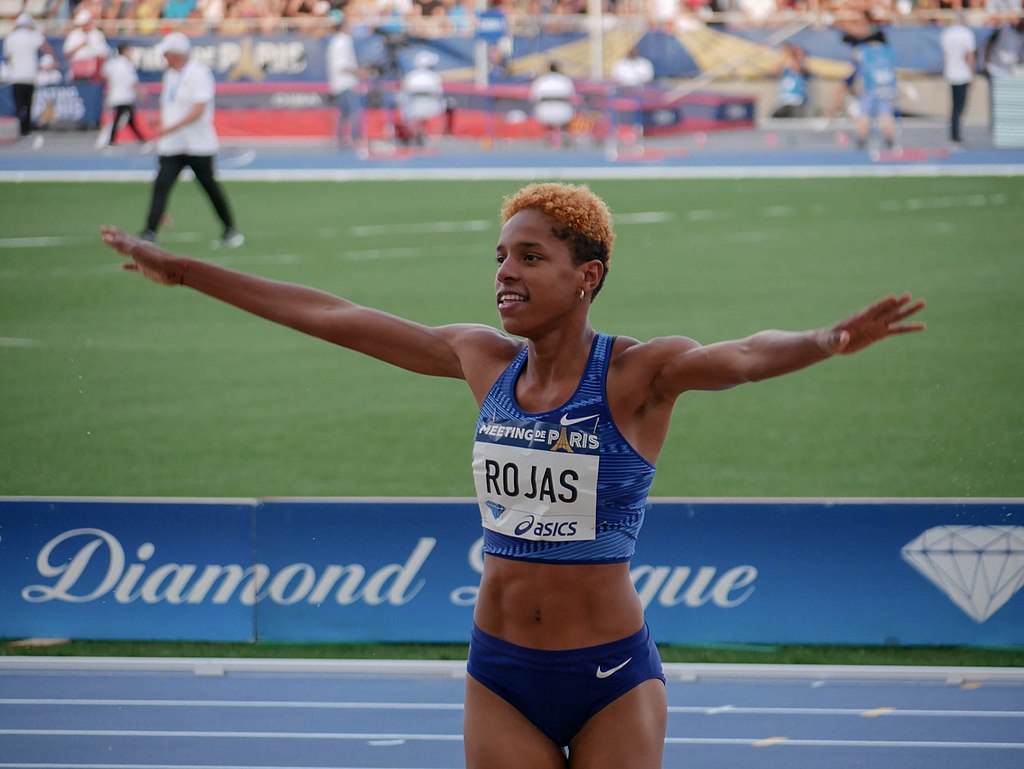 The 2020 Tokyo Olympics was highly anticipated for many reasons. One of the most historic reasons is that it was the most "gender-balanced" Olympics in the history of the global competition. With all 206 National Olympic Committees sending "at least one female and one male" athlete from their country, women made up just under half of all competing athletes at the Tokyo Olympics. This Olympics produced many role models for children across the world, but young girls are seeing firsthand the empowerment of women in sports.
Women from across the world broke barriers and became the face of change for women in sports forever. These Olympians left a lasting legacy in their respective sports and represented progress toward gender equality for their home countries. Hundreds of women broke barriers at the 2020 Olympics, but Shelly-Ann Fraser-Pryce, Hend Zaza and Yulimar Rojas were three women whose stories are just as notable as the history they are making.
Shelly-Ann Fraser-Pryce
Earning the nickname "second-fastest woman in history" is no small feat, and Shelly-Ann Fraser-Pryce has left her mark on the world by doing more than just running. Growing up in one of the poorest areas of Kingston, Jamaica, she first discovered the sport by running to primary school every day while barefoot. Fraser-Pryce dedicates her life to more than her sport and has a passion for working with underprivileged kids. Even with a silver medal in the women's 100m and a gold medal in the women's 4x100m relay at the 2020 Tokyo Olympics, Fraser-Pryce's legacy extends beyond the Olympic finish line.
Since 2010, she has served as a UNICEF National Goodwill Ambassador for Jamaica. At the start of the COVID-19 pandemic, she coordinated a fundraiser through her resource center, The Shelly-Ann Fraser-Pryce Resource Centre in Waterhouse. As a result, the Centre supplied computers to allow education to continue during the pandemic for local children. Shelly-Ann Fraser-Pryce is a role model to more than just girls hoping to run as fast as her one day. She also proves to underprivileged kids with upbringings similar to hers that anything is possible when it comes to achieving your dreams.
Hend Zaza
Hend Zaza was the youngest person competing in the 2020 Tokyo Olympics and was also the youngest since the 1992 Barcelona Olympics. At 12 years old, the Syrian native left a mark on the world as a table tennis prodigy with invitations to train in China by the Chinese Olympic Committee. Zaza did not have a conventional upbringing, being born just two years before the civil war began in Syria.
Because of the conflict in Syria, it was difficult for Zaza to train or even travel between cities. Another barrier for Zaza was the lack of funding for competitions and equipment, like paddles and balls. This left her competition experience limited before her qualification for the 2020 Tokyo Olympics. Her training for the Olympics occurred primarily at the Al Faiha Club in Damascus. With little or no air conditioning and frequent power outages, Zaza defeated many odds to make strides at the Olympics. While Zaza did not receive an Olympic medal this time around, her mark on the sport of table tennis and the story of her determination and passion will last for many years.
Yulimar Rojas
Awarded Female Athlete of the Year by World Athletics, Yulimar Rojas makes history as the first Venezuelan woman to win this honor. Rojas won the gold medal while breaking the world record for the women's triple jump at the 2020 Tokyo Olympics.
Born in a rural and poorer region of Venezuela's capital Caracas, Rojas grew up in a house known as a "ranchito." Aside from her impoverished upbringing, Yulimar Rojas was originally not allowed to compete and travel to international competitions due to her father's disapproval. The societal standard of women competing in sports is a hurdle athletes like Rojas fight to overcome. Venezuela has a long way to go when it comes to gender equality, but Rojas continues to push for her change through her life and impressive athletic career.
The 2020 Tokyo Olympics brought the world together during an unprecedented time. The women on this global stage were not just sources of empowerment to girls who look up to them. They were also representatives of resilience, passion and drive for the world. Gender equality and women's representation in the 2020 Olympics is just another reason these historic few weeks were something to remember for generations to come.
– Annaclaire Acosta
Photo: Wikimedia Commons
https://borgenproject.org/wp-content/uploads/logo.jpg
0
0
Lynsey Alexander
https://borgenproject.org/wp-content/uploads/logo.jpg
Lynsey Alexander
2021-09-18 07:30:36
2021-09-12 11:44:45
Gender Equality at the Tokyo Olympics